RGPS Tunica Main Event to Feature $100,000 Guarantee Oct. 4-9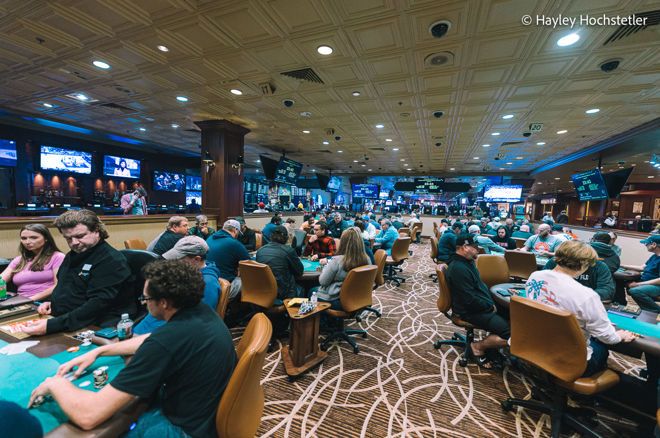 After the RunGood Poker Series (RGPS) wraps up the currently underway RGPS Cleveland, it will head south to Mississippi for RGPS Tunica, which will feature a the $600 buy-in RGPS Tunica Main Event with a $100,000 guarantee.
In addition to the Main Event, RGPS Tunica, which will take place at Horseshoe Tunica Casino Oct. 4-9, will feature a handful of Ring Events, including Guest Bounty and Pot-Limit Omaha events.
Read about the RGPS stop in Cleveland!
$100K Guaranteed Main Event
The $100,000 guaranteed Main Event will feature three starting flights, the first of which will get underway on Oct. 7. The next two flights will both play out the next day and surviving players will return on Oct. 9 for Day 2, which will play down to a winner.
For players who don't want to ante up the $600 buy-in, there will be a number of satellite options, including a $145 Mega Satellite awarding ten seats and a $145 Turbo Satellite awarding five seats.
PokerNews will be on-site to cover the RGPS Tunica Main Event, so be sure to check back in for that coverage.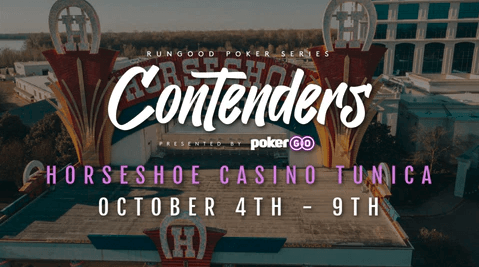 The Rest of the Schedule
RGPS Tunica will kick off on Oct. 4 with a $200 Seniors Ring Event available for players ages 50 and older, followed by a $165 Flip and Go Ring Event and a $165 Opening Night Guest Bounty Ring Event later that day.
The next day will see two flights of the $250 PokerGO Studio Ticket Ring Event taking place, which will award a seat to the 2022 All-Stars ProAM Event at the PokerGO Studio in December, as well as another Flip and Go event.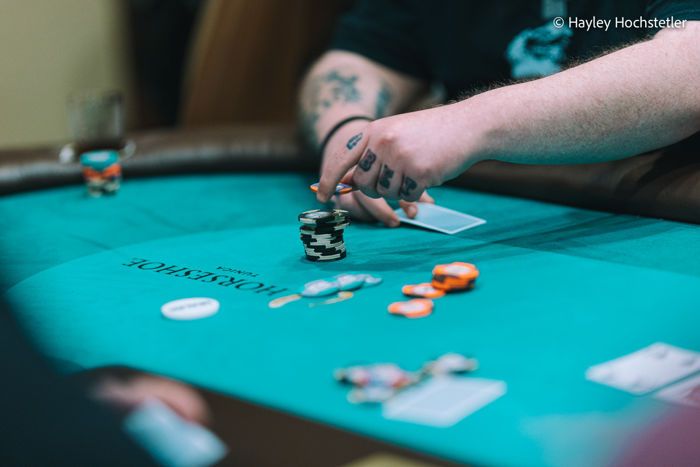 Other events in the series include a $300 Pot-Limit Omaha Ring Event and a Two Green Chip Bounty Ring Event, both of which will take place on Oct. 6.
Later in the series, there will be a $200 Ladies Ring Event and a $250 Closer Black Chip Bounty Ring Event, which will close out the series on Oct. 9.
After Tunica, the RunGood team will head to Hard Rock Casino in Tulsa, Oklahoma for RGPS Hard Rock Tulsa, which will also feature a $600 Main Event.
Previous Winner
The RGPS Tunica $575 Main Event earlier this year drew 602 entrants and generated $301,000 in prize money and saw Max Le taking home the trophy and $31,234 after a six-handed deal that left each player earning the same amount.
Other players who got in on the final table deal include Kyle Cartwright, Brock McCoy and Teresa Lammie-Anders.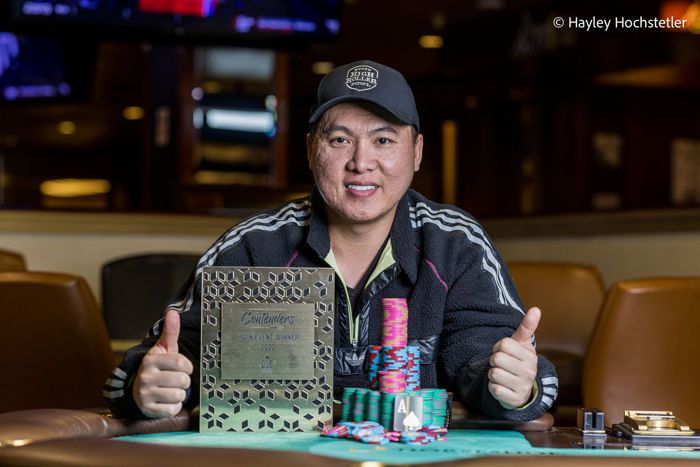 RGPS Horseshoe Tunica Final Table Results
| Place | Player | Prize |
| --- | --- | --- |
| 1 | Max Le | $31,234* |
| 2 | Teresa Lammie-Anders | $31,234* |
| 3 | David Lee (TN) | $31,234* |
| 4 | Matthew Kassela | $31,234* |
| 5 | Brock McCoy | $31,234* |
| 6 | Kyle Cartwright | $31,234* |
| 7 | Edward Fisher | $10,686 |
| 8 | Myke Hibler | $10,686 |
| 9 | Kenneth Douglas | $6,171 |
*Denotes six-handed deal.
The full schedule for RGPS Tunica is available in the table below.
RGPS Tunica Schedule
| | | | |
| --- | --- | --- | --- |
| | DATE | TIME | EVENT |
| | Oct. 4, 2022 | 10:00 AM | Seniors Ring Event (AGE 50+, Buy-in $200) |
| | Oct. 4, 2022 | 2:00 PM | FLIP and GO Ring Event* FLT A ($165 buy-in, On Demand) |
| | Oct. 4, 2022 | 7:00 PM | OPENING NIGHT Guest Bounty Ring Event (Buy-in $165) |
| | Oct. 5, 2022 | 12:00 PM | PokerGO Studio Ticket Ring Event FLT A (Buy-in $250, $50,000 GTD Prizepool) |
| | Oct. 5, 2022 | 2:00 PM | FLIP and GO Ring Event FLT A ($165 buy-in, On Demand) |
| | Oct. 5, 2022 | 4:00 PM | Turbo Satellite (Buy-in $145, 5 seats GTD into the $100,000 GTD Main Event) |
| | Oct. 5, 2022 | 7:00 PM | PokerGO Studio Ticket Ring Event FLT B (Buy-in $250, $50,000 GTD Prizepool) |
| | Oct. 6, 2022 | 12:00 PM | PokerGO Studio Ticket FINALS |
| | Oct. 6, 2022 | 1:00 PM | ONE DAY NLH RING EVENT (Buy-in $200, $10,000 GTD Prizepool) |
| | Oct. 6, 2022 | 2:00 PM | FLIP and GO Ring Event FLT A ($165 buy-in, On Demand) |
| | Oct. 6, 2022 | 3:00 PM | POT LIMIT-OMAHA RING EVENT (Buy-in $300) |
| | Oct. 6, 2022 | 7:00 PM | TWO GREEN CHIP BOUNTY RING EVENT (Buy-in $200) |
| | Oct. 7, 2022 | 11:00 AM | Mega Satellite (Buy-in $145, 10 seats GTD into the $100,000 GTD Main Event) |
| | Oct. 7, 2022 | 1:00 PM | Flip and Go Ring Event Day 2 |
| | Oct. 7, 2022 | 7:00 PM | RUNGOOD Main Event FLT A (Buy-in $600, $100,000 GTD Prizepool) |
| | Oct. 8, 2022 | 9:00 AM | Turbo Satellite (Buy-in $145, 5 seats GTD into the $100,000 GTD Main Event) |
| | Oct. 8, 2022 | 12:00 PM | Turbo Satellite (Buy-in $145, 5 seats GTD into the $100,000 GTD Main Event) |
| | Oct. 8, 2022 | 2:00 PM | Ladies Ring Event (Buy-in $200) |
| | Oct. 8, 2022 | 4:00 PM | Turbo Satellite (Buy-in $145, 5 seats GTD into the $100,000 GTD Main Event) |
| | Oct. 8, 2022 | 7:00 PM | RUNGOOD Main Event FLT C (Buy-in $600, $100,000 GTD Prizepool) |
| | Oct. 9, 2022 | 12:00 PM | MAIN EVENT FINALS |
| | Oct. 9, 2022 | 1:00 PM | TURBO NLH RING Event (Buy-in $165) |
| | Oct. 9, 2022 | 4:00 PM | NLH CLOSER BLACK CHIP BOUNTY RING EVENT (Buy-in $250) |