Who Won the Jungleman & ElkY $150K Fitness Prop Bet to Reach 12-14% BF?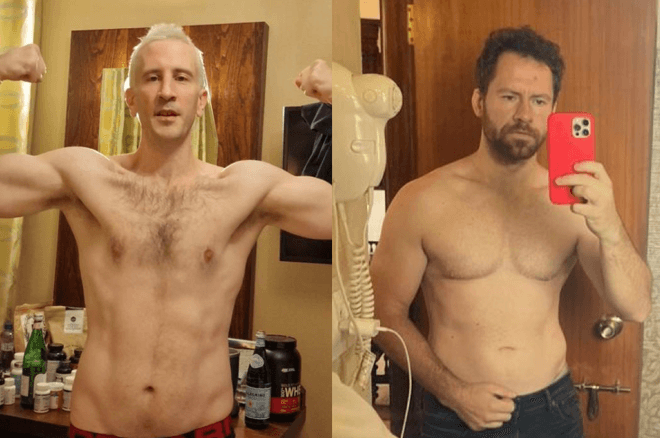 Update (May 16, 2023):
Back in November, Dan "Jungleman" Cates and Bertrand "ElkY" Grospellier engaged in a fitness prop bet. Details on the bet are highlighted in the original story below. PokerNews recently followed up and is happy to report that both players achieved their goals.
Grospellier achieved his goal two weeks before their deadline and has even lost a little more since the original bet. He is currently sitting at 12-13% body fat and plans to continue to lose slowly. Meanwhile, Cares achieved his goal of the bet (down to 12% body fat) two months early. He is currently at about 12-13% body fat and his next goal is to achieve a "Greek God physique."
As a result of both players meeting their goals, the bet was a wash. What's more, the duo is currently discussing terms of a new bet involving the Marine Corps Physical Test. If and when that happens remains to be seen.
---
Original Story
Poker is filled with prop bets. In fact, we recently published an article about five of the craziest prop bets of all time. One of those involved Michael Noori trying to eat $1,000 worth of McDonald's food over a 36-hour period, a rather unhealthy undertaking.
Several other popular bets have gone the other way encouraging the participants to get healthy. Now, details have emerged regarding another health-inspired prop bet between two of the biggest names in poker.
6 Months, 12-14% Body Fat
The latest fitness bet is between Dan "Jungleman" Cates and Bertrand "ElkY" Grospellier. The terms are simple – they have six months to get down to a certain body fat percentage. For Cates, he has to get to 12 percent while ElkY must get to 14 percent given he started a little higher. The bet, which is halfway done and ends in February, is for $150,000, meaning if one of them makes the mark and the other does not, the loser will owe the other $150K. If neither of them makes it, or if both do, then it's a wash.
This past summer Cates started at 18 percent body fat while Grospellier was at 24.5 percent. Thus far, the former has lost 17lbs and while the latter has lost 20 lbs. The bet is just the latest between the duo, who in the past have bet on who can do the most pushups, longest plank, and who can run the fastest uphill mile.
"I want to get in shape, challenge ourselves and ideally make it fun," Cates told PokerNews. "I chose to do the bet with ElkY because I know he will be honorable and even reasonable during the bet, given experience and because he isn't an athlete so I can have a chance myself."
He continued: "I want to be the best version of myself for any partner I have because I would want them to do the same for me. It also forces healthy habits and I've never done it before. It should hopefully inspire the poker community and allow us both to pursue > 0 sum goals using = 0 sum games. The principle of aligning these seemingly contradicting motives for big money can be extended far beyond fitness bets."
Grospellier added: "Dan is an extremely motivated person, and he wants to inspire others, which I completely get behind the idea. Also, we previously made fitness bets which both helped us get in shape, so he was the perfect partner for this fitness bet. After the bet, I want to go even lower, and hopefully maintain around 12 percent for the rest of my life."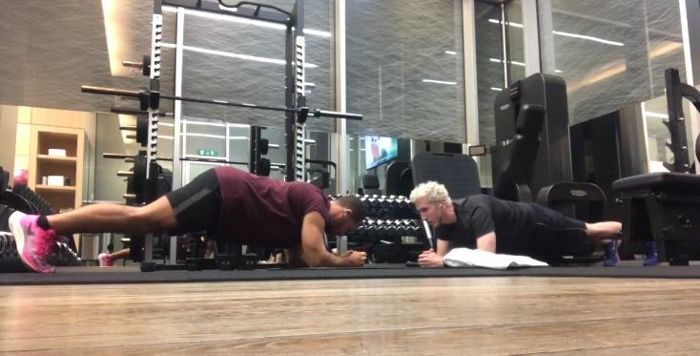 As for the $150K bet, it seemed the right amount.
"It's an amount which seems motivating enough for both Dan and me," said ElkY. "In a perfect world, we should have enough motivation without financial incentive – or more like counter-incentive in this case – but this amount will make sure we stick to our plan/goal. I see it as everything being connected. Physical health, mental health, well-being, focus, longevity, and ability to perform at the highest level. So, this achievement will be the first step in my journey towards being the best version of myself."
Five Easy Hotel Room Bodyweight Exercises You Can Do to Keep Fit!
A Look at Other Health-Inspired Prop Bets
Earlier this year, Doug Polk began a body fat-loss prop bet with Bill Perkins where the owner of The Lodge Poker Club in Texas must lose 50% of his body fat within a year or pay the hedge fund manager $200,000.
Back in 2010, Mike Matusow lost a $2 million prop bet to Ted Forrest, who had bet $100,000on himself at 20:1 odds to drop 50 pounds within a few months.
Likewise, back in 2018, Jaime and Matt Staples won $150,000 weight loss bet against Perkins. The brothers bet $3,000 at 50:1 odds that they could get to the same weight in the span of one year. It was a tall task with Jaime weighing in at 304 pounds (137.9 kg) and brother Matt down at a slim 134 (60.7 kg), but they met in the middle at 188.3 (85.4 kg) each – meaning Jaime lost 115.7 pounds (52.5 kg) while Matt gained 54.3 pounds (24.6 kg).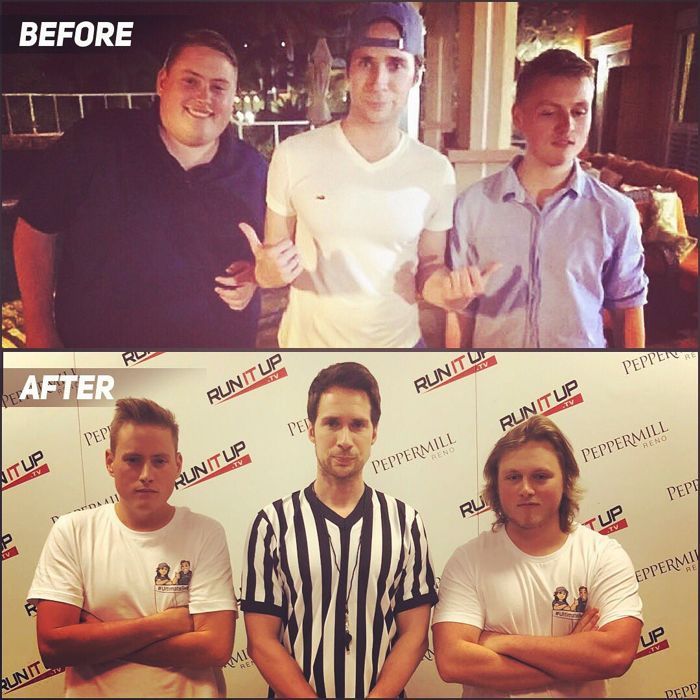 Fans of ElkY might recall that after the 2012 World Series of Poker (WSOP) Europe in Cannes, France, both he and Eugene Katchalov biked the 118-kilometer trek to the European Poker Tour (EPT) in Sanremo, Italy. The Frenchman did so after not having ridden a bike in 15 years!
The ride to Sanremo was the result of a bet that the two players made for the World Championship of Online Poker (WCOOP). Katchalov made more money than Grospellier during the three-week series, but still agreed to pedal from Cannes together with his friend.
*Images courtesy of Dan Cates & Bertrand Grospellier.
Executive Editor US, PokerNews Podcast co-host & 2013 WSOP Bracelet Winner.