Grand Poker Series Winter Classic Coming to Golden Nugget Jan. 6-14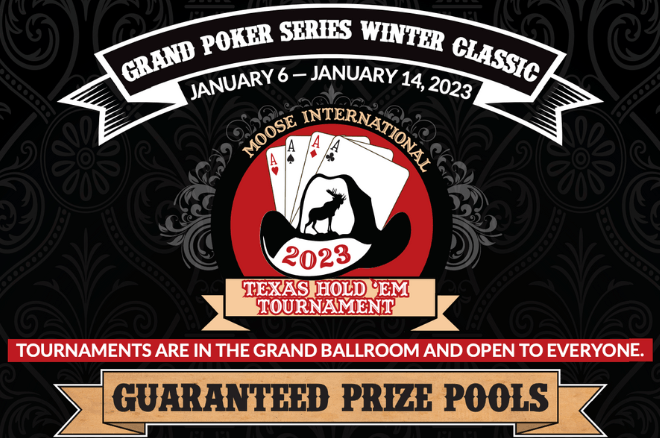 Table Of Contents
At the start of the new year, the Golden Nugget in Las Vegas will host the 2023 Grand Poker Series Winter Poker Classic from Jan. 6-14, a series that will feature a $200-buy-in No-Limit Hold'em event with six starting flights and a $100,000 guarantee.
The Grand Poker Series Winter Poker Classic, which has been called the Moose Poker Tournament Series in the past, will feature a handful of other no-limit Hold'em tournaments, including bounty events and a charity event.
Read about last year's Moose International Poker Series!
Playing for Charity
The upcoming series marks the Golden Nugget's latest partnership with Moose International, a charitable organization that services children, seniors, and communities throughout the US.
"The Golden Nugget has always been the home to Moose International Texas hold 'em series," Will Harrison, coordinator for the Moose organization, previously told PokerNews. "We just feel that it is a good fit for us. They help us out so much with making this tournament a success every year with the things they do for us and our members. They work really hard to help our members out with the needs that come up."
According to the Golden Nugget, there will be over 900 players in attendance from the Moose International Lodges and a big turnout is expected. Close to 200 players from Free Poker Network (FPN) will also be in attendance over the first three days of the series.
The series will kick off with a $150 buy-in NLH event with a $5,000 guarantee, followed by a $125 Cheap and Deep NLH event with a $3,000 guarantee.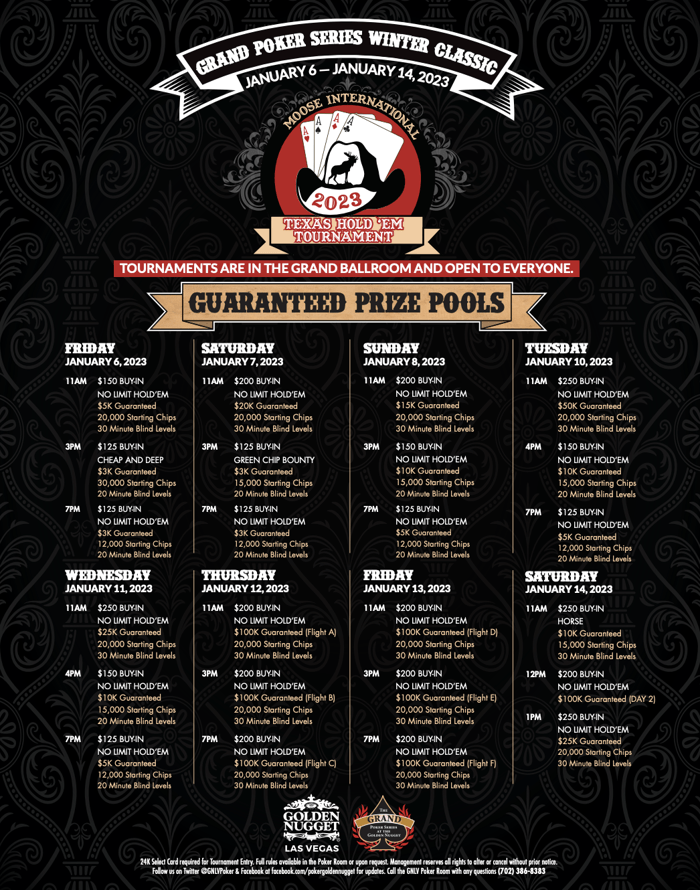 A $200 NLH event will follow with a $20,000 guarantee and will take place the same day as a $125 Green Chip Bounty event with a $3,000 guarantee. Other highlights of the series include a $200,000 guaranteed $200 NLH event and a $50,000 guaranteed $250 NLH event.
The first of six flights of the $100,000 guaranteed NLH event will get underway on Jan. 12 and will see players starting with 20,000 chips in exchange for their $200 buy-in and levels lasting 30 minutes in duration. Day 2 on Jan. 14 will play down to a winner, who will win the lion's share of the $100,000 guaranteed prize pool.
The Moose Main Event, which is not open to the public, will get underway on Jan. 9 and should raise plenty of money for a good cause.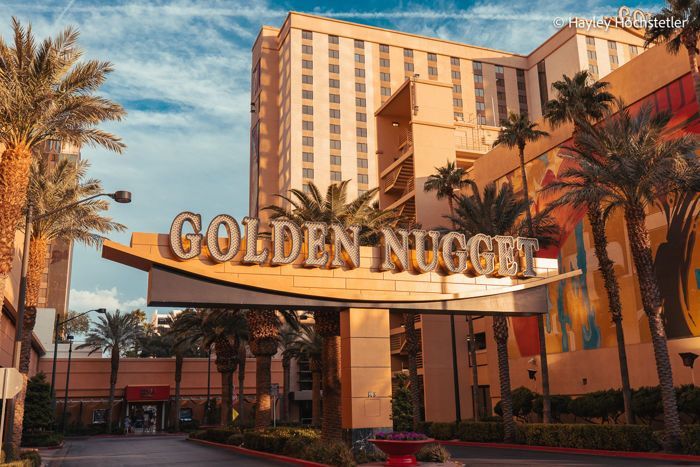 The Golden Nugget is known to host many of the best low and mid-stakes tournaments in Las Vegas and earlier this year hosted the 2022 PokerNews Cup, which blew past its $1 million guarantee with 1,245 entries for a prize pool of $1.2 million.
The full schedule for the upcoming 2023 Grand Poker Series Winter Classic at the Golden Nugget is available in the table below.
2023 Grand Poker Series Winter Classic Schedule
| | DAY | DATE | TIME | EVENT # | TOURNAMENT | BUY-IN | STARTING CHIPS | BLIND LEVELS |
| --- | --- | --- | --- | --- | --- | --- | --- | --- |
| | Friday | 1/6/23 | 11:00 AM | 1 | No Limit Hold'em $5K Guarantee | $150 | 20,000 | 30 Minutes |
| | Friday | 1/6/23 | 3:00 PM | 2 | Cheap and Deep No Limit Hold'em $3K Guarantee | $125 | 30,000 | 20 Minutes |
| | Friday | 1/6/23 | 7:00 PM | 3 | No Limit Hold'em $3K Guarantee | $125 | 12,000 | 20 Minutes |
| | Saturday | 1/7/23 | 11:00 AM | 4 | No Limit Hold'em $20K Guarantee | $200 | 20,000 | 30 Minutes |
| | Saturday | 1/7/23 | 3:00 PM | 5 | Green Chip Bounty No Limit Hold'em $3K Guarantee | $125 | 15,000 | 20 Minutes |
| | Saturday | 1/7/23 | 7:00 PM | 6 | No Limit Hold'em $3K Guarantee | $125 | 12,000 | 20 Minutes |
| | Sunday | 1/8/23 | 11:00 AM | 7 | No Limit Hold'em $15K Guarantee | $200 | 20,000 | 30 Minutes |
| | Sunday | 1/8/23 | 3:00 PM | 8 | No Limit Hold'em $10K Guarantee | $150 | 15,000 | 20 Minutes |
| | Sunday | 1/8/23 | 7:00 PM | 9 | No Limit Hold'em $5K Guarantee | $125 | 12,000 | 20 Minutes |
| | Tuesday | 1/10/23 | 11:00 AM | 11 | No Limit Hold'em $50K Guarantee | $250 | 20,000 | 30 Minutes |
| | Tuesday | 1/10/23 | 4:00 PM | 12 | No Limit Hold'em $10K Guarantee | $150 | 15,000 | 20 Minutes |
| | Tuesday | 1/10/23 | 7:00 PM | 13 | No Limit Hold'em $5K Guarantee | $125 | 12,000 | 20 Minutes |
| | Wednesday | 1/11/23 | 11:00 AM | 14 | No Limit Hold'em $25K Guarantee | $250 | 20,000 | 30 Minutes |
| | Wednesday | 1/11/23 | 4:00 PM | 15 | No Limit Hold'em $10K Guarantee | $150 | 15,000 | 20 Minutes |
| | Wednesday | 1/11/23 | 7:00 PM | 16 | No Limit Hold'em $5K Guarantee | $125 | 12,000 | 20 Minutes |
| | Thursday | 1/12/23 | 11:00 AM | 17A | No Limit Hold'em $100K GUARANTEE (Flight A) | $200 | 20,000 | 30 Minutes |
| | Thursday | 1/12/23 | 3:00 PM | 17B | No Limit Hold'em $100K GUARANTEE (Flight B) | $200 | 20,000 | 30 Minutes |
| | Thursday | 1/12/23 | 7:00 PM | 17C | No Limit Hold'em $100K GUARANTEE (Flight C) | $200 | 20,000 | 30 Minutes |
| | Friday | 1/13/23 | 11:00 AM | 17D | No Limit Hold'em $100K GUARANTEE (Flight D) | $200 | 20,000 | 30 Minutes |
| | Friday | 1/13/23 | 3:00 PM | 17E | No Limit Hold'em $100K GUARANTEE (Flight E) | $200 | 20,000 | 30 Minutes |
| | Friday | 1/13/23 | 7:00 PM | 17F | No Limit Hold'em $100K GUARANTEE (Flight F) | $200 | 20,000 | 30 Minutes |
| | Saturday | 1/14/23 | 11:00 AM | 18 | HORSE $10K Guarantee | $250 | 15,000 | 30 Minutes |
| | Saturday | 1/14/23 | 12:00 PM | 17 Day 2 | No Limit Hold'em $100K GUARANTEE - DAY 2 | N/A | N/A | N/A |
| | Saturday | 1/14/23 | 1:00 PM | 19 | No Limit Hold'em $25K Guarantee | $250 | 20,000 | 30 Minutes |
NOTE: Event 10 on Monday is the Moose Main Event and is not open to the public