Mike Postle Slow-Rolled at Beau Rivage Final Table: "That's for All the Cheating You've Done"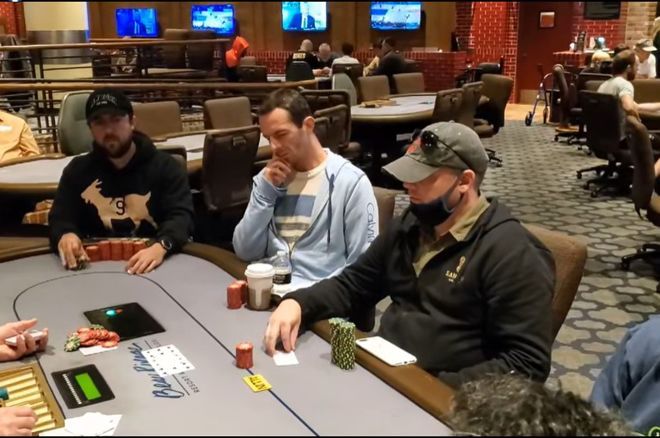 Accused poker cheater Mike Postle had a memorable exit from the Beau Rivage Million Dollar Heater Main Event Monday when his opponent — Brock Gary — went into the tank with top set facing an all-in wager.
Following the slow-roll, Postle, who had just busted in seventh place for $32,703 in the $1,200 buy-in event, was needled by someone apparently off-camera.
"That's for all the cheating that you do," the off-camera individual said in the video posted by the Gulf Coast Poker.NET Facebook page.
Postle, who was accused by Veronica Brill in 2019 of cheating during Stones Live streams, reached the final table of 10 with a middling stack. With $208,400 to the winner, he was in line to earn his biggest score ever, which just so happens to be about the amount he was alleged to have won on Stones Live using what some refer to as "God mode."
Top Stories of 2020: Mike Postle Saga Winds Down
Postle Eliminated in 7th Place
Entering play at the Beau Rivage Casino in Biloxi, Mississippi, his first tournament in over three years, Postle had racked up $570,000 in lifetime live tournament cashes, according to Hendon Mob.
The video shown on the GulfCoastPoker.NET Facebook page was picked up on a flop of 6♠4♥5♣ and Postle had moved all in. Gary, holding a larger stack, went into the tank for about 30 second before sigh-calling with 6♣6♥ for top set, a clear slow-roll. His opponent flipped over 10♠10♥ for an over pair.
The 2♦ on the turn and Q♠ were of no help to the Northern California poker pro who has kept a low-profile since the scandal came out three years ago. He was sent home in seventh place and now has just over $600,000 in lifetime live tournament cashes.
Gary's slow-roll wasn't acceptable to some, but not because he attempted it. As Terrence Chan commented on Twitter, "that slowroll was like 5 minutes too short."
Brill also wasn't too enthusiastic in how Gary handled himself despite the slow-roll.
@williestark1 Why would I buy him a beer when he was shaking his hand and laughing with him?

— Veronica Brill 🦩 (@Angry_Polak)
Although Postle won a significant amount of money, his haters can take solace in the fact that he didn't win the six-figure first-place prize. Max Young, who took the photo of Postle that had surfaced on social media, wrote on Twitter that Gary also told Postle on the way out, "that's for the poker community you scum."
Gary ended up part of a three-way chop in which he, Kooroush Gahedi, and Jeremy Eyer, the three top stacks to start the day, each received $144,380. Gahedi was considered the official winner, however.
Top 5 Poker Cheating Scandals in History
*Image from GulfCoastPoker.NET Facebook stream.