Mike Postle, Justin Kuraitis Break Silences in Wake of Settlement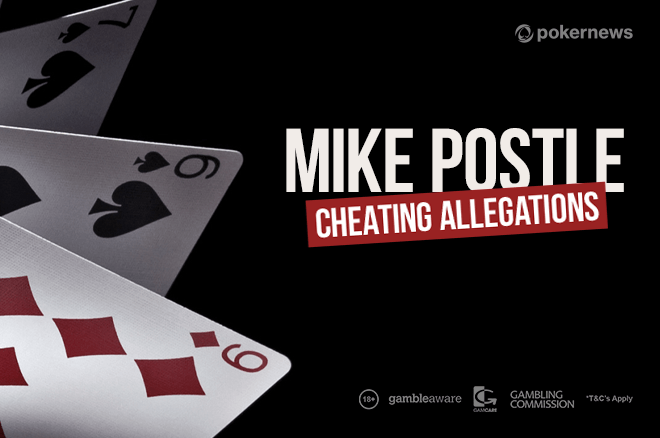 Table Of Contents
Anyone who expected Mike Postle and Justin Kuraitis to ride off quietly into the sunset after they avoided millions of dollars in potential liability from a high-profile civil suit was disabused of that notion on Tuesday.
Postle, alleged to have cheated dozens of players out of six figures at the Stones Gambling Hall poker tables over the course of 2019, broke his silence on the matter with a text to The Sacramento Bee. In it, he reaffirmed his innocence and promised he'd be exonerated in a forthcoming documentary.
Kuraitis, the supervisor who presided over some of the allegedly crooked games, penned a lengthy and controversial paper in which he castigated the poker community for its actions in condemning him. He also doubled down on Postle's innocence.
Postle-Geist?
Postle has declined numerous interview requests in the months since the story first broke, including several requests for comment from PokerNews. One of the few times he went on the record was with Mike Matusow on "The Mouthpiece," where he maintained he was "10,000% innocent."
He has hidden even from his court summons at times.
He also turned down an interview request from the Bee, but he did provide a statement via text.
As much as I'd like to say, all I can really say right now is that I have my side of this entire fiasco to tell. It won't just shock the poker and gambling industries, but the entire world.

This all goes way beyond just my innocence, but includes an entire incredible 17+ year story along with it, and what's happened since the allegations. In fact, it's such a mind blowing story, that it's being told to Dave Broome at 25/7 Productions who will be producing a wild documentary for the world to see on it!

I've been waiting for many, many months on this and I'm anxious for it to finally come out. So to all the detractors and accusers who have asked, 'Why hasn't he spoken or provided his evidence of innocence and explanations?'

Well guess what? ... Now you know.
No doubt, the entire world waits as anxiously as Postle.
Kuraitis Claims Vindication
House tournament director Kuraitis has been under fire as well, with some alleging he may have been an accomplice of Postle's if he wasn't outright ignorant of the incredible things happening under his watch.
Following the settlement, he and his lawyer let the poker world know their thoughts.
"I would characterize the settlement as a complete vindication," the lawyer told the Bee.
Kuraitis was a bit more wordy. Throughout the four pages of text, he alternated between attacking the poker community and poker media, including PokerNews, and painting himself as a long-suffering and falsely accused victim.
"The pain and unfairness of their allegations and the wrath of the social media mob and internet bullying lingers."
"I watched in utter amazement as Joey Ingram devoted hour after hour to 'PostleGate,'" Kuraitis wrote. "Some of the videos were entertaining and they certainly were great for increasing Ingram's popularity, but as I watched them it became clear that Ingram was peddling false statistics, cherry-picking hands to fit his theories and ignoring data that did not fit his version of the story.
"The propaganda machine that these guys created was prolific but it was all a case of confirmation bias. Anything that fit in their narrative was trumpeted and the many things that contradicted their story were simply ignored."
He took aim specifically at whistleblower Veronica Brill as well. He claimed she never provided him with evidence of her belief that Postle was cheating, and she has a "penchant for making outrageous statements and frivolous claims."
Kuraitis said he was "ashamed" that he actually wondered for a time if Postle cheated.
He also railed against a poker community that he claimed victimized him unfairly.
"The pain and unfairness of their allegations and the wrath of the social media mob and internet bullying lingers," he wrote.
"The Twitter mob is real, it is ugly, and it has real life consequences. I have never before experienced so much hatred, ignorance and even threats of violence. All this just because of one person on Twitter and the mob of people who were willing to believe her without facts. It is pretty surreal to think about in retrospect."
The Bee reported that Kuraitis remains employed at Stones.
Poker Community Less than Moved
If Kuraitis expected a flood of apologies to come his way, he may be disappointed.
The poker community appeared to be largely unmoved by the post. A Tweet from Doug Polk exemplified most of the reactions.
1) You and Postle are innocent in the eyes of the law because the legal system is not fit to determine if you were… https://t.co/npMmcgioSA

— Doug Polk (@DougPolkVids)
Settlement Said to Be "Nominal"
The reactions come less than a week after most of the remaining plaintiffs in the case, with little recourse following an initial court setback, settled with Stones for an unknown amount, which the Bee reported as being "nominal." The cardroom's spokesperson told the outlet that they wanted to "show good will."
Part of the settlement evidently called for a statement from plaintiffs' attorney Mac VerStandig that exonerated the venue and Kuraitis.
"Based on our investigation, we are satisfied that Stones and Mr. Kuraitis were not involved in any cheating that may have occurred," he said.
VerStandig told the Bee the settlement was "amicable" and something his clients were "happy" to accept.
However, it's clear they weren't all happy as Brill was among those who chose not to settle.