Stones Launches Investigation Into Postle Cheating Saga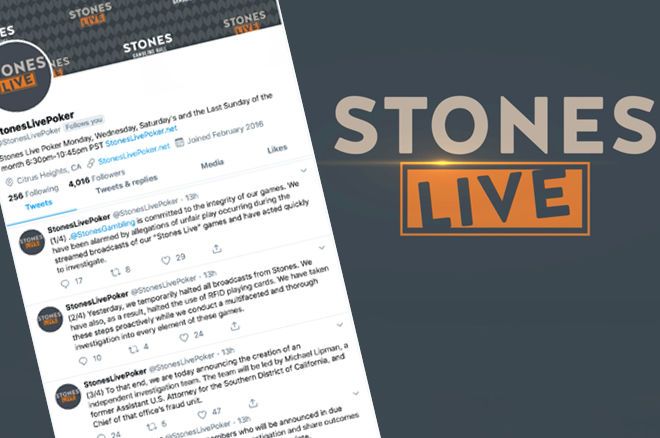 Table Of Contents
Stones Gambling Hall, the casino at the center of the Mike Postle cheating allegations, has launched a second investigation into the cheating accusations.
On September 29th, the official @StonesLivePoker account tweeted that "no evidence that any cheating had occurred" was found after a full investigation and that "[t]he recent allegations are completely fabricated."
Late on October 2nd, Stones tweeted it was "suspending all broadcast of poker play" while it conducted a "multifaceted investigation with outside experts," - seemingly the second investigation into the matter.
Stones tweeted details of the appointment of Michael Lipman, a former U.S. Attorney for the Southern District of California on the evening of October 3rd. Lipman is also the former chief of that office's fraud unit.
Owners' Lawyer Leads Investigation
While Lipman seems like a worthy candidate for the complex role of investigator, he appears to have formerly acted as a lawyer for the owners of Stones. To some, that puts into question the independency of the investigation.
After Andrew Burnett of PokerTube asked on Twitter if Lipman has had any dealings with Stones and whether the case was brought to the attention of the California Gambling Control Commission, twitter user @PocketAbes replied with images of a letter penned by Lipman from 2015. The letter showed that Lipman was the personal attorney of the Stones Gambling Hall owners.
Gambling lawyer Mac VerStandig gave his input to the revelations, calling for Stones to share the fact that "the head of the independent investigation team is your former counsel."
Maybe worth sharing the head of the independent investigation team is your former counsel? No doubt a qualified and… https://t.co/6iFEWudMKX

— Mac VerStandig (@mac_verstandig)
Cheating Scandal Makes Mainstream News in the U.S.
The Postle cheating case made it onto ESPN's Sports Center on October 3rd. Host Scott Van Pelt summarized the situation in easy to understand language for the masses. He ended with an analogy to basketball, wondering why - what's supposed to be one of the best players in the world - keeps playing low stakes.
"If you're the equivalent of a guy that shows up to play pick-up basketball, and you never ever missed a shot for a couple of years, wouldn't you go play in the NBA? If you're some sort of poker God who almost never lost, who made the right call or fold virtually every single time... If you were this good, why would you be playing in games only with a video feed at a $1/$3 table at Stones poker room? Why wouldn't you be in Vegas, winning all the money in the world?"