Adam Hendrix Reflects on Red-Hot 2022, Focuses on Another Strong Year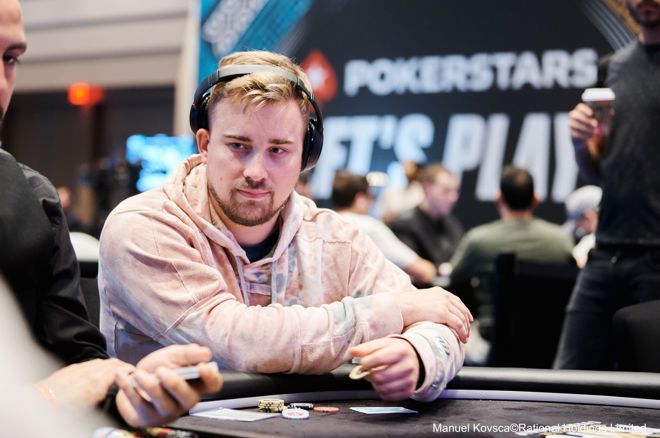 Table Of Contents
Adam Hendrix had about as hot a year in 2022 as any poker player could hope for. With 47 Hendon Mob cashes, three first-place finishes and over $1.6 million in earnings in 2022, the Alaska all-time money leader spent most of the year as the clear frontrunner in the GPI Player of the Year race.
If it weren't for a last-minute surge from Stephen Song, a good friend of his, which included an eleventh-hour victory in the inaugural World Poker Tour (WPT) Prime Championship, Hendrix would have clinched the POY award. Even still, Hendrix had a chance to re-take the top GPI spot with three days left in the year when he made a deep run at the Mid-States Poker Tour (MSPT) DeepStack Extravaganza. A top 7 finish would have made him POY; as it turned out, Hendrix fell in 49th place and had to settle as the runner-up.
"A little bit of a heartbreaker there," said Hendrix.
Four months into the new year and Hendrix is already off to another hot start. In January, he finished third in an event at the Lucky Hearts Poker Open in Hollywood, Florida for $70,500 and, more recently, finished third in a Pot-Limit Omaha (PLO) High Roller inside the PokerGO Studio in Las Vegas for $130,500.
Hendrix also signed on as a member of the World Series of Poker (WSOP) Thrill Team, a group of high-profile ambassadors that includes Vanessa Selbst, Patrik Antonius and reigning Main Event champion Espen Jorstad.
Hendrix recently appeared on the PokerNews Podcast to discuss his rise up the poker ranks, PLO expertise and his plans for the rest of 2023. The full conversion with Hendrix can be heard here.
The "Rounders Experience"
The Alaska all-time money leader's poker journey began in the small fishing town of Homer, where a young Hendrix would visit his grandmother during the summertime.
"When I wasn't fishing or hanging out with the family I would turn on ESPN and watch the World Series of Poker," he remembered. "I started loving the game just watching all these players that I'd never seen before; all the antics."
In Homer, Hendrix and his uncles would play penny games like 5-Card Draw and the Stud variant Seven Card No Peek. It wasn't until he enrolled at Virginia Tech in pursuit of a degree in economics that he started playing No-Limit Hold'em.
"We had a really small dormitory just off the beaten path of all the main dorms," he said. "There (were) maybe less than a hundred people in that dorm and some of these guys invited me to a poker night in the common room and we played a $5 tournament, and I won the first one. Most people in poker, if they won the first one, they think they're the best, or they actually have some talent for it. I probably thought I was way too good."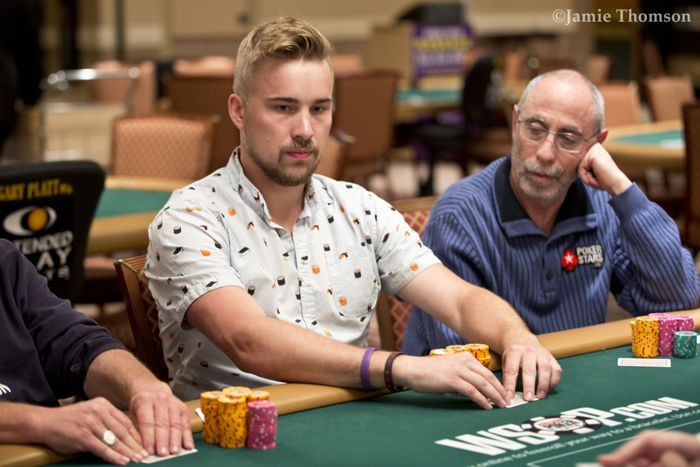 From there, Hendrix started playing freeroll tournaments at local bars that awarded drink and food coupons. Not yet 21 and playing merely for the thrill of the game, Hendrix had no qualms with giving away his drink coupons or taking a cheesesteak sandwich as his prize. One time after busting, Hendrix and a friend were approached by a man who asked if they wanted to play a private cash game. They were interested.
After climbing through the cellar bulkhead door, the two were greeted by a "smoke-filled room with like 40 50-year-old guys" and Hendrix bought into the $1/$1 game for $62, "sort of like if you're playing online and you have your last part of your bankroll and you put it on the table."
"I remember I got dealt ace-ten and I flopped a full house and doubled up the very first hand," said Hendrix. "And I end up winning like $160. My buddy ... won a little bit. And I was hooked from there."
Winning Every Euro in Barcelona
Hendrix continued to play these underground Virginia cash games and grinded online as he finished his degree and went to work in the Washington D.C. area. "I always played poker on the side," he said. "I was streaming poker at nights, playing online, everything, just trying to grind a bankroll. And eventually switched to poker (full-time) a few years later."
After a childhood that saw him living in Alaska, Texas, Scotland and Egypt, Hendrix, thanks to poker, once again had the opportunity to see the world. In 2019, he boarded a plane to Spain with a few friends, including Song, to play his first European Poker Tour (EPT) stop.
"And we were just trying to figure it out," Hendrix remembered. "None of us had really ever done an EPT, we were wondering about money and everything. And I think we all brought in the maximum you could (bring), like less than $10,000 ... And we were hoping that would work."
It did work, but deep runs from both Hendrix and Song at EPT Barcelona left them with significantly more cash on hand. Hendrix finished second in the record-breaking €1,100 EPT National for $384,231 — still his biggest score to date — and Song took down the €2,200 No Limit Hold'em event for $205,341.
"So we had every euro and now we're trying to offload all the money, figuring it all out," said Hendrix. "A good problem to have."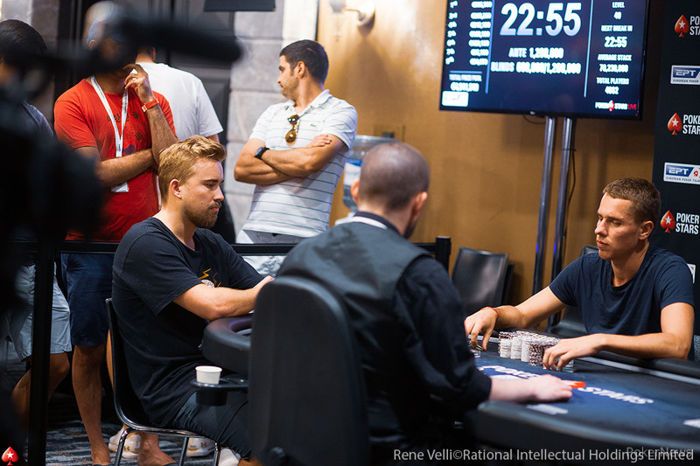 PLO Wizard
No-limit Hold'em wasn't the only poker variant Hendrix learned back in Virginia. It was in those underground cash games that Hendrix was first introduced to PLO, a game that brought him a PGT High Roller title and $186,300 in 2021.
"A lot of the people back then wouldn't want to play short-handed no-limit if they thought you were better than them or something," he explained. "You see that at casinos where maybe the game dies and now it's three-handed and everybody sits out. So at the time you would just play like mixed games or Omaha or something to start off the game. And that was my first actual experience with (PLO)."
Once after busting a tournament during a WSOP Circuit Horseshoe Hammond stop, Hendrix walked by the poker room and noticed a $5/$10 PLO game running.
"I was pretty interested in playing that ... So you don't get burnt out playing no-limit Hold'em tournaments every day. Sort of like anything else. If you play the same game every day, and you sit at Bellagio and play cash every, every day, you're just going to get burnt out and be pretty miserable. So I found PLO that way, I started studying it and playing these cash games, playing online tournaments and everything like that."
And PLO isn't the only Omaha game that Hendrix took a strong liking to. At the 2017 WSOP, he finished runner-up to mixed-game specialist Nathan Gamble in $1,500 No-Limit Hold'em for $137,992 and to be denied a maiden bracelet.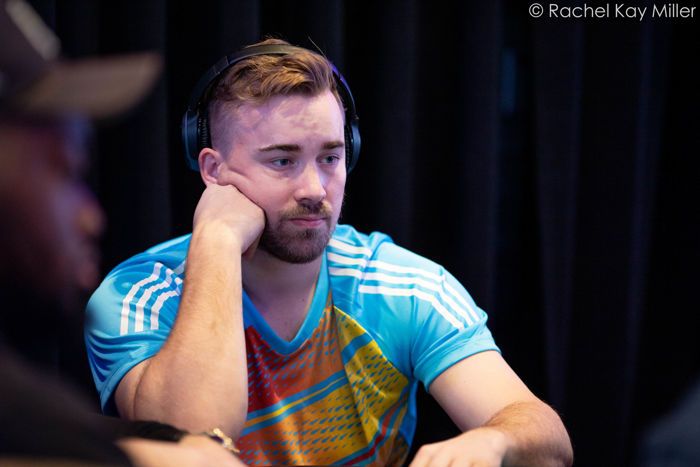 What makes Hendrix excel at Omaha? "I think the skill gap in PLO is still pretty big. There (are) a lot of people that don't bother studying at all, compared to no-limit, now everybody sort of studies in some way. But PLO is still sort of the Wild West."
Another Strong Year
After a busy 12 months of chasing GPI Player of the Year, Hendrix started the new year by "hitting the ground running" and playing every poker stop he could get to. In January alone, Hendrix played the Lucky Hearts Poker Open in Hollywood, the Borgata Return and the PokerStars Caribbean Adventure in the Bahamas.
While the PCA trip "didn't go so well," he wasted no time returning home to Las Vegas and jumping into the PGT High Rollers. In March, he finished third in a $10,000 event during the PGT PLO Series for $130,000 and 11th place in a $10,000 NLH event at the US Poker Open for $31,500 as he searched for a second USPO title.
Hendrix admitted he was feeling "a lot of burnout" after the back-to-back PGT series and "now I'm taking a little bit of a break." Even with a break in mind, Hendrix couldn't help himself from making the trip to the World Poker Tour (WPT) Seminole Hard Rock Poker Showdown with his friend Michael Rossito (who recently took down the Wynn Millions Main Event for $604,637) and is also playing in the currently underway Lodge Championship Series in Austin, Texas.
He's also looking forward to playing on the WSOP app more now that he's a member of the Thrill Team, a gig that he got through the recommendation of none other than Daniel Negreanu, one of poker's biggest ambassadors.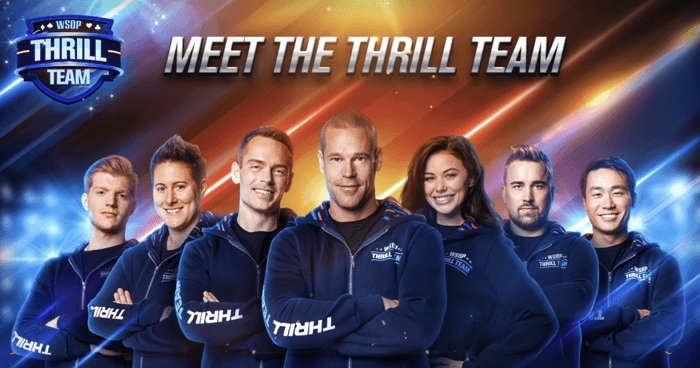 "(I'm) super grateful, it's such a cool experience," he said. "Because before this I was just a poker player playing only for myself. But now I get to promote the game (and) teach people different things about being a professional poker player."
And of course, Hendrix is excited for the upcoming WSOP, where he plans to play a full schedule of both Hold'em and Omaha events. If it all goes well, he may just find himself making another run at POY.