2023 Bar Poker Open World Championship Taking Place in Las Vegas June 12-15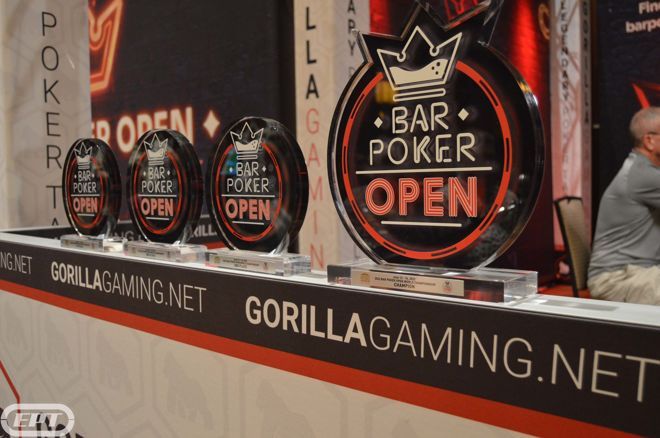 The 2023 Bar Poker Open (BPO) will be taking place at the Golden Nugget in downtown Las Vegas June 10-16, and it will culminate with the BPO World Championship from June 12-15.
Bar poker leagues provide a fun and friendly environment for poker enthusiasts to play and improve their skills. Casual players can learn the game in a low-pressure setting at their local establishments and ultimately win big money.
The Bar Poker Open is the ultimate easy-access poker tournament," the Bar Poker Open website states. "Start at the bar, and end up in Vegas."
That's exactly what many players will soon experience as they journey to the desert oasis, and one player will be returning home six figures richer as the upcoming "World's Largest Bar Poker Open Championship" guarantees a $100,000 top prize.
The invite-only championship event will feature a record-breaking $100,000 guaranteed first-place prize with an estimated prize pool of $400,000+. There will be cards-up coverage of featured tables and the final table across YouTube, Facebook, and Twitch. In addition, it will be live-reported by PokerNews as will this year's Tag Team event.
Even if you didn't qualify for the championship this year, plenty of ways exist to get in on the excitement. The Bar Poker Open Pro-Am is an open event June 15-16 with a $1,000 buy-in and is expected to showcase some well-known poker stars. This event will also feature a televised final table and can be seen on the BPO socials.
Additionally, players can qualify for the BPO Pro-Am for free in several ways, including via a live drawing slated to take place in the Golden Nugget cash games during the week of the BPO, according to the Bar Poker Open blog.
Throughout the week, the Golden Nugget will also be hosting other open tournaments with affordable buy-ins for casual players, including a Black Chip Bounty PLO $300 buy-in event, a Green Chip Bounty NLH $130 buy-in event, and a Tag Team NLH $200 buy-in event. The events are all part of the Golden Nugget's Grand Poker Series, which hosts the $1,000,000 GTD PokerNews Cup Mystery Bounty tournament later in the summer.
Click here to learn more about the Bar Poker Open!
Qualifying for BPO Championship

The Bar Poker Open Championship event is only open to players who pre-qualified from their local poker leagues. Throughout the year, players can qualify by playing at their local bars and finishing in the top 3 to earn a "BPO Token". Those tokens can be redeemed online each week for access to over $600,000 in annual championship seats and vacation packages.
Another way to qualify for the championship event is to collect league points by playing in BPO-sanctioned games. Top finishers in the super league standings will also be invited to the premier Bar Poker Open event. Hundreds of players started their journey by playing in their local bar and will soon flock to Vegas with a chance to take home a big payday.
The championship event kicks off on June 12 with the first flight of Day 1A at 10 a.m., followed by the second flight at 4 p.m. Day 1B will begin on June 13 and is a second chance flight for all Day 1A participants. Day 2 is slated for 11 a.m. on June 14, and the Day 3 final table will commence at 3 p.m. on June 15.
For more information on how to qualify for the Bar Poker Open Championship, visit BarPokerOpen.com.
Previous Winner
Tommy Nefcy of Sunshine Poker League claimed the trophy and $37,115 in the 2022 BPO Championship. Nefcy defeated Kourtney Sims (2nd - $25,385) of Eastern Poker Tour in heads-up play to secure the victory.
The invite-only tournament saw hundreds of players make their way to Golden Nugget Las Vegas after winning their seats by competing in bars and online. In total, 1,240 entries across three starting flights created a prize pool of $229,400.
Other players who made a deep run in the 2022 BPO Championship event include John Kelly (3rd – 16,615) of Eastern Poker Tour, and Carlin Soto (4th - $11,460) and Adam Iaccarino (5th - $8,800), both of NY Free Poker.
2022 Bar Poker Open Championship Final Table Results
| Place | Player | Country | Prize |
| --- | --- | --- | --- |
| 1 | Tommy Nefcy | United States | $37,115 |
| 2 | Kourtney Sims | United States | $25,385 |
| 3 | John Kelly | United States | $16,665 |
| 4 | Carlin Soto | United States | $11,460 |
| 5 | Adam Iaccarino | United States | $8,800 |
| 6 | Ruben Vancelette | United States | $7,335 |
| 7 | Michael Schnitzer | United States | $6,120 |
| 8 | Martin Bender | United States | $4,915 |
Check out the Golden Nugget Poker Room review here on PokerNews!
2023 Bar Poker Open Full Schedule
| DATE | START | EVENT |
| --- | --- | --- |
| June 10 | 11:00 AM | No Limit Hold'em – Ultimate Re-Entry (Event 28 - Flight G) (Buy-in: $200, $200,000 GTD) |
| June 10 | 3:00 PM | No Limit Hold'em – Ultimate Re-Entry (Event 28 - Flight H) (Buy-in: $200, $200,000 GTD) |
| June 10 | 7:00 PM | No Limit Hold'em – Ultimate Re-Entry (Event 28 - Flight I) (Buy-in: $200, $200,000 GTD) |
| June 11 | 11:00 AM | Pot Limit Omaha – Black Chip Bounty (Event 29) (Buy-in: $300, $10,000 GTD) |
| June 11 | 12:00 PM | No Limit Hold'em – Ultimate Re-Entry (Event 28 - Day 2) |
| June 11 | 1:00 PM | No Limit Hold'em – Daily Deep Stack (Event 30) (Buy-in: $200, $25,000 GTD) |
| June 11 | 7:00 PM | No Limit Hold'em – Cheap and Deep (Event 31) (Buy-in: $130, $10,000 GTD) |
| June 12 | 10:00 AM | No Limit Hold'em – Bar Poker Open Championship (Event 32 – Day 1A Flight 1) (Invite Only, $400,000+ Estimated Prize Pool) |
| June 12 | 4:00 PM | No Limit Hold'em – Bar Poker Open Championship (Event 32 – Day 1A Flight 2) (Invite Only, $400,000+ Estimated Prize Pool) |
| June 12 | 7:00 PM | No Limit Hold'em – Green Chip Bounty (Event 33) (Buy-in: $130) |
| June 13 | 11:00 AM | No Limit Hold'em – Bar Poker Open Championship (Event 32 – Day 1B) (Invite Only, $400,000+ Estimated Prize Pool) |
| June 13 | 1:00 PM | No Limit Hold'em – Daily Deep Stack (Event 34) (Buy-in: $200, $25,000 GTD) |
| June 13 | 7:00 PM | No Limit Hold'em – Tag Team (Event 35) (Buy-in: $200, $10,000 GTD) |
| June 14 | 11:00 AM | No Limit Hold'em – Bar Poker Open Championship (Event 32 – Day 2) |
| June 14 | 1:00 PM | No Limit Hold'em – Daily Deep Stack (Event 36) (Buy-in: $400, $50,000 GTD) |
| June 14 | 7:00 PM | No Limit Hold'em – Nightly (Event 37) (Buy-in: $130, $5,000 GTD) |
| June 15 | 11:00 AM | No Limit Hold'em – Bar Poker Open Pro-Am (Event 38) (Buy-in: $1,000) |
| June 15 | 1:00 PM | No Limit Hold'em – Daily Deep Stack (Event 39) (Buy-in: $200, $25,000 GTD) |
| June 15 | 2:00 PM | No Limit Hold'em – Bar Poker Open Championship (Event 32 – Final Table) |
| June 15 | 7:00 PM | No Limit Hold'em – Nightly (Event 40) (Buy-in: $130, $5,000 GTD) |
| June 16 | 11:00 AM | No Limit Hold'em – Mystery Bounty (Event 41 - Flight A) (Buy-in: $300, $250,000 GTD) |
| June 16 | 1:00 PM | Mixed PLO/8; Omaha 8/B; Big-O (Event 42) (Buy-in: $300, $10,000 GTD) |
| June 16 | 2:00 PM | No Limit Hold'em – Bar Poker Open Pro-Am (Event 38 – Final Table) |
| June 16 | 3:00 PM | No Limit Hold'em – Mystery Bounty (Event 41 - Flight B) (Buy-in: $300, $250,000 GTD) |
| June 16 | 7:00 PM | No Limit Hold'em – Mystery Bounty (Event 41 - Flight C) (Buy-in: $300, $250,000 GTD) |