Baseball Legend Roger Clemens Plays Poker for the First Time in Charity Event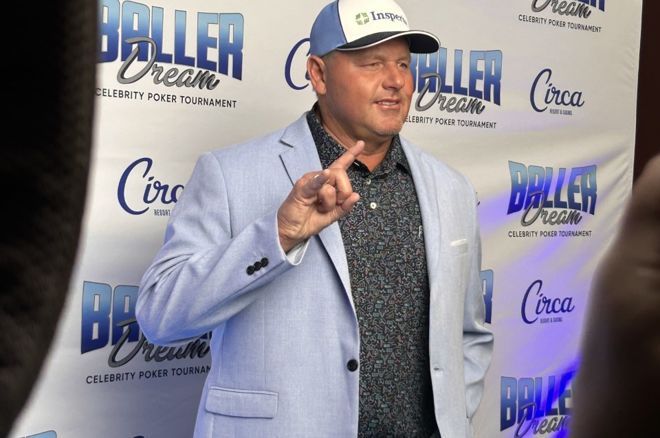 Table Of Contents
Baseball legends Roger Clemens, Greg Maddux, and Frank Thomas were among the superstar athletes in attendance Sunday night at Circa Las Vegas's Legacy Club for the Baller Dream Foundation Celebrity Poker Tournament, which raised over $175,000 — and counting — for a good cause. Former offensive lineman Evan Mathis, who spent 12 seasons in the NFL, won the tournament and received the top prize of $75,000.
For Clemens, who won six Cy Young awards and 354 games mostly in the 1980s and 1990s, it was his first experience playing poker. He told PokerNews at the event that he picked up some advice from his kids.
"My boys tried to give me a little Poker 101, but I don't know if it's going to be any good," Clemens said in the interview you can view below.
While in Vegas for tonight's charity poker tournament at @CircaLasVegas, Baseball legend Roger Clemens discusses ML… https://t.co/IjkCJRdtA4

— PokerNews (@PokerNews)
Playing Poker for a Great Cause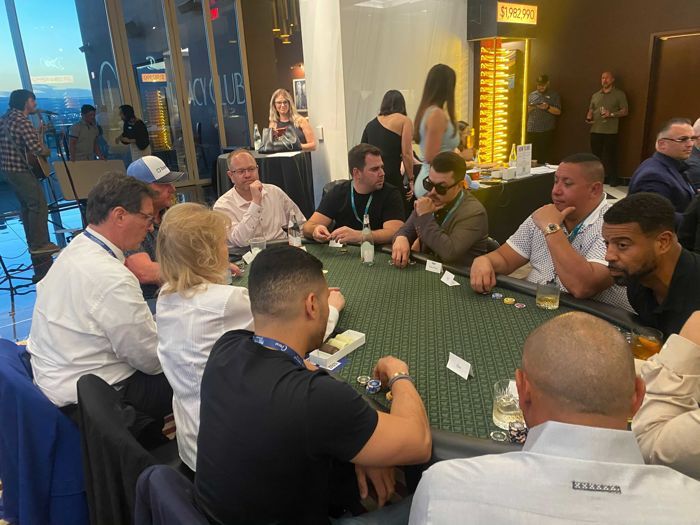 What brought Clemens, and the other celebs, to Circa on Sunday wasn't to gain some tournament experience in hopes of one day becoming the next Phil Ivey. They were there to support the Baller Dream Foundation, which provides assistance for children battling cancer.
"The Baller Dream, the event here is, it's a beautiful place where we're at, at Circa, and having Greg Maddux, everybody, all the wonderful people that I've met that are behind the scenes running this event. I just celebrated my 30th anniversary with the Roger Clemens Foundation. We deal with at-risk children, and I know that what goes on here and what this is for, it's super important."
During the 1990s, when you'd see Clemens and Thomas, aka the "Big Hurt," in a venue together, it was usually with Clemens on the pitcher's mound hurling a 100 mile-per-hour fastball towards Thomas, who was one of the all-time greatest hitters. But on Sunday, the baseball legends squared off on the felt against a number of other other athletes along with a few poker players including Shaun Colquhoun, a local pro who took fourth in the 2022 WSOP Casino Employees event.
None of the players in the field, however, could outlast Mathis, who took it down. Mathis is no slouch on the felt. In fact, according to Hendon Mob, he had nearly $280,000 in live poker tournament cashes. That includes a $192,000 score for sixth place in a 2019 high roller event at the PokerStars Caribbean Adventure (PCA).
Former NFL'er Evan Mathis Takes on the 2019 PCA
Clemens, on the other hand, well, there was no beginner's luck. But he served his purpose of helping support the Baller Dream Foundation, the main purpose of the evening for everyone in the tournament at the Legacy Club, a stunning luxurious rooftop lounge on the 60th floor at Circa Las Vegas.
Maddux, whose daughter Paige hosted the event and gave a heartfelt speech prior to the start, told PokerNews that he's more experienced at poker than Clemens, but "by Vegas standards, no, I'm probably a 25 handicap," when asked if he's a skilled poker player. The long-time pitcher for the Chicago Cubs and Atlanta Braves said he would often play cards on the plane with teammates traveling to road games.
Like Clemens, Maddux is considered by most baseball experts to be one of the best pitchers of all-time. The Las Vegas local won four Cy Young awards and 355 games (one more than Clemens), struck out 3,371 batters, and won a World Series title with the Braves in 1995.
Maddux Makes a Generous Donation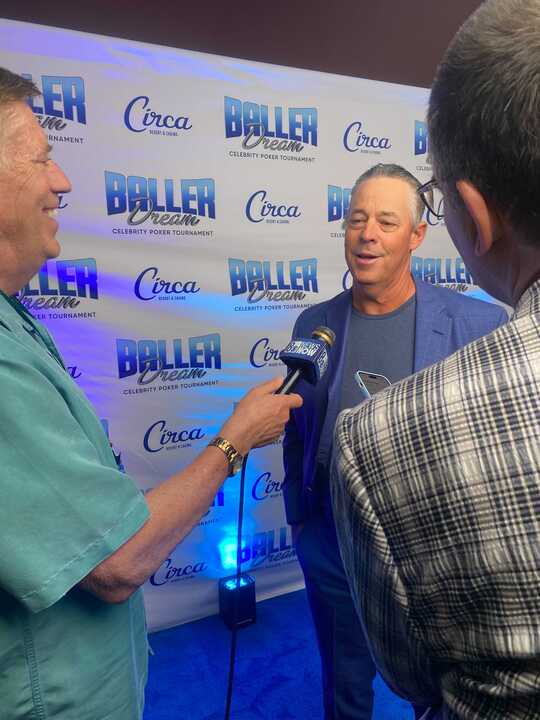 Prior to the announcement of "shuffle up and deal" from tournament director Mike Palm, VP of Operations at the D in Las Vegas, Maddux informed the crowd he was donating $49,500 to the Baller Dream Foundation. As he mentioned, he was going to donate $50,000 but needed $500 for a rebuy in the tournament.
On top of the money raised from buy-ins and rebuys, the charity event hosted a silent auction, which featured a number of signed jerseys and baseballs from superstar athletes such as Maddux, Clemens, and Shohei Ohtani, the two-way star for the Los Angeles Angels.
For more information about the Baller Dream Foundation and their purpose, visit BallerDream.org.