Alexandra Botez & 888poker Ambassadors Make Day 2 of Main Event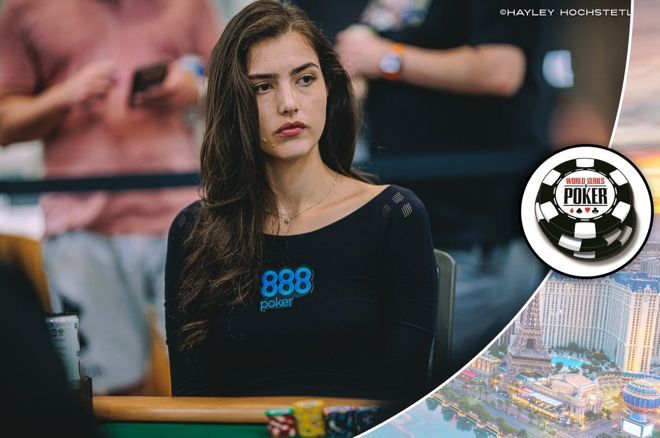 The 888poker Ambassadors and StreamTeam members have taken their shot at achieving World Series of Poker Main Event glory across Day 1c and Day 1d, with several of them making it over the first hurdle.
The likes of Aaron Barone and Nick Eastwood made it through to Day 2 from the third starting flight while a whole host of ambassadors made it through from Day 1d.
Chess superstar Alexandra Botez is also donning the 888poker patch throughout the Main Event and cruised through to the next stage. Unfortunately, Vivian Saliba and Alexandre Mantovani were the players representing the poker platform who crashed out in the early stages.
Barone & Eastwood Sail Through Day 1c
Before Day 1c got underway, the 888poker pros had a partial meeting where the goal set was to "just don't bust on Day 1," said Barone, who is 888poker's latest StreamTeam member.
One interesting hand that Barone played on Wednesday was where he ended up six-bet jamming ace-king offsuit.
"At 200/400/400. I opened to 900, a middle position player flatted before the button reraised it 3,600 from a stack of 45,000," commented Barone. "I tanked and four-bet to 9,800, which folded out middle position. The button quickly made it 20,000. I thought for a while about whether I'm 'supposed to fold.' whether he/the average person will ever have four-bet folds here, and whether ripping early in the main is a massive punt. Online I sigh-shove and don't think much about it. But live? I wasn't sure. Even after, the responses to this hand have been mixed."
"Ultimately, I decided my image was too splashy to do anything other than jam. Not only had I been opening a lot and three-betting more than anyone else at the table, but that four-bet wasn't my first of the day. Might have been my third or fourth, so I shove, and he snap-folded."
Barone is playing his first-ever Main Event, despite playing professionally for the last 15 years. The American is usually found on the virtual felt, where he streams his sessions on his own Twitch channel.
Barone, who made the money at the record-breaking PokerNews Cup a few days ago, finished Day 1c with a stack of 79,800.
His colleague Eastwood faired just as well, ending the session slightly better with a final chip count of 80,600.
Botez Gets a Bag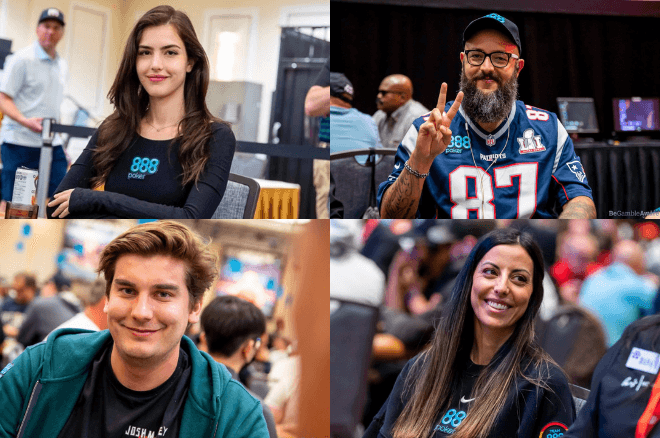 Botez, Caue Moura, Lucia Navarro and Josh Manley were the 888poker players in action from the final Day 1 session and all four bagged and tagged a stack for Day 2d.
Botez collected the most chips through the first five levels and ended the night with 117,000. Moura and Navarro finished with 104,800 and 86,500, respectively. Manley props up the ambassadors but still has plenty of play in his Day 2d starting stack of 28,700.
For StreamTeam member Manley, Day 1d was a bit of a rollercoaster of a day.
"Day 1 this year was a grind and a half and not a good one either," said Manley. "I was honestly card dead for about nine hours, with the exception of a few hands, which ended up being coolers in the wrong direction."
Towards the end of the night, the Brit was down to just 9,000 chips but was able to steal a few pots to chip up. He then had his tournament life on the line after he moved all in on the river with just ace-high.
"I had one very scary bluff where I had Ax9x on the button with just a 20 big blind stack of 12,000." detailed the streamer. "It folded to me, I raised, and the big blind called. The flop ran out KxQx8♠. I bet small, and my opponent called. The turn was 3x, and I bet around 40% pot, setting up a river all-in. They called the turn bet and thankfully check-folded when I moved all in for a little less than pot on the 2x river."
Soon after, he flopped a king-high straight and received a full double-up.
"Just like that, I was up to just over 30,000, which, after having 9,000, felt like millions. I ended up bagging 28,700, and I'm planning to run it all the way up on Day 2!"
2023 WSOP Main Event Live Updates
Join the Fun, Action, and Value at 888poker Today
Signing up for an 888poker account is easy. Download 888poker via PokerNews, create your free account, and you are good to go. Always check out our 888poker review to ensure you are getting your hands on the best 888poker bonus codes and, therefore, welcome bonuses and rewards. It is as simple as that. Good luck at the tables!
Calum has been a part of the PokerNews team since September 2021 after working in the UK energy sector. He played his first hand of poker in 2017 and immediately fell in love with the game. Calum's proudest poker achievement is winning the only tournament he has ever played in Las Vegas, the prestigious $60 Flamingo evening event.