Moneymaker, Hachem Bust Day 5; All Past WSOP Main Event Champs Out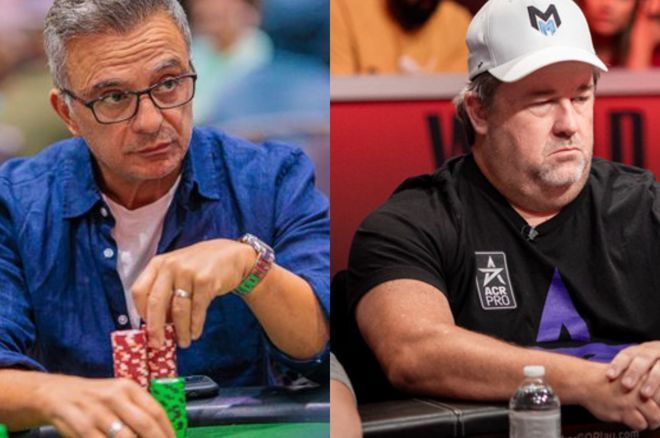 There will be no "Aussie! Aussie! Aussie! Oy! Oy! Oy!" at the final table of the 2023 World Series of Poker (WSOP) Main Event. Joe Hachem and Chris Moneymaker both busted early on Day 5, guaranteeing the eventual winner will be a first-time champion.
Tuesday's session began with 441 players, including the two aforementioned previous champs. Moneymaker famously won it in 2003, which helped spark a massive poker boom. Hachem, the Australian poker legend took it down in 2005 when he defeated Steve Dannenmann heads-up.
2023 World Series of Poker Hub
Bookmark this page! All you need to know about the 2023 WSOP is here.
The 2023 WSOP Main Event had a record field of 10,043 players, smashing the previous record of 8,773 entries set in 2006. When a champion is crowned next week, one lucky and skilled individual will receive a whopping $12.1 million.
Former Poker Champs Headed Home
No one knows who among the remaining 390 players, at the time of publishing, will be crowned the 2023 world champion. But it won't be either of the last two standing past winners.
Moneymaker entered the day with 435,000 chips, quite a bit below the average stack. With the blinds at 10,000/25,000, the former accountant put the last of his 345,000 chips in the middle early on Day 5 with 5♦5♥ but ran into the K♣K♥ of Ryan Brown, who scooped the pot when the board ran out 9♣7♥3♣K♦3♠, sending the former PokerStars ambassador home.
Despite the abrupt Day 5 exit, Moneymaker recorded his fourth straight cash in the Main Event, excluding the 2020 hybrid version, after failing to reach the money since 2003 when he won the whole thing.
As for Hachem, another popular figure from the poker boom era, he began what turned out to be his final session in better shape than Moneymaker with 1,485,000 chips. But he too would exit stage left rather quickly.
On a flop of A♠10♦2♠, the 2005 world champ appeared to be sitting pretty with AxQx, but had to dodge a spade and a straight draw as Mason Vieth was holding K♠J♠. Vieth, the preflop three-bettor, wagered 200,000 into an already bloated pot and received a call. When the 5♣ appeared on the turn, Hachem checked and then called off his remaining 600,000 chips.
After the 8♠ was turned over on the river, it officially ended any possibility of a former champion winning the Main Event this year. There are, however, still plenty of big names left in the field, including Pro Football Hall of Famer Richard Seymour, political polling expert Nate Silver, and past runners-up Dario Sammartino and John Racener.
Follow Continued Live Coverage of the Main Event