EPT Barcelona Hands of the Week: Flopped Royal Flush, Failed Bluffs & an Incredible Call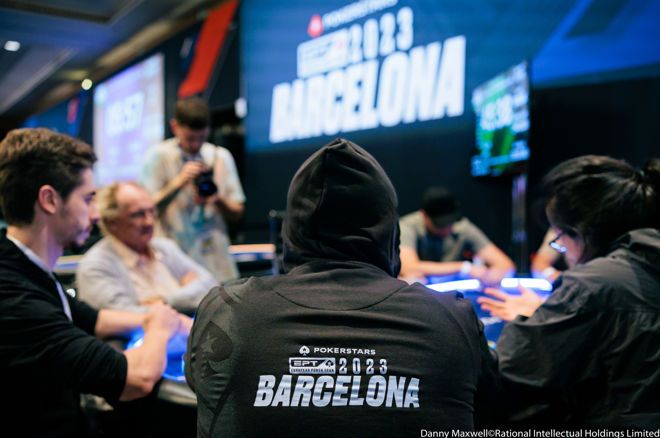 The 2023 European Poker Tour (EPT) Barcelona recently wrapped up. We already brought you some of the biggest hands from the early part of the series, and we thought we'd round it off with some more hands from the latter half, which included the €5,300 EPT Barcelona Main Event.
The PokerNews Live Reporting Team was on hand all series long to capture all the action, and during that time they documented some big hands, be they bad beats, sick coolers, or just game-changing in nature. Here's a look at some of the biggest hands from the latter half of the EPT Barcelona festival.
Matrai Soars As Benitez Runs Kings Into Aces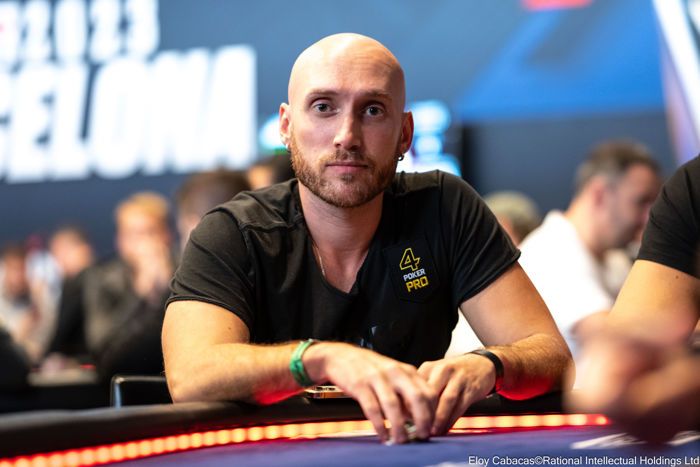 On Day 2 of the EPT Barcelona Main Event, it was Level 13 (1,000/2,500/2,500) when reporter Connor Richards saw Francisco Benitez open to 5,000 from early position and Andras Matrai three-bet jammed a stack of around 25,000 from the button. Morelli Felipe cold-called in the big blind and Benitez took some time before four-bet jamming with Felipe covered. Felipe snap-called for around 140,000.
Morelli Felipe: 7♥7♦
Andras Matrai: A♣A♠
Francisco Benitez: K♠K♣
Matrai was on the right side of the massive preflop cooler and improved to a set on the 2♥A♦Q♥ flop before the board finished out 3♠J♠ to earn him the big pot and send Felipe to the rail.
Fournier Set Up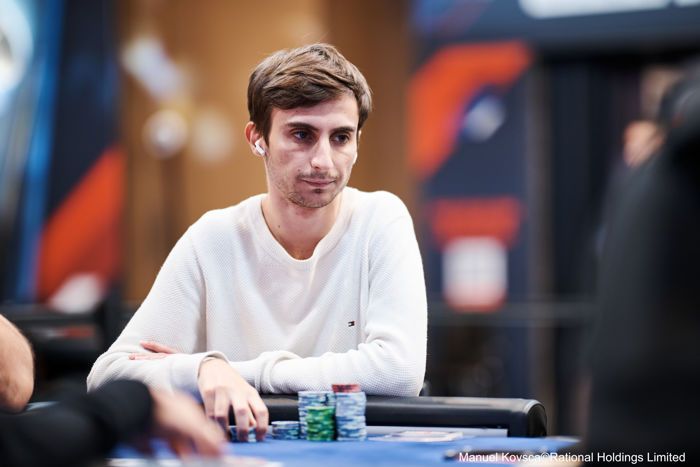 On Day 5, just 19 players remained in Level 28 (40,000/80,000/80,000) when reporter David Salituro caught a big hand. It happened when action folded to Samuel Fournier in the small blind who limped in. Carl Shaw then raised to 300,000 and Fournier reraised to 800,000.
Shaw called and they saw a flop of 2♣J♥A♥. Fournier led out for 275,000 and Shaw quickly called.
The turn came the K♦ and Fournier moved all in for around 1,900,000. Shaw practically beat him into the pot and turned over A♣A♦ for top set. Fournier was caught bluffing with Q♠8♦ and needed to hit a ten on the river to stay alive with a straight.
The dealer instead turned over the 7♠ and Fournier's tournament came to a sudden end.
Santiago Plante Done and Dusted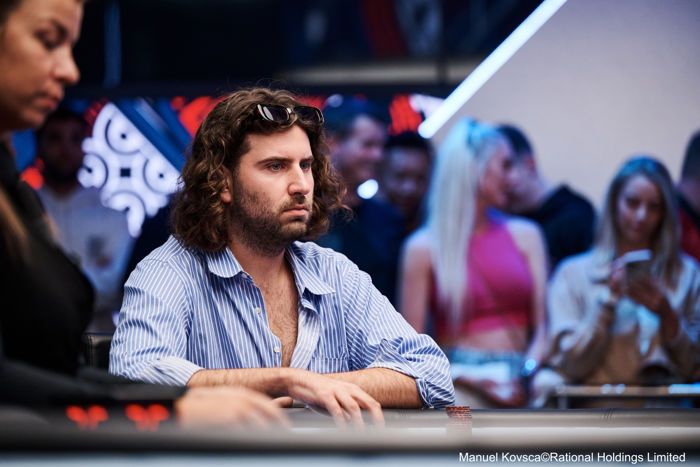 On Day 7 with just four players remaining, it was Level 34 (150,000/300,000/300,000) when Santiago Plante was all in and at risk for 4,150,000 from the small blind against Carl Shaw in the big blind.
Santiago Plante: Q♦Q♣
Carl Shaw: Q♥9♦
Plante was in fantastic shape to double up, but the flop of 10♣J♠10♦ created a sweat by giving his opponent an open-ended straight draw.
The K♥ turn gave Shaw the lead with a straight and Plante couldn't win or chop as the J♥ bricked out on the river to mark Plante's elimination in fourth place.
https://twitter.com/PokerNews/status/1698328708749381791?s=20
Phillipe Barouk Defies the Odds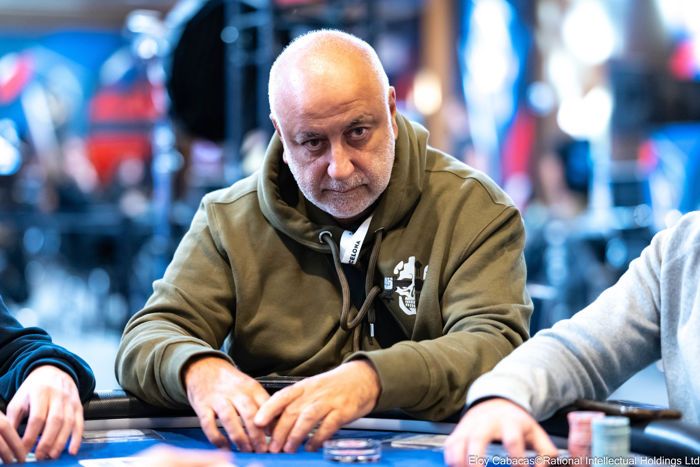 On Day 1 of €3,000 EPT Mystery Bounty, it was early in Level 1 (100/200/200) when reporter Ollie Garland saw a pot that stood at approximately 17,000 with two players looking at a full board that read Q♦10♦A♦2♠A♥.
Uri Reichenstein, who was under the gun, bet out 5,000. In response, Phillipe Barouk, in the cutoff, moved all in for 20,300, sending Reichenstein into the tank.
Reichenstein eventually folded and Barouk proudly slammed K♦J♦ on the table for a flopped Royal Flush.
A bit later on in Level 8 (600/1,200/1,200), reporter Matt Warburton saw Antoine Vranken raised to 2,000 from late position and was called by Barouk on the button. Jose Luis Garcia Devesa then reraised to 7,500 from the big blind. Both Vranken and Barouk called.
The flop came 5♣K♣J♣. Devesa moved all in for around 52,000, Vranken folded and Barouk called. Players flipped their cards, with Barouk at risk.
Phillipe Barouk: Q♣10♣
Jose Luis Garcia Devesa: A♣6♥
Barouk had a made flush and Devesa had the ace-high flush draw. The turn came the 9♣ and the river was the 2♠.
The turn completed Devesa's ace-high flush, but it also brought Barouk a straight flush to give him the pot. Players took out their phones to take photos of what was a rare moment in poker. Barouk was in disbelief as he scooped up his chips for the double-up.
Yaroshevskyy's Incredible Call Sends Melogno to the Rail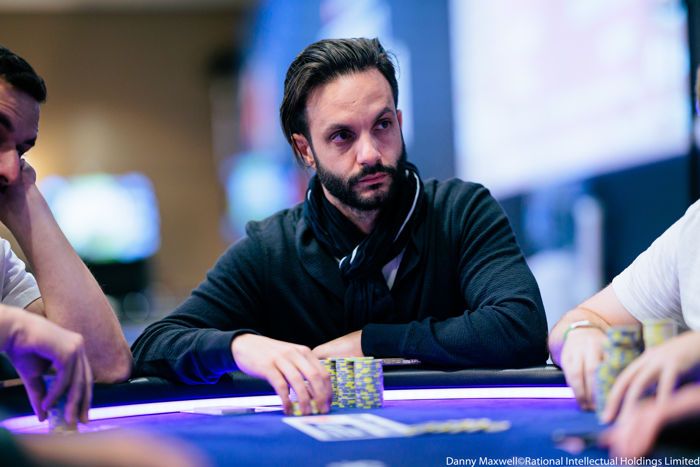 In Level 22 (10,000/20,000/20,000) in the €10,300 EPT High Roller, reporter Tyler Foran saw about 220,000 in the middle on a J♠7♦3♣8♠ turn. Igor Yaroshevskyy checked to Pablo Melogno, who fired a bet of 135,000. Yaroshevskyy called.
The 3♦ completed the board, and Yaroshevskyy checked before Melogno moved all in. Yaroshevskyy asked for a count and went into the tank.
After hearing it was 355,000, Yaroshevskyy went deep into the tank, using four time banks before dropping in the call. Melogno tapped the table to say good call as he rolled over Q♥5♥, and Yaroshevskyy showed A♦K♠ to drag the pot with just ace-high.
Click here to see who won the €10,300 EPT High Roller
Executive Editor US, PokerNews Podcast co-host & 2013 WSOP Bracelet Winner.