PokerNews' Lukas Robinson Wins the PartyPoker Sunday Party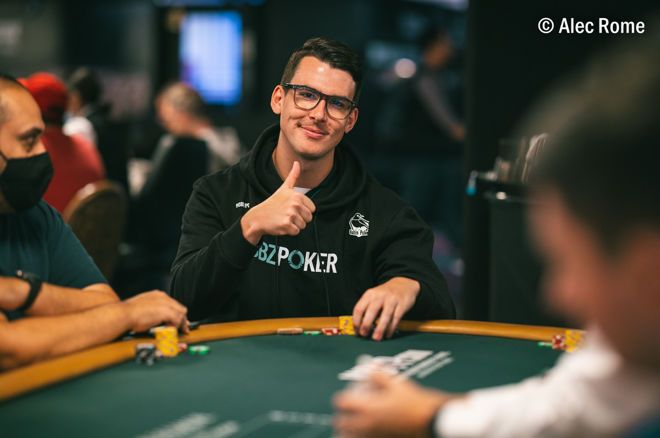 Lukas "RobinPoker" Robinson, PokerNews' first online ambassador, took down the $100,000 guaranteed Sunday Party at PartyPoker on August 4, and padded his bankroll with $13,731.
The 1,026-strong field was whittled to only 16 players on Day 1, and Robinson found himself third in chips. By the time only eight players remained, Robinson held the chip lead, and he used his chip advantage to full effect, eventually coming out on top for $13,731, which included bounty payments.
Sunday Party Final Table Results
| Rank | Player | Bounties | Prize | Total Prize |
| --- | --- | --- | --- | --- |
| 1 | Lukas "Robin Poker" Robinson | $7,654 | $6,077 | $13,731 |
| 2 | antiZZZZ | $2,642 | $6,066 | $8,708 |
| 3 | Charly Error | $1,007 | $4,020 | $5,027 |
| 4 | Joker_James95 | $1,269 | $2,609 | $3,878 |
| 5 | perservero77 | $567 | $1,783 | $2,350 |
| 6 | ASAP JARDA | $952 | $1,376 | $2,328 |
| 7 | Phaelzin | $1,326 | $1,014 | $2,340 |
| 8 | Jaime "jaimestaples" Staples | $596 | $808 | $1,404 |
The final table was set when "x1fnd" committed their stack from the small blind with pocket jacks, and they couldn't get there against the pocket queens of "antiZZZ."
Team PartyPoker's Jaime "jaimestaples" Staples was the first of the eight finalists to bow out, and it was Robinson who eliminated the popular Canadian. Robinson min-raised to 600,000 with pocket sevens under the gun, and Staples opted to call in the cutoff with ace-jack of clubs. The flop fell seven-five-queen with two clubs, and both players checked. The eight of clubs on the turn was greeted by a 1,200,000 bet from Robinson into the 4,350,000 pot, which Staples called. A five on the river improved Robinson to a full house, and he paused for a while before leading out with a 3,000,000 bet. Staples pondered his options before settling on a jam for 10,167,932. Robinson snap-called and raked in the 24.6 million chip pot.
Although delighted to scoop such a large pot, Robinson apologized to Staples for the cooler he sprung on him
With Staples' chips in his stack, Robinson held more than 2.5 times as many chips as any of his remaining six opponents, and the route to victory was well illuminated. That victory drew closer when "Phaelzin" raise-shoved for 39 big blinds with pocket jacks when Robinson was lying in wait with pocket aces! Those aces held, and Robinson continued his domination.
Check out these PokerNews-exclusive freerolls
Robinson Navigates His Way to Heads-Up
"ASAP JARDA," "perservero," "Joker_James95," and "Charly Error" fell by the wayside, leaving Robinson heads-up against "antiZZZZ" trailing his opponent in by 90 to 77 big blinds. Robinson came out on top of the early one-on-one confrontations the best and began forging a chip lead for himself.
By the time the final hand came around, Robinson had "antiZZZZ" on the ropes and then woke up with pocket kings!
Robinson limped with the cowyboys, and "antiZZZZ" checked holding ace-four of diamonds. The seven-six-eight flop saw "antiZZZZ" check-call a 1.2 big bling bet. Another seven on the resulted in a check-call from "antiZZZZ," this time a more substantial three big blind bet. A king on the river put a possible diamond flush on the board, but gifted Robinson a full house. "antiZZZZ" check, Robinson bet half pot, and snap-called when "antiZZZZ" jammed for a shade under 16 big blinds. GG for "antiZZZZ" and a career-best online score for the PokerNews online ambassador.
Next Up: PartyPoker Grand Prix Malta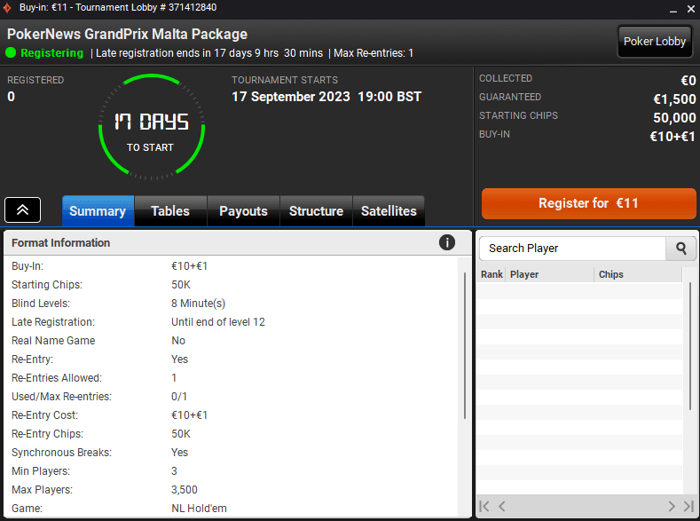 Although you can play against Robinson in the online poker world, you have the chance to battle with him in a live poker setting in sunny Malta at the upcoming PartyPoker LIVE Grand Prix Malta festival.
Robinson moved to Malta from the Isle of Man in January 2023, so it make sense to enter a prestigious event on his doorstep.
Speaking to PokerNews, Robinson said, "I really wanted to live abroad and Malta seems the perfect destination for me and my girlfriend. We have never lived abroad before and I knew from other poker players, such as Fintan "easywithaces" Hand that you could stream poker and live a great life and with better weather than England!"
"I also heard about the live poker scene in Malta, with many series coming here, including the Malta Grand Prix that PartyPoker is hosting at the end of September. Being in Malta gives me a great work/life balance and is not a bad place to play most of the sites that PokerNews has partnerships with."
You could be playing in the €1 million guaranteed Grand Prix Malta for free, thanks to a PokerNews-exclusive tournament held online at PartyPoker. Set your alarms for 7:00 p.m. BST on September 17 because that is when the €11 buy-in PokerNews Grand Prix Malta Package tournament shuffles up and deals.
The tournament guarantees at least one €1,500 Grand Prix Malta package will be won, which includes the €550 tournament buy-in, a five night stay at the Vivaldi hotel, plus €250 towards your flights. Here's to seeing you in Malta.
PartyPoker is heading to sunny Malta
Grab Yourself a PartyPoker Welcome Bonus
If you haven't joined PartyPoker yet and want a bankroll boost ahead of playing Grand Prix Malta satellites, you can earn a generous welcome bonus when you download PartyPoker via PokerNews.
Your first deposit will receive a 100% matched bonus up to $600. Plus, PartyPoker will award you up to $30 worth of free play in the form of tournament tickets.
The minimum deposit is $10, which comes with $10 in tournament tickets released over the course of a week released on the following time scale:
Day 1: 2x $1 SPINS tickets + 1x $5.50 MTT ticket
Day 2: 4x $0.25 SPINS tickets
Day 4: 1x $3.30 MTT ticket
Day 6: 4x $0.25 SPINS tickets
However, if you deposit $20 or more, then that package increases to $30 worth of tickets released as follows:
Day 1: 1x $5.30 MTT ticket
Day 2: 2x $1 SPINS ticket
Day 3: 1x $5.50 MTT ticket
Day 4: 1x $5.50 MTT ticket
Day 5: 3x $2.20 MTT tickets
Day 6: 2x $3 SPINS tickets + 1x$3.30 MTT ticket
Residents in the United Kingdom can get a different PartyPoker welcome bonus. Made up of a 100% matched deposit with a maximum of £400 on any deposit over £10. Players also receive £100 free play, made up of Party Dollars and SPINS Overdrive tickets, over the course of 14 days. This is a limited-time offer for UK residents, so grab it before it races off into the distance.
All matched deposit bonuses have playthrough requirements and are released in 10% increments. For full details and to check the expiry date of the bonuses, check out the terms and conditions on the PartyPoker website.