Play Poker, Level Up and Get Cash with Run It Once Legends Rewards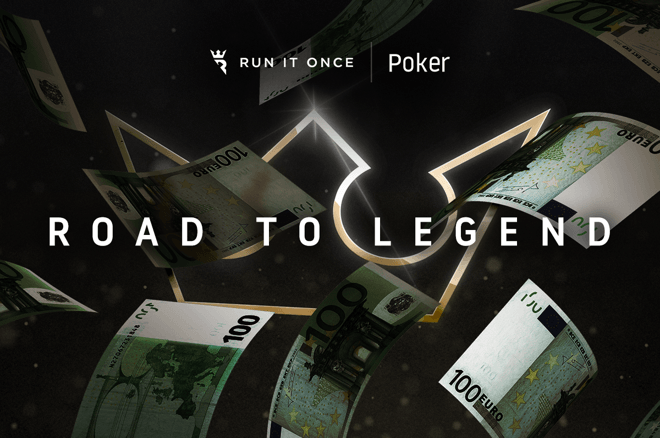 Players on Run It Once Poker can earn up to 75% total rakeback, thanks to their Legends Rewards program and innovative 'Splash the Pot' feature.
By working your way up through the ranks, it's super easy for players to guarantee weekly cash rewards while playing, as long as you hit your weekly points goal for each reward.
There's Never Been a Better Time to Become a Run It Once Legend
Run It Once Poker Ranks
There are five separate Run It Once Poker ranks, with the top rank of Legend offering the biggest rewards. Players who have grinded their way to Legend status have racked up Legends rewards of over €2,000.
Clubs
Diamonds
Hearts
Spades
Legends
Points Breakdown
Each of the first four ranks have five sub-levels that offer cash rewards for achieving. Here is the cash reward players receive for reaching Level 5 in each rank:
| Rank | Points Required | Cash Reward | Reward |
| --- | --- | --- | --- |
| Clubs | 400 | €1.25 | 40% |
| Diamonds | 3,000 | €11.50 | 42.5% |
| Hearts | 20,000 | €100 | 45% |
| Spades | 70,000 | €460 | 50% |
There are two levels to Legends rank. Whilst in the "Legend" tier, players will continue receiving additional weekly cash rewards of €150 at each level, and a boost of 5,000 points for every 15,000 points earned.
Six Ways to Earn Points
There are six easy ways to earn points towards your Run It Once Poker rank. Simply Log into your Account, Play at least one hand of poker, play in cash games, start new tables, save existing tables, and achieve new legends levels.
All of those will earn you extra points in your pursuit of the next rank and the extra rewards that come with it.
---
---
Four Week Streak
You can also improve your rewards with the help of Streaks. This rolling bonus program lets players earn a cash bonus on top of their weekly cash reward.
The percentage will vary based on the lowest rewards Rank that was achieved during the Four Week Streak period.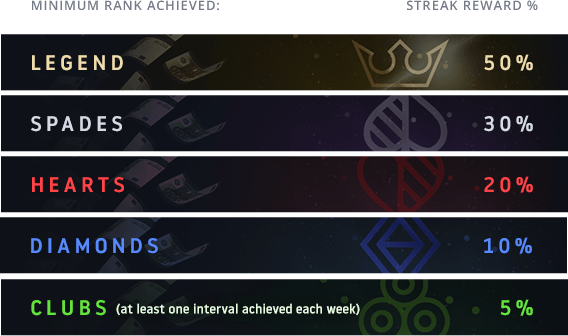 For example, if over the last four weeks a player spent one week at Legend, two weeks at Spades and one at Hearts, then that player would be eligible for the 20% Hearts Four Week Streak bonus.
So, in the last week if they achieved Spades Level 4, earning a €300 weekly cash reward, they would be entitled to an additional €60.00 (20% of €300) via the Hearts Four Week Streak bonus.
---
Start Your Run It Once Poker Career With a €600 Bonus
Run It Once is giving all PokerNews reader a welcome bonus worth up to €600. Download Run It Once Poker via our links, create your account and watch as all your deposits for the first 30-days after making your first deposit are matched 100% up to a combined maximum of €600.
The bonus releases into your account at the rates shown in the table below. Perhaps the best feature of this bonus is it never expires so long as you play at least one raked hand every 30-days. Do this and you can take as long as you wish to clear your bonuses.
| Bonus Progression | Rake This | Get This |
| --- | --- | --- |
| €0-€100 | €25.00 | €5 |
| €100-€200 | €57.10 | €10 |
| €200-€300 | €66.50 | €10 |
| €300-€500 | €100 | €10 |
| €500-€600 | €200 | €10 |