Don't Miss Out on the €15K SNG & Cash leadRboards at Run It Once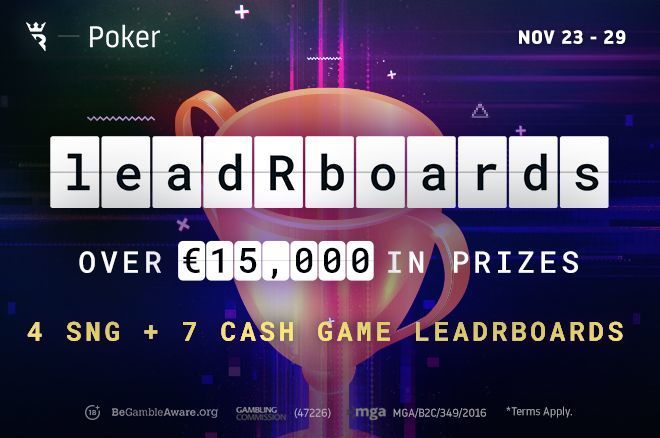 Table Of Contents
Are you ready to grind?
If so, you should head to Run It Once Poker as this week they are hosting four SNG and three cash game leaderboards awarding more than €15,000 to its players!
This potentially lucrative promotion runs from Nov. 23-29 with a total of 295 spots getting paid throughout the 11 leaderboards.
You will have a chance to claim some free loot whether you play big stakes or small. Read on to learn how!
Four SNG Select Leaderboards
Run It Once recently launched its unique brand of SNGs dubbed SNG Select combining players that want to play a lottery-style game (SNG Select CUB3D) with players that prefer to play with classic payouts (SNG Select Classic).
If you aren't familiar with these games yet, check out everything you need to know about SNG Select CUB3D and Classic right here.
Run It Once has gone all out to celebrate the launch of these games. First, they dropped €100,000 in SNG Select tickets to its players. More recently they decided to award new players with a €50 SNG Select ticket bundle. And now, they are awarding players yet again with four amazing leaderboards to close out the month.
Grab Your €50 SNG Select Ticket Bundle at Run It Once
You will earn one leaderboard point for each €1 in rake in these games. Don't worry if you play smaller buy-ins as you won't be competing against those playing higher as the leaderboards are broken out by stakes. In other words, you will be competing against players playing similar games as you are.
It is possible to add a whopping €500 to your account if you win the highest leaderboard with other leaderboards paying off handsomely as well. Even if you don't win this prize, there are many other great ones on tap with 110 places on the leaderboards getting awarded a prize.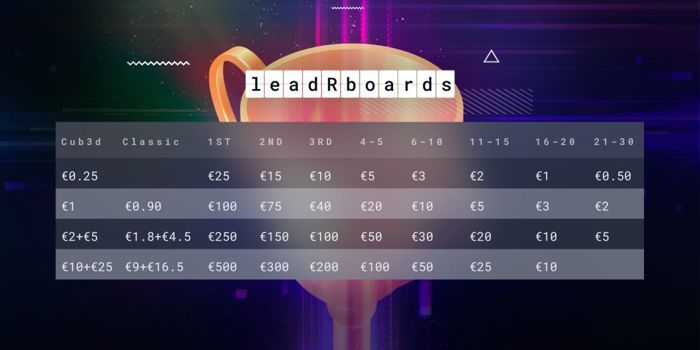 Seven Cash Game Leaderboards
Run It Once hasn't forgotten about their cash game players. After all, this is what the site was founded on and will remain a big focus of the online poker room.
The cash games have become popular this year not only because of lucrative rewards like cash drops and the ability to earn an absurd amount of rakeback but also due to the popular Galfond Challenge which has dominated the poker headlines throughout the year with tons of drama and action.
So it should be no surprise that there are seven dedicated leaderboards awarding 185 places including €1,250 to the winner of the biggest leaderboard.
The leaderboards are broken out by stakes and earning points is similar to that of the SNG Select leaderboards in that players will earn one leaderboard point for every €1 raked in six-max cash games. Leaderboards are also separated between NLHE and PLO.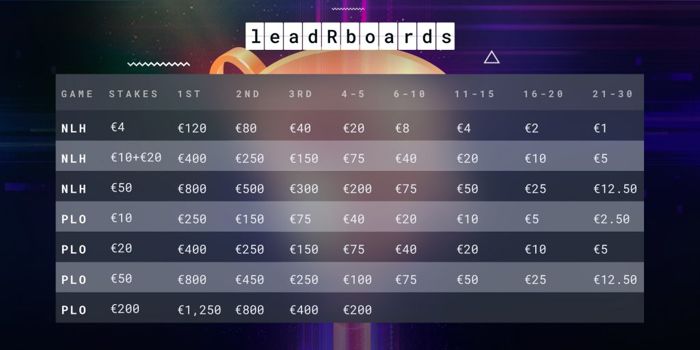 Run It Once will credit winning players their rewards within 72 hours after the completion of the leaderboards.
---
Read More: Five great reasons why you should play SNG Select at Run It Once.
---
Amazing Welcome Package Including Free SNG Select Tickets!
As we already mentioned, Run It Once already awarded its existing players with a free SNG Select ticket bundle.
Of course, they didn't forget about new players as well, and now is the perfect time to see what you have been missing out on.
Simply download Run It Once Poker through PokerNews and your first deposit will be matched in the form of a bonus up to a whopping €600!
This is not all, as they will also be giving all new players between now and Nov. 30 a total of €50 worth of SNG Select tickets. You will get a €10 SNG Select ticket bundle within 72 hours after your first deposit and then another €10 bundle each of the next following four weeks.
Be sure to use your tickets within seven days before they expire.