The Bernard Lee Poker Show 12-06: 2019 WSOP champs Ben Heath & Scott Clements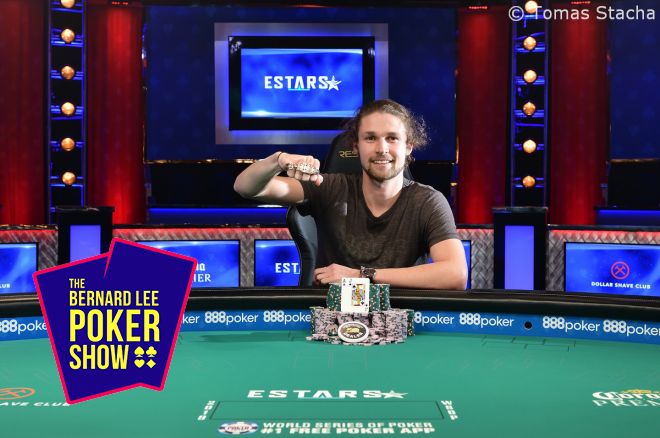 In this episode of The Bernard Lee Poker Show on the PokerNews Podcast Network, Bernard Lee first interviews Ben Heath, the winner of the 2019 World Series of Poker $50,000 no-limit hold'em event. Ben discusses winning his first bracelet in this 50th Anniversary High Roller Event.
During the second half of the show, Bernard interviews Scott Clements, who captured the $1,500 Dealer's Choice event. This win was his third bracelet, but the wait was twelve years since winning his second bracelet. Scott discusses how he chooses which game to play and what he will do with his three bracelets.
Show Time Stamps
| | |
| --- | --- |
| 0:00 | Welcome to The Bernard Lee Poker Show as this week's guests will be Ben Heath, 2019 WSOP $50,000 High Roller Bracelet winner and Scott Clements, 2019 WSOP $1,500 Dealer's Choice champion. |
| 1:24 | Bernard discusses the latest news at the WSOP with all the results from the past week including Big 50, $10,000 Short Deck, $600 No-limit Hold'em Deepstack, $5,000 no-limit hold'em, $1,500 Seven Card Stud.. |
| 6:16 | Bernard previews the upcoming week at the WSOP including several $10,000 Championships (H.O.R.S.E., Dealer's Choice, Seven Card Stud) and The Senior's and Super Senior's Events. |
| 8:06 | RunGood Gear Ad |
| 8:49 | Advertisement |
| 9:19 | Bernard welcomes Ben Heath to the show. |
| 9:56 | Ben joins the show. |
| 10:21 | Ben describes how he feels after capturing the 2019 WSOP $50,000 High Roller bracelet. "It didn't really sink in the first day, but the last few days have been a lot of fun." |
| 11:08 | Ben discusses whether he will now chase 2019 WSOP Player of the Year. "I don't actually think so. I came out with the intention of just studying a lot and enjoying my summer...I don't really plan on changing that just to chase Player of the Year." |
| 11:46 | Ben reveals his 2019 WSOP schedule plans. |
| 12:48 | Ben discusses what he does when he studies poker. "It's a lot of talking to friends, going back over my own hands. Pretty much every hand I play I note down." |
| 16:38 | Ben describes how comfortable he was during the transition to high roller events earlier in his career. "I think I was a little more comfortable than I should have been because I wasn't quite aware of how good top players were. But I also think that the top players then weren't as good as they are now in respect to other pros." |
| 18:04 | Ben discusses what he felt his chances of winning a WSOP bracelet. "I didn't expect to get a bracelet… You just don't play that many bracelet events every year." |
| 19:51 | Ben discusses how playing other final tables, especially with a lot of money at stake, was helpful in preparing for this WSOP high roller event. "You're first deep run with a lot of money on top, it's nice to get that out of the way." |
| 24:12 | Ben describes how he felt going into the WSOP $50,000 high roller final table. "I was very, very tired…There were very strong people left in the field, so I was very excited and a little bit nervous how well I would perform…You have to execute very well in these situations when there is a lot of money at stake. You have to shut your emotions out so you can do that." |
| 26:22 | Ben discusses the controversial hand where Sam Soverel folded out of turn. |
| 31:15 | Ben recalls the last hand and controlling his emotions at the final table. "In terms of executing well at the final table, it's very hard to do that if you are very emotionally invested in every pot and every swing. I think a lot of the top players are pretty good at just detaching the emotional side from it during the final table so that you can perform well." |
| 33:54 | Ben lists which events that he is looking forward to playing this summer at the WSOP, which include the Main Event and $10,000 Six-Max no-limit hold'em Championship. "The Main Event is so much fun." |
| 35:38 | Las Vegas Laundry Services Ad |
| 36:38 | Bernard continues his interview with Scott Clements, who captured his third bracelet in the 2019 WSOP $1,500 Dealer's Choice event. |
| 37:04 | Scott joins the show. |
| 37:24 | Scott discusses how special winning this third WSOP bracelet was. "It feels good to finally get that third one. I had so many seconds in between…It is definitely very special and it was nice to be back in the winner's circle after being away so long." |
| 37:57 | Scott reveals that Omaha is definitely his best game. |
| 39:05 | Scott discusses that he will give each one of his three children will receive one of his bracelets. "One for each of you." |
| 39:49 | Scott states that limit hold'em and badugi were his weaker games. |
| 41:22 | Scott discusses how he used the big bet games (no-limit hold'em PLO, pot limit triple draw) to put pressure on his opponents. "I used at the final table when I had a big stack and there were two medium stacks and there was a short stack. The other two stacks really don't want to get involved until that guy (short stack) busts." |
| 42:43 | Scott discusses how he chose the games to play during Dealer's Choice. "I would usually adjust to the table. There was some times I played hands and I remember people making huge mistakes in certain games and I ended up choosing those games." |
| 44:58 | Scott describes the strategy heading into Day 3. "My thoughts was I'm just going to play well…I really didn't have a specific game plan because you don't know what games they are going to pick." |
| 47:18 | Scott discusses if this win changes his schedule for the 2019 WSOP and will he now chase Player of the Year. "One of my goals is to win (WSOP) Player of the Year." |
| 48:32 | Scott discusses whether he would give up an event to play in specific events such as Omaha. "You want to give yourself as many shots as possible." |
| 49:53 | Scott gives his opinion of this year's 2019 WSOP. |
Let us know what you think of the show - tweet about the podcast using #BernardLeePokerShow, and be sure to follow @BernardLeePoker on Twitter or Instagram.
You can follow Scott Clements on Twitter @BigRiskky.
The Bernard Lee Poker Show is now available on iTunes.