PokerNews Podcast 506: WPT Season Underway, Short Deck Craze Continues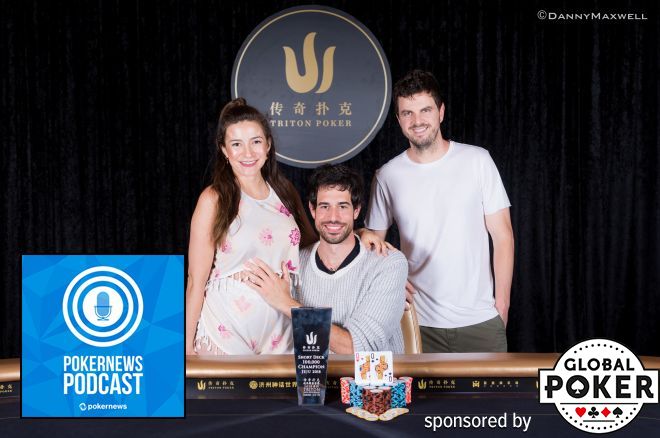 The World Series of Poker may be over, but the poker action has not come to an end. Sarah Herring and [Removed:139] take you through another jam-packed week in this episode of the PokerNews Podcast.
The World Poker Tour season has kicked off, and Simon Lam took down the inaugural Hawaiian Gardens WPT event. Men Nguyen finished in third place, and drew plenty of attention along the way.
South Korea plays host to the Triton High Roller Series, and that means more short deck action. Nick Schulman plays, and wins, his first-ever short deck tournament. Tom Dwan and Phil Ivey dive into some high-stakes tournaments.
Neymar makes an appearance at a Brazilian Series of Poker event, and makes a final table.
Plus, drama, drama, and more drama. Sarah and Jeff break down the latest news involving Doug Polk and Fernando "JNandez" Habegger.
Then, Eileen Sutton hops on the show. The poker player and author discusses what's made the biggest impact on her poker career, and how she thinks the game has evolved.
This week's sponsor: Global Poker.
Show Time Stamps
| | |
| --- | --- |
| 0:10 | Intro: What Sarah and Jeff are up to post-WSOP |
| 1:30 | Simon Lam Wins Inaugural Hawaiian Gardens WPT Event |
| 4:40 | Men "The Master" Nguyen Wreaks Havoc on Way to WPT Gardens Final Table |
| 11:00 | Sponsor: globalpoker.com |
| 11:40 | Nick Schulman Wins His First-Ever Short Deck Tournament |
| 16:10 | Triton High Roller Series breakdown: more and more short deck action |
| 17:10 | Neymar Makes BSOP Final Table |
| 20:20 | 'JNandez' & Doug Polk Drama Continues w/ Pair of New Videos |
| 28:10 | Poker Central Releases "Hand Histories" on PokerGO |
| 32:10 | Eileen Sutton, poker player and author, jumps on the show |
| 33:30 | On her poker background: "My poker life is kind of a weird one, and I'm really proud of its weirdness. I feel a little defensive of my origins story." |
| 36:35 | Establishing a relationship with Matt Matros: "So now I'm playing free poker in New York City, in a pub league, and I'm being coached by a world champion." |
| 38:40 | Developing "The Total Poker Manual", which can be found on Amazon |
| 41:30 | What the cash game scene is like in New York City: "It's been exhausting and life-affirming and life-changing, all of those things. I have been very proud of going toward the underground scene in New York as a single woman, with a lot of courage." |
| 47:30 | How writing about poker helped her own game develop: "The formal writing has really helped me unpack some of the deeper struggles for myself." |
| 50:55 | Her thought process on moving to Las Vegas: "I realized that the underground cash scene in New York...is a limited recreational environment...Vegas started to call to me." |
| 55:10 | Playing cash games at the World Series of Poker: "I sat down at a table at the Rio, and I was just so happy. I was just so happy, in every cell of my being." |
| 56:10 | Her poker memoir, Poker for Girls: "I still have faith in it, and women in poker, and poker in general." |
| 1:00:50 | Follow Eileen on Twitter and check our her website |
| 1:03:55 | Sponsor: globalpoker.com |
Tell us who you want to hear from. Let us know what you think of the show - tweet about the podcast using #PNPod, and be sure to follow Sarah and Jeff on Twitter.
You can subscribe to the PokerNews Podcast on iTunes here, or you can access the RSS feed here. The PokerNews Podcast family of podcasts is now available on audioBoom. Leave us a review and we might read it on the air, or at least give you a shoutout.