PokerNews Podcast: Jack Effel, Mark Herm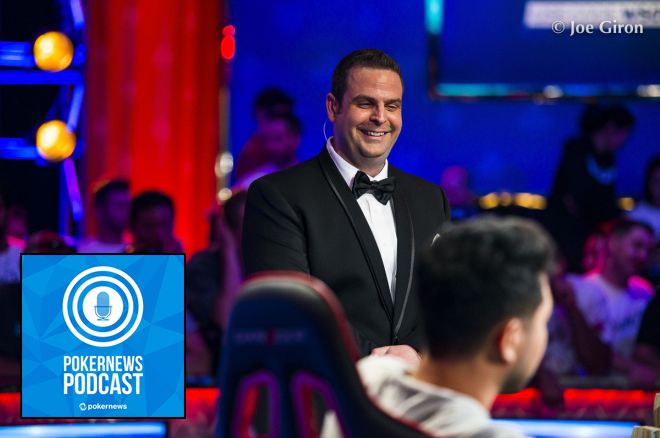 Sarah Herring is alone to start the show, she's in London for a live event. She recaps the Aussie Millions where Bryn Kenney and Cary Katz drew most of the spotlight.
Sarah and [Removed:139] then bring Mark 'Chirp' Herm onto the podcast. They discuss the "Chirp Herm Show", and Herm also gives out some advice to aspiring poker players and crypto-currency traders.
Jeff also chats with World Series of Poker Vice President Jack Effel about what players and fans can expect from the 50th Anniversary of the WSOP. The two dive into the major structure changes for this year's series, and the inspiration behind the new events that were created.
This week's sponsor: Natural8!
Show Time Stamps
| | |
| --- | --- |
| 0:20 | Intro: Sarah in London for an 888 event, she recaps the Aussie Millions |
| 2:40 | Bryn Kenney Wins Main Event |
| 6:20 | Sponsor: Natural8 |
| 7:40 | Cary Katz Wins AU$100k Challenge |
| 9:50 | Phil Galfond's Run It Once Launches with Public Beta |
| 11:30 | Big Brother Winner Gets Inked with Kelly Minkin Tattoo for Cheap |
| 17:10 | Mark 'Chirp' Herm joins the show! |
| 20:00 | His podcast's resurgence: "I like that it's video now, I really don't care at all about poker anymore, my aim of the pod is to kind of penetrate people." |
| 21:00 | Bringing Joe Mckeehen on the podcast: "Me and him always sort of got along, I can kinda understand the guy. A lot of people don't like him." |
| 23:00 | What his schedule is like: "I'm the furthest thing from a poker player now, I wake up at 6:30am and now have a very scheduled day. I'm kinda just crushing, honestly…I feel very motivated with what I'm doing every day." |
| 25:50 | Dating life: "Here's the thing: with online dating in my area…to be totally honest, it's gonna be really hard for me to date someone that I feel is someone I'd want to date. It's really hard to date on your level, because there's such an abundance of men in my area trying to acquire dates with attractive, interesting females. It's gonna be really tough." |
| 27:00 | Changing his dating strategy: "I'm from Philly subarbs, I changed my location to New York City, because there's more females than guys in New York City, there's a lot more interesting people in New York City as a whole." |
| 29:30 | His best and worst poker days |
| 30:20 | What it's been like during the rough cryptocurrency market stretch: "It's been really tough. It was a wild year. We got in at a really fortunate time….we all made mistakes…ended up still doing really well with everything…It's for sure been a massive, emotional roller coaster." |
| 34:00 | Do too many people "gamble" with crypto? "This is what I've seen with poker guys that're trading crypto: they're all looking at the wrong things." |
| 35:30 | Advice for US poker players who want to improve online |
| 37:10 | Herm's poker playing: "I'll be in Vegas for the WSOP most likely…I'll probably randomly play a big PLO event, other than that I've been playing in some random, high limit home games…my passion for the game died many years ago." |
| 38:20 | Staking horses: "I still think (online poker) is beatable if you're willing to put the work in. Backing-wise, I only back one or two guys, and it's almost exclusively live. When Black Friday happened, I was backing 40-50 guys, it was extremely stressful." |
| 39:30 | Getting on HGTV's "My Lottery Dream Home" and what that experience was like |
| 42:50 | What fatherhood is like: "He's very sweet, very loving. I think I'm pretty loving towards him, and I think that's the main thing that matters." |
| 46:20 | Herm's thoughts on the tweets from Negreanu and the controversy that ensued: "Daniel has done so much for poker, and he's looking at it in kind of an altruistic way, and props to him." |
| 48:20 | On some players disliking what PokerStars has done in the past: "Maybe someone is blaming PokerStars for the lack of their poker success because they failed to put in the sort of work on their game they should've, so it's all negative nonsense coming from them, no doubt. And then also I'm sure Daniel has some sort of responsibility…to do everything he possibly can to make PokerStars a good place for poker players to play." |
| 52:30 | Advice on achieving life balance and the benefits of hypnotherapy |
| 59:00 | Follow the Chirp Herm Show on YouTube |
| 1:01:00 | Jack Effel joins the show! |
| 1:01:20 | What goes into creating the WSOP schedule: "There really is no 'size fits all' when it comes to the World Series of Poker." |
| 1:13:30 | Making changes to the structure (big blind ante and bigger starting stacks): "We're not about smoke and mirrors, we want to make sure we have the best structures in the world." |
| 1:18:50 | Utilizing the "Big Fifty" as a thank you to players: "The World Series of Poker is about the players. Without the players, you can't have the World Series of Poker…this is going to be a great event." |
| 1:22:40 | Playing down to six players before the final day of events: "The extra day is to say you know what, if you're in the final six, I want you to play down to it, we want to have a nice, controlled schedule for everybody involved." |
| 1:28:45 | Effel discusses four new events on this year's schedule: the Mini Main Event, Deepstack Championship, Salute to Warriors, Bracelet Winners Only |
| 1:34:10 | The success and the future of online WSOP events: "I can tell you that the online offering at the World Series of Poker has been super successful, you can expect to see online bracelet (events) soon to be announced." |
| 1:35:25 | Effel comments on rumors surrounding the future home of the World Series of Poker: "The only thing I know is the same thing you guys know. There's lots of rumors out there. I've heard the Rio's been for sale before, and I haven't seen it sold yet. This year, as far as I know, I'm putting tables out on the floor and we're gonna run the World Series of Poker at the Rio, and I'm looking forward to seeing everybody this summer." |
| 1:36:40 | Expectations for turnout in the 2019 WSOP: "It is a historic year, there are some things that we've never offered before, there are some fun festivities that we have that have yet to be announced. If you've never come to the World Series of Poker, this might be the year to do it." |
| 1:38:10 | Thoughts on players who cover up their face: "Our biggest thing is making sure we can always identify who the player is at all times sitting in the chair, and we have rules that reserve rights to ask that player to remove whatever they have that's covering or camouflaging their identity…The extreme case of someone completely covering themselves for the purposes of people not being able to see any emotion or something like that, I don't think that it's great for the game at all." |
| 1:41:30 | How the WSOP has done with professional player engagement: "I can tell you that my door is always open for anybody that wants to come to talk to me." |
| 1:48:05 | Next week: Phil Galfond! |
Tell us who you want to hear from. Let us know what you think of the show - tweet about the podcast using #PNPod, and be sure to follow Sarah and Jeff on Twitter.
You can subscribe to the PokerNews Podcast on iTunes here!