PokerNews Podcast: Scott Blumstein, Tony Burns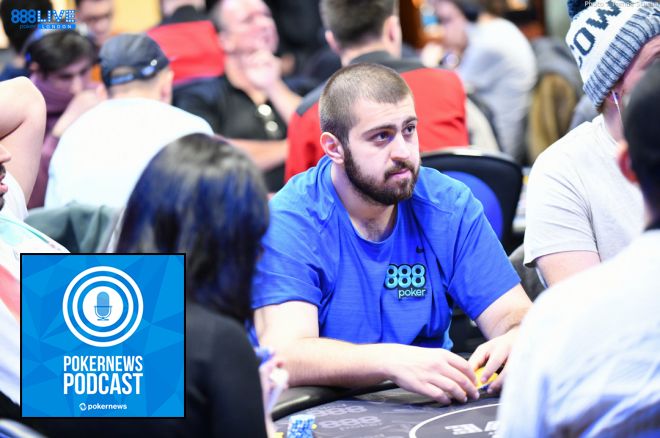 Sarah Herring and [Removed:139] are reunited again for a mega episode of the PokerNews Podcast. 
They break down the nominees and the controversy surrounding the Global Poker Awards. Both Sarah and Jeff feel very fortunate and honored to be among the nominees for Podcast of the Year. Sarah is also nominated for Poker Journalist of the Year!
Plus, with the Seminole Hard Rock Poker Showdown coming up, Sarah chats with Tournament Director (& GPA nominee) Tony Burns about what players can expect from this series.
Then, Jeff brings on 2017 World Series of Poker Main Event Champion Scott Blumstein. Blumstein made an appearance at the MIT Sloan Sports Analytics Conference a couple weeks ago. 
The two engage in a wide-ranging conversation; covering this year's WSOP schedule, the Sloan conference, poker on TV and what makes it entertaining, what Scott has been up to this last year since he's moved to Las Vegas, and even some NBA!
Show Time Stamps
| | |
| --- | --- |
| 0:20 | Intro: Sarah and Jeff back together again. They start the show by discussing the Global Poker Awards Nominees |
| 3:20 | The PN Pod is nominated for Podcast of the Year, and Sarah is nominated for Poker Journalist of the Year! |
| 8:30 | Jeff on why Sarah is so deserving of the nomination, then they go through the rest of the categories... |
| 11:10 | Broadcaster of the Year |
| 17:00 | Tournament Performance of the Year |
| 19:30 | Breakout Player of the Year |
| 22:00 | Streamer of the Year |
| 23:20 | Vlogger of the Year |
| 27:40 | Tournament Director |
| 29:00 | Mid-Major Tour/Circuit |
| 30:00 | Event of the Year |
| 34:20 | Moment of the Year |
| 39:40 | Media Content |
| 43:30 | Industry Person of the Year |
| 46:00 | Other awards that will be presented |
| 47:00 | Podcast of the Year |
| 49:20 | Seminole Hard Rock Tournament Director Tony Burns joins the show! |
| 49:40 | On his Global Poker Awards nomination and making the trip to the show in April |
| 51:50 | Dressing up as Maui for his daughter's birthday |
| 53:00 | Recapping the Escalator Series: "We ended up with over 5300 entries for the whole series and over $1.3 million in prize pools." |
| 55:00 | On appealing to the lower-stakes tournament player |
| 57:00 | Their consistent turnout in the tournament scene: "It attracts people. People come to Florida to retire, so obviously you have the income source of a lot of people. It's the perfect storm." |
| 58:30 | The Seminole Hard Rock Poker Showdown is April 4-14. More details here: "We get up to 90 tables at one time going. We're really proud of our tournaments." |
| 1:00:00 | The opening event: "Players want chips, and we get that...this tournament has done a really great job of keeping the balance of giving players what they want and the play still being there when all the money is on the line." |
| 1:01:00 | Giving away seats to the $3,500 WPT Seminole Hard Rock Poker Showdown Championship |
| 1:02:20 | On having a delayed final table in their main event: "I read a lot of the reviews of the last three final tables that went down. It seemed pretty well-received overall." |
| 1:04:00 | Other tournaments in this series: "A total of 28 events, price points are across the board, we're going to have a Ladies Event with a $10k guarantee. And that same day, Tony Dunst will be putting on a beginner's instructional brunch." |
| 1:05:30 | Go to the SHRPO website for a special room rate |
| 1:08:30 | Jeff brings on 2017 WSOP Main Event Champion Scott Blumstein |
| 1:09:00 | How his appearance on a panel at the Sloan Sports Conference came to be: "It shouldn't come as a surprise that someone as good as numbers and with game theory as (Houston Rockets GM and Sloan co-founder Daryl Morey) has some interest in poker." |
| 1:10:20 | The rivalry-turned-friendship with Blumstein and Morey |
| 1:11:20 | Comparisons to the Houston Rockets and Morey's approach: "My poker approach, especially in the Main Event, was a little unconventional, and I was looking to do things differently. And the Rockets are very similar." |
| 1:12:50 | Can the Rockets compete with the Warriors? |
| 1:13:20 | The experience on the Sloan panel and the feedback that the panel received |
| 1:14:40 | What the audience is like: "I think having Nate Silver didn't hurt the attendance list. But at the same time...everyone there is certainly into numbers and poker is something that intrigues a lot of people. I always say I get shocked at how many people have at least some interest in poker." |
| 1:17:30 | What the transition of moving to Vegas has been like: "It's interesting, I do like it out here, but growing up in North Jersey, it's pretty different. It takes some adjusting. Part of the idea was isolating myself, I came out here to focus and get into shape a little bit." |
| 1:19:20 | Will an NBA team come to Vegas? "I think it's gotta be a lock." |
| 1:20:00 | His weight-loss journey: "I'm at an interesting point. You work hard and get to this point and you realize that now it's just a constant struggle to maintain. It doesn't ever end...it's not like a game you can beat." |
| 1:23:50 | What his life is like now: "I'm actually going through a pretty interesting phase in my life. I'm kinda in limbo. I don't really feel the need to be a professional poker grinder." |
| 1:26:40 | Will poker remain a sizable part of his life: "I personally just think it's one of those things where when I want to play, I'll play." |
| 1:28:50 | Watching different poker broadcasts: "I've always been a poker fan, I've been drawn to the game. I feel like PokerGO does a great job...one of my favorite players now is Ali Imsirovic." |
| 1:30:50 | Thoughts on the WPT delayed final tables |
| 1:31:40 | This year's changes at the WSOP: "(The Big 50) can't be a real poker tournament. Props to WSOP, I'm salivating." |
| 1:34:30 | The importance of having a day off of play before the WSOP Main Event Final Table |
| 1:36:30 | The run good for Scott continued during NBA All-Star Weekend |
| 1:40:00 | Next week: RunGood President and CEO Tana Karn! |
Tell us who you want to hear from. Let us know what you think of the show - tweet about the podcast using #PNPod, and be sure to follow Sarah and Jeff on Twitter.
You can subscribe to the PokerNews Podcast on iTunes here!