Play Hands Against Pros and See How Your Decision Matches Up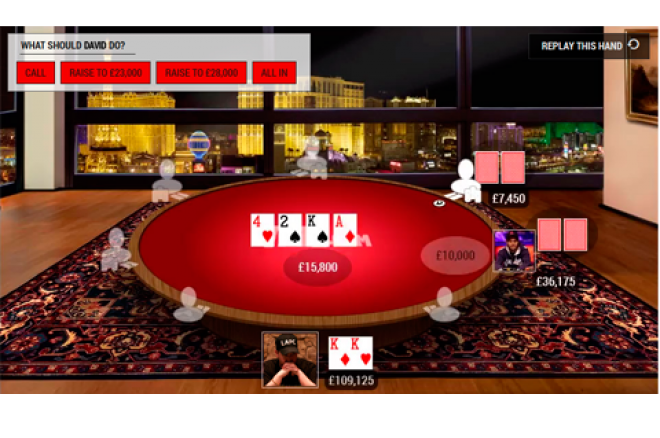 The interactive hand replayer 1to5.com has just launched a new collection of daily pro-versus-amateur hands, following up on their popular weekly pro-versus-pro collection launched last year. The hands are selected from real showdowns played by famous pros in televised poker tournaments, big cash games, and online.
The entertainment and education site allows its users play along with all of the action, test their skills and improve their game by watching and choosing the next move in the hand, compare their choice to what other 1to5 users chose, and even watch the hand analysis.
Test Your Skills
1to5 recreates well-played hands by showing the hand in a unique and well-designed interactive replayer, where the hole cards of only one player are revealed. The hand starts playing until a critical decision point, then viewers are offered to choose the next move from four different options. 
Compare Your Choice
Once the viewer has made a choice, they will see how many users made the same choice, then they will be able to watch how the hand was actually played out.
Improve Your Game
Finally, there is an option to replay the hand (in the pro-versus-pro playlist) while listening to in-depth expert analysis, which includes the advantages and disadvantages of each possible decision in the hand.
Keep in Shape Daily
 
If you're looking for a quick way to keep in poker shape, try 1to5. The site is free and now has new hands daily.
Get all the latest PokerNews updates on your social media outlets. Follow us on Twitter and find us on both Facebook and Google+!