2014 WSOP Player of the Year George Danzer Talks 2-7 Triple Draw on Twitch
Twitch, the Amazon-owned video-streaming platform, is steadily gaining acceptance among players as one of the best places to go to on the Internet for poker-related entertainment and instruction. Although the platform had already been used by video gamers for some time, it has found itself basking in the poker limelight only recently, thanks in large part to its adoption by a number of high-profile poker pros including Jason Somerville, Bertrand "ElkY" Grospellier, and Daniel Negreanu.
Recording online poker sessions and providing strategy commentary is certainly not a new phenomenon; such recordings represent the core product of many poker-training sites. However, Twitch differentiates itself by providing a platform that both facilitates live video streaming and encourages viewers to interact with broadcasters in real time. That, coupled with the fact that most live streams are accessible for free (although in some cases special benefits are offered to paid subscribers), the range of options available to players interested in learning more about poker has never been broader.
As with most existing sources of poker strategy information, the bulk of Twitch poker-related broadcasts focuses on no-limit hold'em. This is not surprising, as most poker content produced in the last decade has been geared toward NLHE players. Meanwhile, resources for learning mixed games, whether in the form of books or training videos, have long been scarce.
That said, we might finally be seeing an end to that drought, thanks to the pioneering efforts of several players who are now dedicating Twitch airtime to sharing their love and knowledge of mixed games with the poker masses.
Daniel Negreanu's recent Twitch exploits are likely the most notable in this regard, particularly after his now infamous real-money Twitch debut in which he laughed, took bathroom breaks, and otherwise entertained viewers all the way to a $50K profit while playing the 8-game mix on PokerStars.
Since then, Negreanu has recorded a number of additional mixed game sessions, where viewers watched him play against other well-known, high-stakes regulars that include Viktor "Isildur1" Blom, Cole South, and Alex Luneau (of Nosebleed fame). These sessions remain archived and freely accessible on Negreanu's Twitch page.
If you are thinking about playing some mixed game tourneys at WSOP & want some help, I have about 10 hours saved on @twitch Past Broadcasts.

— Daniel Negreanu (@RealKidPoker)
"You'd better be prepared to play some mixed games if you want to win a bracelet" ~George Danzer on Twitch
While Negreanu appears to have garnered the lion's share of attention when it comes to streaming mixed games on Twitch, players interested in learning more about non-NLHE games would be wise to check out the lesser-known but equally informative sessions recently recorded by 2014 World Series of Poker Player of the Year, George Danzer.
Danzer's live sessions were streamed as part of a popular series entitled "Mixed Game Madness with George Danzer," available on the PokerStars Twitch channel. Many of his highly interactive sessions remain archived and accessible for free. Danzer not only goes deep into mixed game strategy in his broadcasts, but also openly discusses a variety of interesting topics that go beyond strategy with his viewers, including the story behind his mohawk, the fun in "squeezing" cards onscreen in draw games, his thoughts on turning pro, and more.
While Danzer generously shares his insights on a variety of different poker variants through his sessions on both the PokerStars channel and his own personal Twitch feed, he openly admits that his best game is 2-7 triple draw. As you may know, the object of 2-7 triple draw is to make the lowest five-card hand possible that is not a straight or flush, with the ace always playing as a high card; therefore, the best hand is
in at least two suits.
Accordingly, his Twitch sessions tend to include a significant amount of 2-7 triple draw content that often goes beyond an introductory level. Anyone with a serious interest in this game would be well served to devote some time to watching them.
Here is a sample of some of the 2-7 triple draw tips we've gleaned from Danzer's sessions, to whet your appetite:
1. A hand such as 7-6-5-4-2 is an excellent Triple Draw hand worthy of several bets for value, but you may still need to exercise caution with it.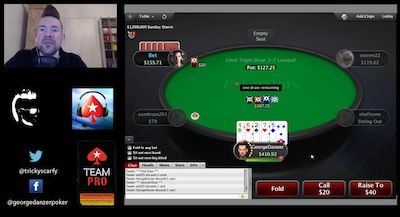 If you make a hand such as
in 2-7 triple draw, you will usually be in great shape, particularly against opponents who can be expected to be holding or drawing to 8-high hands. However, some caution may be warranted when you face strong resistance, as this is the worst 7-high hand and there are three stronger 7-high hands that can potentially be made.
While it may be extremely rare in a game such as 2-7 single draw to make a hand as strong as
— Danzer acknowledges he would be prepared to commit his entire stack with this hand in that game — it is relatively easier for an opponent to make a stronger 7-high hand in triple draw over two additional draws.
2. In 2-7 triple draw tournaments, the same hand may be playable in certain situations but not in others, especially when accounting for the bubble.
A hand such as
is a marginal 2-7 triple draw starting hand. In most games, it would be perfectly acceptable to raise and attempt a steal of the blinds with this hand when all players fold to you on the button.
However, in a bubble situation in which you are short on chips but there are several players with shorter stacks than you, strong consideration should be given to folding this hand even when you are on the button. That's because the odds of one of the shorter stacks busting first are quite high.
On the other hand, if the situation were slightly different — say, you are already in the money and the upcoming payouts are relatively flat — then a hand like
on the button may once again become more playable.
3. When deciding whether or not to discard a nine after the first draw in order to pursue a one-card draw rather than standing pat, give consideration to the strength of the underlying draw.
If after discarding one card on the first draw you have a hand like
and are heads-up against a player who was also drawing, you should lean toward keeping the
and betting.
The primary reason for not breaking the hand is because the underlying draw would not be a huge improvement over the nine-high already made — the best hand that you can improve to is a mediocre
. Also, by patting the hand early, you increase the likelihood that your opponent will fold if he or she fails to improve on the next draw.
By contrast, when holding a hand such as
after the first draw, you should lean toward discarding the nine. In this case, the difference lies in the fact that you have an opportunity to make a significantly stronger hand — i.e., you are drawing to an
rather than an
— and you will have two additional chances to do so.
For more helpful tips and insights on mixed games, be sure to check out Danzer's personal Twitch channel at twitch.tv/george_danzer, and the PokerStars Twitch channel at twitch.tv/pokerstars.
Ken Lo is the author of A Poker Player's Guide to Mixed Games: Core Strategies for HORSE, Eight-Game, Ten-Game, and Twelve-Game Mixes. He is based in Toronto, Canada. Follow him on Twitter @ppgmg.
Want to stay atop all the latest in the poker world? If so, make sure to get PokerNews updates on your social media outlets. Follow us on Twitter and find us on both Facebook and Google+!