888poker Strategy: WPTDeepStacks Online Final Table Hand Analysis with Vivian Saliba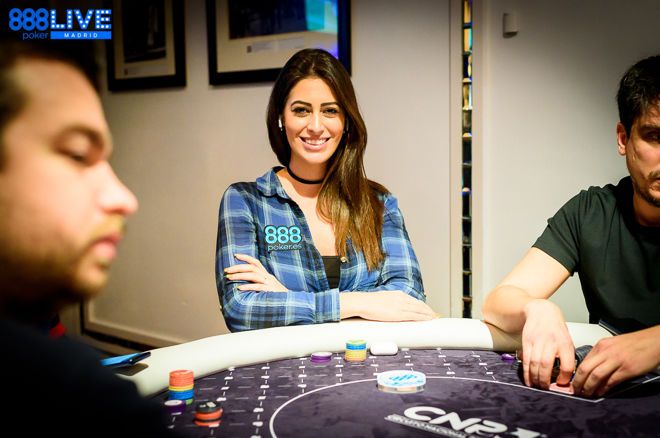 Table Of Contents
In this latest instalment of 888poker strategy, two-time WSOP bracelet winner and World Poker Tour host Tony Dunst sits down with 888poker ambassador Vivian Saliba to go over some of the key hands played from the final table of 888poker's WPTDeepStacks London Online Opening Event.
Hand One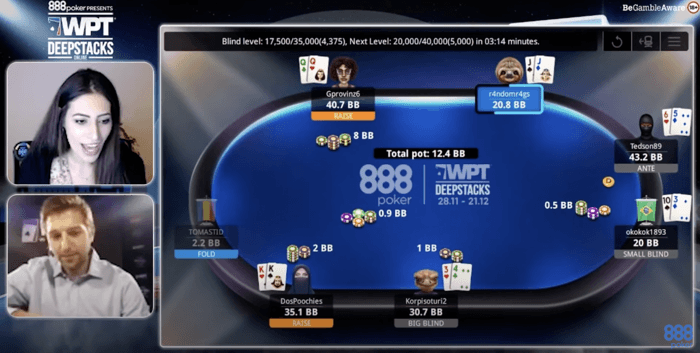 The Hand: "DosPoochies" opened from under the gun to two big blinds with pocket kings. "Gprovinz6" three-bet to eight big blinds in middle position with a pair of queens before "r4ndomr4gs" moved all-in with pocket jacks for 21 big blinds. "DosPoochies" then five-bet jammed and "Gprovinz6" called.
The Analysis: There are a few decision points in this hand with Dunst and Saliba questioning whether that the queens or jacks could have done anything differently. Dunst points out that there is an early position player with just two big blinds and that there is $2,000 pay jump between seventh and sixth.
When facing a four-bet all-in and five-bet jam as well as there being a short stack, both Dunst and Saliba think the queens is a fold due to ICM considerations and they both believe that they're just running into an overpair or ace-king so much of the time in this situation.
Hand Two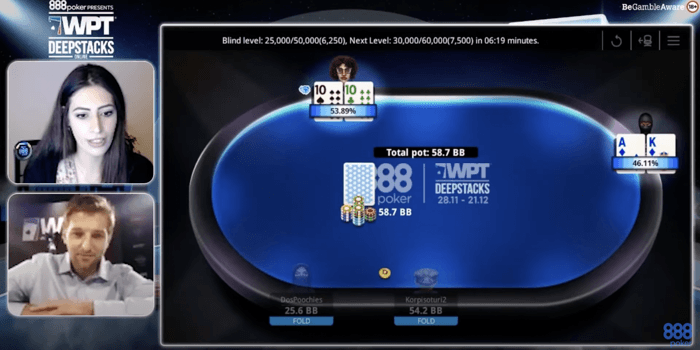 The Hand: At four-handed play, "Tedson89" (27 big blinds) opened the action with
before calling the all-in from "Gprovinz6", who jammed for 32 big blinds with pocket tens.
The Analysis: The question asked here is how would you play a pair of tens in this spot. Dunst takes the lead here and agrees that the shove is the best play to make. His reasons for this is that there is no real short stack so pay jump considerations aren't really important here. He also notes that the player with pocket tens doesn't want three-bet and then have to call off their stack.
Dunst adds that of all the pairs that have a lot of strength preflop, a pair of tens are the most awkward to play postflop as there will often be an overcard that comes on the flop meaning that you'll never be 100% confident of getting your chips in the middle.
Hand Three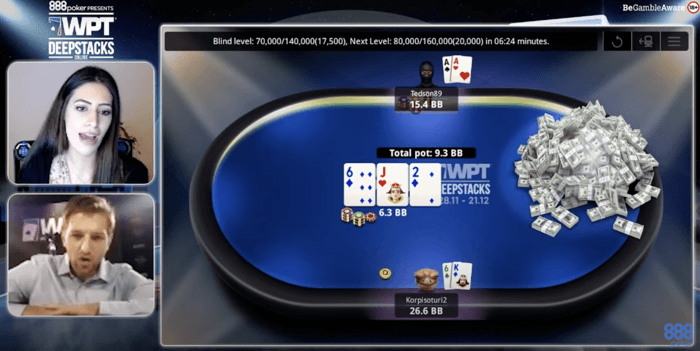 The Hand: In the last hand of the tournament, eventual winner "Korpisoturi2" limped on the button with king-six offsuit and then called the preflop raise from "tedson89" to see the flop. The latter was ahead with a pair of aces while "Korpisoturi2" hit his six to flop middle pair. "tedson89" led for half pot and was called to bring in the
turn which checked through. All the money piled in on the river for "Korpisoturi2" to scoop the pot and seal their tournament victory.
The Analysis: The first decision point in this hand is what "Korpisoturi2" should do after connecting on the
flop. Dunst adds that there is no option other than to call when facing a half-pot bet and that raising doesn't make much sense.
The next question is how would you play the turn when the board brings in the
. Dunst agrees that the check from "tedson89" is a good move as they are blocking the heart flush draw while a six favours his opponent's range more. Dunst also likes the check-back from "Korpisoturi2" as it is a reasonable spot to be trapping as they have a strong hand, block some of the diamond draws as well as giving their opponent an opportunity to catch up and have a hand that will get stacks committed.
888poker is the Perfect Site for Beginner Poker Players
$88 Free Plus a $400 Welcome Bonus
Now is the perfect time to join 888poker if you have not already done so. Download 888poker via PokerNews, create your free account, and 888poker will give you a free $88 worth of cash game and tournament tickets – this is a free £20 for residents of the United Kingdom – just for reaching this stage.
Your first deposit is matched 100% up to $400 in the form or a releasable bonus. You have 90 days to release as much bonus as you can. Contact 888poker support for more details.
Calum has been a part of the PokerNews team since September 2021 after working in the UK energy sector. He played his first hand of poker in 2017 and immediately fell in love with the game. Calum's proudest poker achievement is winning the only tournament he has ever played in Las Vegas, the prestigious $60 Flamingo evening event.