No Rest for the Weary: Aaron Massey on Playing Your A-Game While on the Tourney Trail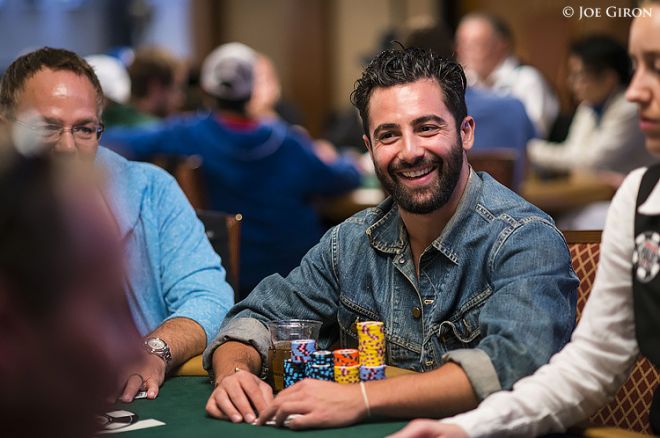 Aaron Massey broke through in a major way last year, notching a trio of six-figure scores while capturing two Heartland Poker Tour titles to earn HPT Player of the Year honors. He is off to a strong start in 2015 as well, recording seven cashes and finishing in the top 20 on four occasions. Befitting his status as a dedicated tournament pro known for constantly traveling the live circuit, those four close calls came at the Bahamas, Atlantic City, Florida, and Colorado — all within a matter of weeks.
Massey's latest deep run produced a 17th-place finish at the HPT's Golden Gates Casino stop, less than 24 hours after departing the Sunshine State for the Rocky Mountains. After bagging 90,000 chips following an abbreviated Day 1, Massey spoke with PokerNews to discuss his approach to playing optimally despite long hours on the road and a chronic lack of sleep.
"I was in Miami last night for a birthday party for two of my friends," Massey said about the short turnaround time. "We were out very late and had a 7 a.m. flight to catch, so we didn't sleep until we got on the plane."
"We flew into Denver and immediately drove to a dispensary, because priorities are important. After stopping for cupcakes and beer, I arrived at the tournament and late registered in Level 7, midway through Day 1 play. I never made a hand, but I bluffed many times over six hours. Some of those worked, some didn't, and after Level 15 we bagged up for the night."
Despite his seemingly relaxed approach to attaining success as a touring pro, Massey's casual appraisal of his preparation process belies a dedicated pursuit of excellence. Since recording his first live cash in 2009, Massey has improved his results with remarkable consistency on the way to compiling more than $2.4 million in total career tourney earnings.
He climbed from two in-the-money finishes during his rookie campaign to five the following year, before jumping to 16 cashes in 2011. By 2012 Massey made the money 20 times, then in 2013 Massey cashed on 32 occasions. Last year saw Massey emphasize quality over quantity, and while his cash total dipped to 20, he more than made up for the reduction by taking down three trophies.
Epitomizing the phrase "grinding the circuit," Massey has lived the life of a road warrior over that span, setting up shop in countless casinos across the country and steadily building his bankroll along the way.
"I travel nonstop and play at less than 100% quite a bit," Massey revealed. "The way that I prepare for this is by executing my game plan for life on an everyday basis. Nutrition, exercise, studying, rest — anything and everything I can do to improve. The system I use is just to prepare every single day, and to be ready to play my best under any conditions."
After battling through the haze of jetlag to bag a stack on his old HPT stomping grounds, Massey made a legitimate run at his third title on that tour, navigating a huge field of 761 runners to reach the final two tables. His 17th-place finish produced a modest $9,061 uptick, and although that total pales in comparison to his more profitable results, every cash counts for pros attempting to earn a living on the live circuit.
Most players are able to acclimate to their conditions upon securing a seat for Day 2 and beyond, but Massey knows that every stop will prove futile if he's unable to thrive during Day 1 play. To that end, he balances an admittedly hedonistic lifestyle with proper planning and preparation, knowing full well that the party can't begin until he plays his way to a payday.
"If I know I'm going to be playing on an exhausting travel day, I'll try my best to plan ahead," he said. "Packing my bags ahead of time, having other things taken care of so I don't have to scramble on travel day, things like that. This prevents unnecessary anxiety in an already stressful situation. Sneaking in rest during flights and drives is also key, because any rest is valuable, including mental rest. So even if you're not actually sleeping, you can rest on a physical and mental level in advance of Day 1."
"As far as on the felt, I do not use a Day 1 strategy to bag and advance. There is no real plan. You have to survive and you have to accumulate to succeed, but there is no motive other than playing each hand the best that I can. I don't look ahead — I simply focus on the task at hand."
Get all the latest PokerNews updates on your social media outlets. Follow us on Twitter and find us on both Facebook and Google+!