Ask the Pros: Are You Calling a Blind Shove First Hand of the WSOP Main Event?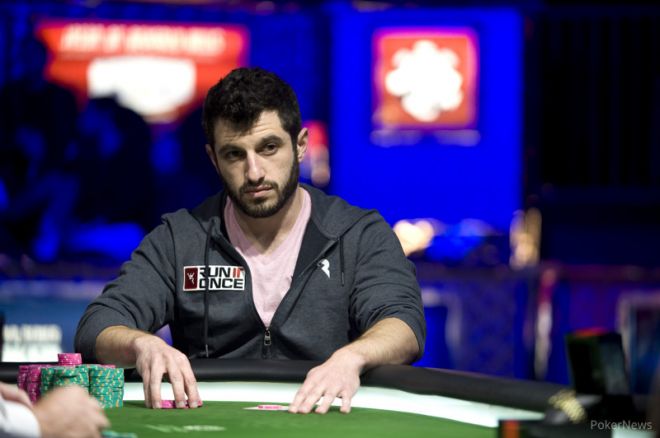 The World Series of Poker $10,000 Main Event kicks off Saturday afternoon in Las Vegas, much to the delight of thousands of poker pros and amateurs hoping to become the game's next world champion.
With 30,000 in starting chips and two-hour levels, the WSOP Main Event offers the best structure of any poker tournament in the world. Normally, it takes at least an hour for the first elimination to happen on Day 1. It almost always occurs in a cooler situation, such as straight flush over full house.
On Friday, though, we decided to put some top pros in an unlikely hypothetical Main Event situation. What would they do if they were sitting in early position at their starting table and the under-the-gun player moved all in on the first hand without looking at their hole cards? Would they call only with big pairs? Is ace-king strong enough to gamble with? Or is their edge too big in the tournament to call with anything but pocket aces?
Here's what some of them had to say:
"It is a tough, tough question. I'm calling with aces and nothing else. I feel like I have a big edge in the Main Event and I wouldn't want to gamble in the first level when I can just slowly grind it up. With aces you still have like an 80 percent chance to double up. If I did call with aces and lose I will feel absolutely terrible. I would cry."
"I think I'd call with jacks and better and ace-king suited. Actually, probably not ace-king at all. Jacks-plus (jacks and higher pairs) are a bigger favorite against an all-in, any two-card range. Also, ace-king has blockers against somebody behind you who woke up with aces or kings, but I wouldn't be super concerned with that. Besides, I think I just have enough of an equity edge to take it right there and if I bust out, I bust out. I'll survive it. I don't want to take any hand that is just a small favorite because I would rather play the Main Event for longer."
"Wow. In the Main Event I'd have to vary it somewhat based on my table. If I had to give an answer I suppose I would say top 15 percent of hands. So I would probably call with ace-queen off-suit and higher and maybe nines-plus. I wouldn't feel great about this range but I'm going to stick to that answer. The answer I truly want to give would be ace-king-plus and tens-plus, but I would feel a little bit nitty if I ended up folding nines or ace-queen and I'm not sure I would actually do it. So yeah, it's roughly less than top 15 percent of hands."
"Let's see. I have eight players left behind me so I would say kings or aces. First of all with eight players behind, that right there I would be scared of someone waking up with aces; although it won't happen often. The Main Event is just such a different tournament. It's the best-structured tournament in the world and the best value-tournament in the world. I've cashed the past three years so I am confident in myself. Obviously I'm running good but I feel good about my game. There is enough skill in that event where you can pass on big edges early in the tournament. It would be very hard to fold kings. Aces is an obvious call and if anyone said they would fold aces, they are insane."
"I would call with ace-jack-plus. Even though I am ahead I don't want to gamble too much because it's the Main Event and I want to keep my edge for later in the tournament. But ace-jack and ace-queen is such a great hand that I would want to take the gamble. I would also add sevens-plus. It's a good range to still be ahead against an all-in blind player."
"Oh that's easy. I'll call off with nines-plus, ace-king, ace-queen, ace-jack. Actually, I change that to eights-plus and ace-nine-plus. He's all in blind, you go for it."
"It would make some difference what the person looked like and what their demeanor was. I would say ace-jack and up and sevens and up. I'm willing to risk a little bit against a guy who is all-in blind but you have to be somewhat tight with eight players left to act behind you."
"It's an interesting question. If I call then I feel people behind would fold kings. I'm definitely calling anything that has 70% equity against a 100% range. It's still relatively tight so maybe queens, kings, aces, and ace-king. Actually, I don't think I would all with ace-king and instead throw in jacks. So jacks plus only. I think I have a pretty substantial edge on the field. For example if I have 60 percent equity in the hand I don't think it's worth it for me to take that gamble because I can just find a better spot later. Folding aces would just be a disaster. That's as good of a spot as you are going to get.
"Only kings and aces. Actually, I would probably call only with aces. Maybe kings because he could be extremely lucky and have aces and I wouldn't want to take that risk that early in the biggest event of the year."
"Only aces. There are eight players left behind you so that's worrisome. I guess I can feel okay with queens and kings also. Not ace-king because you just don't have enough equity against random hands. I'm actually hoping this exact scenario happens so I could have a definitive answer. It would be interesting to see what I decide to do."
"Queens, kings, and aces only. I would not at all feel comfortable with ace-king."
"Tens-plus and ace-queen plus, because those hands would just be significantly better than any two cards. I think you have enough equity with this range against any random cards the all-in blind player may have. If he wakes up with something better then it would be unfortunate but unlikely."
We also thought it would be fun to ask PokerNews' Chad Holloway, who won a bracelet this year, as well as NBA All-Star Paul Pierce, who was playing the $10,000 Pot-Limit Omaha event on Friday.
"I would call with queens, kings, and aces. Not ace-king because I'm really comfortable with only those three hands. Queens-plus is dominating the vast majority of hands, whereas ace-king is not. That player can get lucky and wake up with a small pair. Even if he has small cards, ace-king is not too huge of a favorite. I would play really conservative in that instance. If for no other reason than it is my first Main Event and I don't want to bust the first hand but I certainly don't want to lay down big hands either."
"I will call with anything! I'm going to call his bluff and everybody else will think I got it and fold making it a heads-up situation. It will be a 50/50 so I will call with anything! 2-3 offsuit, 3-3, 7-4, I'm calling. Done!"
Be sure to follow our Live Reporting page for up-to-the minute coverage of the 2013 World Series of Poker Main Event, and follow PokerNews on Twitter for up-to-the-minute news.