How *Not* to Eat at the World Series of Poker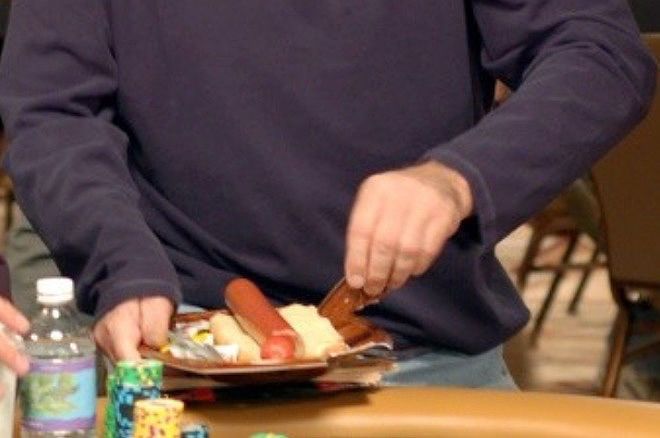 Table Of Contents
After discussing topics like what to say at the tables (and what not to say) and how to get the rest you need (and how not to) at this summer's World Series of Poker, we're back with more advice about how to approach your journey through the 50th annual WSOP. Today, we discuss the pitfalls of eating badly at Rio All-Suite Hotel and Casino during the seven-week festival of poker.
In this article we'll share five "don'ts" when it comes to finding the nourishment you need at the WSOP, then later this week we'll share some "do's" to help you figure out the best way to get your fill during mealtimes when you aren't at the tables (hopefully) filling up on chips.
1. Don't Overfill
Speaking of filling up, when it comes to eating before and after you play and during the breaks, be careful not to overdo it. You could be playing very long days this summer, especially if you're playing a packed schedule chosen from the 89 bracelet events.
If you are playing a busy schedule, you could be forgiven for trying to cram as much fuel into your engine as possible. Leave yourself hungry and you could be running on empty before you know it, right?
There is, however, the opposite to worry about. Overeating can make you feel bloated, uncomfortable, and unable to focus while playing. Filling up on a big meal can also be a natural sedative, and you don't want to flatline into a "food coma" when you should be at the peak of your mental powers. How often have you had a huge meal, then found yourself staring forlornly forward, totally unable to focus, at least until your Grandma brings you that dessert she's been promising? Exactly.
Maintain a satisfied stomach, but don't allow your metabolism to become the hardest-working energy in your body.
2. Don't Starve
Just as overeating can be an issue, there's a limit to exactly how hungry you should be on your voyage to World Series glory. Regular meals are vitally important if you're to make it through long days at the felt without lapses of concentration. If you go extended periods without food, you can become tired, irritable, and irrational — three traits that can all help contribute to disaster at the poker table.
If you've begun play without any fuel in your tank, you'll be running on empty before the end of Level 1. Delaying your entry is better than playing when hungry. Studies show that we make wiser decisions when we aren't concerning ourselves with any additional areas of worry. Food can be chief among those worries.
If an army marches on its stomach, make sure yours contains what it needs to keep fighting when the chips are down.
3. Avoid Caffeine
While the temptation is often there to combat long days and potentially draining evenings at the poker table with a cup of coffee or an energy drink, caffeine has long been both the best friend and worst enemy of poker players. Daniel Negreanu famously gave up caffeine at the WSOP a couple of years ago, but "Kid Poker" isn't the only one who has chosen to stay away from it during the long, hot summer.
Recently players have begun to focus on their health more than ever before. While caffeine can produce a quick boost of energy, that boost generally doesn't last very long. Additionally, if you're consuming a lot of caffeine each day, then you can heighten the risk of suffering from insomnia when you finally do sleep. It could also make you jittery at the table, causing nervousness and restlessness during the game itself.
As well as feeling bloated, addiction to multiple coffees every day can cause your stomach to be upset and make you sick, too, as well as increasing your heart rate, leading you down the road of a number of damaging side effects.
If you're a coffee drinker, be moderate. And all things considered, caffeine is best avoided altogether, if you can manage it.
4. Beware the Sugar Crash
Just as caffeine is worth avoiding, even more perilous is the consumption of too much sugar. Processed foods and sugary snacks such as candy bars, white bread, and fizzy drinks can boost your mood and give you a short burst of energy and focus, but the effect is fleeting and the inevitable "crash" can be even more severe than the high they provide.
Sugar addiction is a registered problem in virtually every highly populated country and nowhere is it more prevalent than America. When speaking with Jonathan Duhamel a while back about his run to the 2010 WSOP Main Event title, he described how snacking on chocolate bars and carbonated beverages had caused him to "crash" afterwards, teaching him to avoid such later on.
The initial binge on sugary snacks gives you a lift, but the danger is that you will likely become even more tired and irritable during the crash. Taking on sugar is a little like taking out a loan — the initial buzz of recovery feels good, but payback is a real drag and seems to last forever.
5. Don't Dry Out
Around 60 percent of our bodies are made up of water, and the most important part of the poker player's body — the brain — is about 70-75 percent water. That fact alone makes staying hydrated vitally important for anyone playing at the WSOP.
You might be involved in two-hour levels, there might be a queue for the drinks machine, and sundries shop could be inordinately crowded. Don't use those circumstances as excuses. Whatever else you take care of, when it comes to sustaining yourself be sure that you carry plenty of water with you in your backpack. You should be aiming to drink at least eight glasses of water every day and even more so within the air conditioned, cavernous cauldron of cards that is the Rio.
There's some guidance covering what not to do when eating at this summer's WSOP. Next up we'll share some advice about how to go about nourishing yourself the best you can while on your way to WSOP glory.