Eugene Katchalov Discusses How to Approach the $50,000 Poker Players Championship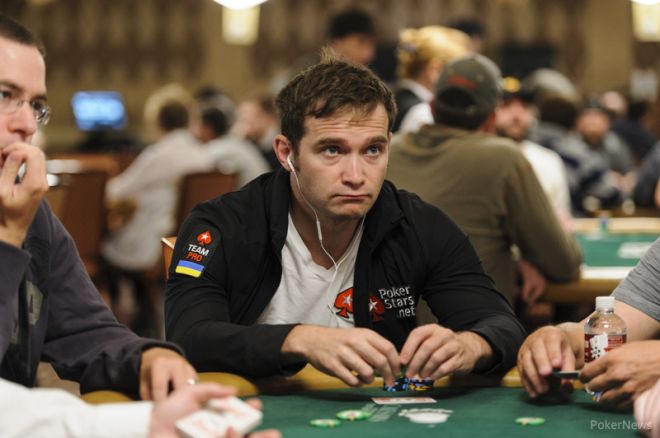 The World Series of Poker $50,000 Poker Players Championship kicked off on Sunday for the eighth consecutive year inside the Rio All-Suite Hotel and Casino in Las Vegas.
As is the case every year, the best of the best hit the felt to not only go after a coveted WSOP gold bracelet, but prove their mettle as a well-rounded player. The Players Championship is structured as an eight-game mix of 2-7 triple draw, limit hold'em, Omaha 8, razz, stud, stud 8, no-limit hold'em, and pot-limit Omaha.
The World Series of Poker first introduced the $50,000 buy-in championship event in 2006. For four years, the tournament featured a H.O.R.S.E. format and was designed to test a player's all-around abilities. David "Chip" Reese, considered one of the best players of all time, won the inaugural event. Since his passing in 2007, the WSOP has given the David "Chip" Reese Trophy to the winner of the tournament.
Previous winners include Freddy Deeb, Scotty Nguyen, and David Bach. In 2010, the event was restructured as an eight-game mixed tournament, adding no limit hold'em, pot-limit Omaha, and 2-7 triple draw.
Michael "The Grinder" Mizrachi won the event that year to earn his first career WSOP bracelet. Then in 2011, Brian Rast claimed the title by defeating Ben Lamb, Scott Seiver, Matt Glantz, and Phil Hellmuth at the final table.
Last year it was Mizrachi again who captured the David "Chip" Reese Trophy, adding $1.4 million to his bankroll. He defeated a stacked final table that included Chris Klodnicki, Andy Bloch, Luke Schwartz, Bill Chen, and David Oppenheim.
Team PokerStars Pro Eugene Katchalov busted early on Day 2 of the five-day event last year, losing the last of his chips in a Stud 8 round. Katchalov is considered by many to be among the top mixed game players in the world, but he's still looking for his first cash in the $50,000 event. He's back in attendance for the 2013 championship tournament looking to live up to his reputation as one of the world's best.
We caught up with Katchalov before the event to ask him for advice on how to excel in a stacked tournament, and what he's been doing to improve on his 2012 run.
PokerNews: Which game do you think has the most effect on a player's tournament results?
Katchalov: I think it depends on the players. Those who play nothing but limit won't like the no-limit aspect since they may not have too much experience with a big bet game. In my opinion though I'd have to say that 2-7 triple draw will probably be the one game that is generally the tournament field's weakest game since it's the least familiar. You mostly find that game in higher-limit cash games or part of a mixed-game tournament only rather than a stand-alone event. Because 2-7 is not readily available in the day-to-day games, and because there isn't as much material out there for the game, it's become of one the tougher games to excel in. But the games that will matter most are the games a player is comfortable with because that will be the time they try to chip up.
What stages of the tournament are most critical: early stages, middle stages, or late stages?
The later stages of the tournament are to me the most important. With the blinds increasing to their highest levels every chip counts, every bet sizing, every call, every fold, it all will affect whether you make the money or not. When you get to that point of the tournament you're going to be giving it your all to make the final table and set yourself up in a good position to win the tournament, making every decision at this stage is crucial. Also later in the tournament is when you find the players remaining are the ones who are most competent in all variants of the game. So then because you are playing the best players, it makes it tougher to find yourself in a game that maybe you're not strong playing.
Is it best to up the aggression on your most experienced games and play straightforward in the games you are not so experienced in?
Yes, I think that's really sound advice. You want to capitalize on your strengths and try to avoid any big risks in a game you're not most comfortable with; especially for the big bet games. Of course, though, it's best to practice and be at least somewhat familiar with all the different poker variants you're not familiar with so that you can make the most out of this type of tournament; especially if you've never played some of the different games.
Should no-limit hold'em and PLO be the games where a player tries to accumulate the most chips since they are big bet games or should one just try to play as optimally as possible at all games?
It's all dependent on what game you feel most comfortable with. In cash games, a player can choose to sit out if they don't like playing Omaha 8-or-Better but in tournaments you just can't. Pot-limit Omaha is probably the best game to play your tightest because there are not any antes. So if you're not comfortable playing and play choose to sit tight then you're only losing the blinds. That being said, extending your PLO skills might be worth it since there is more money-changing hands in this game than any other besides maybe NLHE. Picking up as many chips as you can is the name of the game after all.
What are some of the most glaring mistakes you see some players make in eight-game mix tournaments?
Definitely the biggest mistake would be not having a basic understanding of some of the games. If you don't have any experience in some of the games, you're usually just going to bleed chips. Learning the fundamentals to each game and trying to gain just some kind of proficiency will only give you better odds to accumulate chips at all variants making you a favorite to run deep in the tournament. It's just a fact that if you know the game better than your opponent does then in the long run you're going to take their chips easier so long as they remain inept in that particular poker game. You see a lot of players read the rules of how to play seconds before the event starts and that's just not good poker. You need to come in prepared.
Do you think that this tournament is the only one that can represent who the best all-around poker players are in the world?
No, not at all. It's a good indication – but it's all relative to your table draw and the amount of luck you have. While tournaments do leave just one player standing in the end of a tournament, it is just one aspect of poker. I think a great player is someone who can play all the games at a good success rate in ring games, and then be able to combine that by winning these types of tournaments. There's very few out there that can hold the torch as both a cash game player and a tournament player, but when you also find someone that can do that in all poker variants then you've found a great player.
Should the final table be televised?
It should be televised. I understand that it may not be interesting to watch the games because most don't know the games other than NLHE but they don't watch for the poker, they watch for the personalities. Most of the players that do end up at the final table are people that already have a familiar television presence and that is what the public would be most interested in I think. Watching interesting and entertaining personalities in general is just good television.
Should the final table be strictly NLHE or should it remain as 8-game?
After giving it some thought, I think it should go back to being strictly NLHE. I think having it that way would attract the general player. Today, most players are not accustomed to playing anything other than NLHE. So having the final table as NLHE would attract that player type, who wants to take a shot, because if they make it to the final table then they'll be back in their comfort zone.
What's your perception of this event?
It's one of the most prestigious events attracting only the best players. It's also one of the most challenging because usually the strongest players are the ones leading to make the final table. Some players if not for this tournament wouldn't even play the WSOP. Doyle Brunson, for example, I think he said he was going to be playing in this event despite not playing any other tournaments this year. Maybe that's also when we will see Patrik Antonius or Viktor Blom.
Last year you busted early on Day 2. What changes do you need to make to have a deep run this year?
For one, I need to see how I can get a better table draw (laughs). Last year I didn't even have that much experience playing some of the games. I hadn't been playing cash games as much so I wasn't as prepared as I should have been. This year, I haven't played as much as I would've liked but definitely more than last year. PLO is probably my weakest game of the eight-mix. In PLO my comfort level is fine, I'm okay at it and I understand it, but it's still a game I can make improvements on.
Be sure to follow up-to-the-minute coverage of the $50,000 Poker Players Championship at the PokerNews Live Reporting page.