Five Tips to Become a Successful Online Poker Twitch Streamer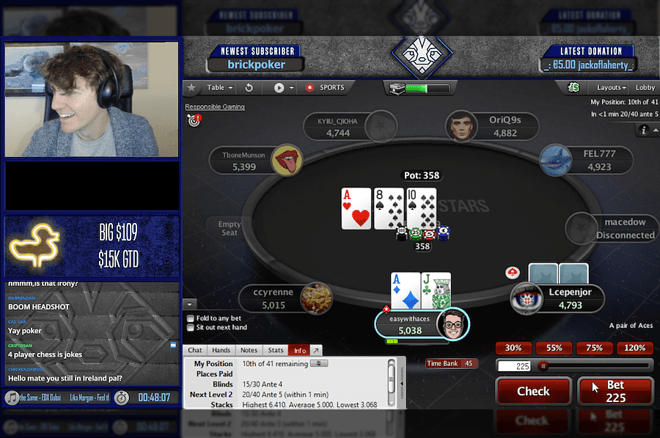 We live in a "social media" world these days where people from all walks of life have found numerous, inventive ways to make entertaining and/or edifying "content" out of their everyday lives. It's not surprising, then, for this phenomenon to have become part of the poker world as well, with online poker in particular having become a favorite context for some players to find audiences (and even make a little extra dough, too).
Streaming your online poker games over Twitch has become easier than ever to do, and as a result many online poker players have tried doing just that with varying degrees of success. Most discover it's a lot harder than it looks, with no one becoming the next Jason Somerville or Lex Veldhuis overnight.
Recently PokerNews spoke with Fintan Hand — a.k.a. "EasyWithAces" — who like Veldhuis is a member of Team PokerStars Online and likewise has become one of the more successful online poker playing Twitch streamers.
In the video below, Hand delivers five tips for becoming a successful Twitch streamer. As you might imagine all five involve putting in some genuine effort.
Interestingly, all five of Hand's tips correspond in a way to recommendations you often hear successful online poker players making to those who are trying to improve their games.
Hand says to be consistent with your streams and generally try to follow a regular schedule and not get too carried away putting in "crazy long hours" with shows. Online poker players similarly should be wary of playing irregular or overly long sessions.
He recommends streamers be part of the community and get involved with others' streams. This is probably less of a concern for the online poker player, although it is always worthwhile to be a positive, constructive member of any community in which you plan to spend a lot of time.
When Hand recommends you be yourself on streams and not try to play a "character" or be someone else, that sounds a lot like discovering the playing style that best suits you and gives you the best chance of being successful.
Hand notes how streamers should invest in equipment that ensures the show is of decent quality, noting how it doesn't cost that much to make sure your webcam, sound, and lighting are all up to speed. Again, this recalls how serious online poker players should consider investing a little in laptops, desks, chairs, and so on in order to make their set-up comfortable.
Finally, Hand notes that it's always nice to run well since winning at the tables often translates into attracting more viewers. After all, "everyone wants to see the deep run."
Just like in poker, there's a bit of luck involved in becoming a successful Twitch streamer. But there's a lot you can do to increase your likelihood of success, too.
The Stars Group is a majority shareholder in iBus Media.