Hand Analysis with Aussie Millions Champ Ari Engel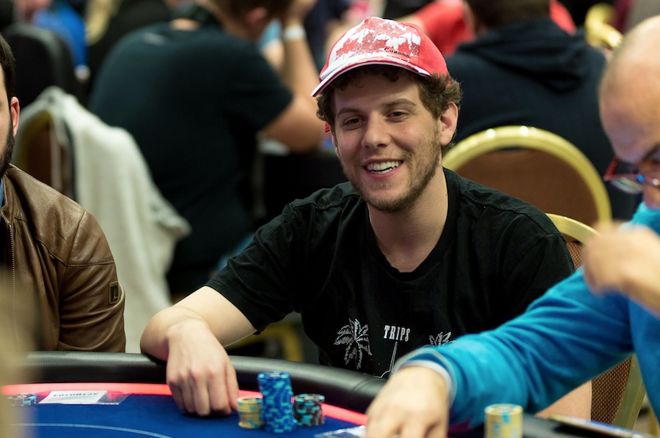 Ari Engel is coming to the end of a terrific year of tournament poker, one that has seen him collect nearly $2 million worth of cashes and contend all year for the Global Poker Index Player of the Year.
Engel's 2016 kicked off with his big win in the 2016 Aussie Millions Poker Championship, a title he plans to try to defend next month. His year is concluding in the Czech Republic where he'll be playing Day 2 of the European Poker Tour Prague Main Event today.
Our Sarah Herring caught up with Engel on a break yesterday to get him to talk a little strategy, and he complied with an entertaining hand analysis from earlier in the year.
Engel described a memorable hand he played earlier this year with Eric Afriat at the World Poker Tour Seminole Hard Rock Poker Showdown, a $3,500 event with unlimited entries.
As he explains, the hand took place during the reentry period, with Engel having already bought in a second time and thus aware that others may perceive him as being in somewhat of a "gambling mood." He knows as well that Afriat — who won the same event back in 2014 — is capable of gambling it up, too, a factor that affected how the hand went.
They were still in the reentry period on Day 1, and the blinds were 200/400 with a 50 ante. Afriat opened from middle position to 1,000, and after looking down at
in the cutoff Engel decided to three-bet to 2,800. Afriat then reraised again to 7,500 and Engel called.
"It might not be small ball," Engel cracks, adding some further discussion of the situation to help explain his thought process.
The flop came
, meaning Engel had mostly missed but as he explains did have backdoor straight and flush draws — "a little something to work with," he says.
With about 16,000 in the middle, Afriat led for 4,800 and Engel called, thinking as well of "floating" or calling here with an idea of taking the pot away on a future street.
The turn
then made those backdoor draws actual draws for Engel, giving him both a gutshot and a flush draw. With the pot up around 25,000 and only having a little over 16,000 left, Engel watched Afriat fire again for 8,800, putting Engel to an interesting decision.
Hear how Engel explains the situation and the significance of the "meta game" between the two — including both players' awareness that the other could be playing loose and bluffing here when reentering again remains an option — and find out what happened:
Follow the progress of Engel and everyone else still in the hunt for the EPT Prague Main Event title right here on PokerNews.