Hold'em with Holloway, Vol. 103: A Frustrating Grind at MSPT Meskwaki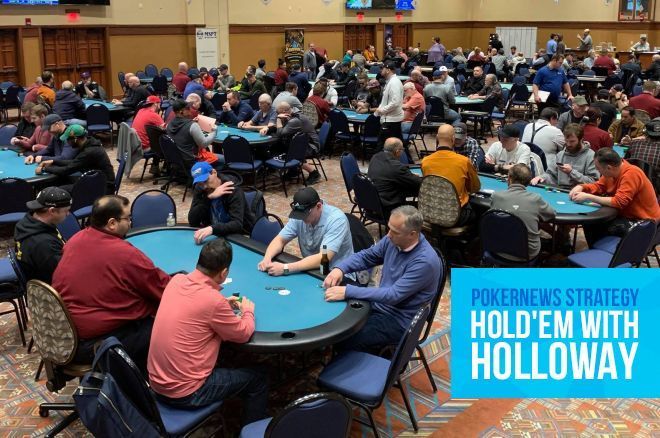 This past weekend I had the opportunity to play the $1,100 buy-in Mid-States Poker Tour Main Event at the Meskwaki Casino in Tama, Iowa. The tournament drew 409 entries over two starting flights, and I'm ashamed to share that I accounted for four of them.
Not only did I max out my single re-entry option on both starting days, the most I was able to spin up my 20,000-starting stack on any bullet was to a measly 30,000. It was a miserable grind where no matter what I did, nothing seemed to work.
Here are three frustrating hands from my lackluster performance.
Hand #1 – Losing with the Second Nuts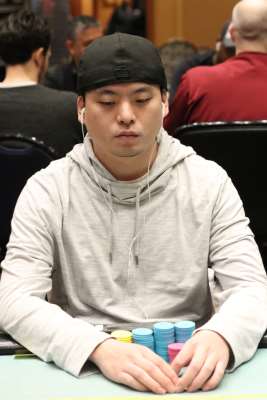 On my second Day 1a bullet, I grinded a short stack of 29,000 all the way to the 600/1,200/1,200 level. It was then that Mike Shin, who earlier this year won the MSPT Majestic Star, raised to 3,500 and I opted just to call from the small blind holding
. In hindsight I should have just jammed here, but at the time I decided to play with the hope of check-jamming a flop.
When the flop came down
, I opted to check my open-ender and Shin continued for 4,500. Again, I could have, and maybe should have, shoved all in, but I decided to take off one more card by just calling.
An
on the turn gave me a straight and I was licking my chops. I set the trap by checking and Shin bet 9,000. I moved all in for my remaining chips and he quickly called. I tabled my hand and much to my dismay he rolled over
for the flopped king-high straight! I needed a king on the river to survive but it wasn't in the cards as a
bricked.
Had I shoved preflop, I'm pretty sure Shin would've folded. Of course, once the flop came out, it didn't matter how I played it. I was going broke.
Hand #2 – Big Slick and Aces Abound
Back again for Day 1b, I had increased my 20,000 starting stack to 26,000 with the blinds at 200/400/400. That's when a player opened for 1,200 and I three-bet to 3,500 with
. Another aggressive player proceeded to four-bet jam for 17,000, and despite not feeling great about it, I made the call. The all-in player rolled over
and easily held to double.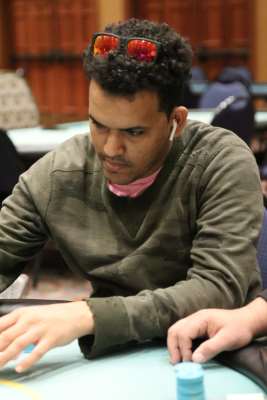 The frustrating part was the very next hand I looked down at pocket aces of my own after Ahmed Taleb, a former guest on my LFG Podcast, had opened to 900. I three-bet to just 2,000 from my 9K stack and Taleb called. He then checked the
flop and I downsized to 1,000 with top set. He responded by check-raising all in and I quickly called off. He had
for two pair and was drawing dead on the
turn.
Doubling there was a great result, but I couldn't help but think how much sweeter it'd have been had I folded Big Slick the hand before and had more chips with which to work.
Hours later, Taleb would bust me when I three-bet my short stack all in holding
and he called with
. He turned a flush and that sent me back to the registration desk to fire my fourth and final bullet.
Hand #3 – Two-Time Favorite Falls
The blinds were already 600/1,200/1,200 by the time I re-entered the tournament for a final time, so with a 20,000 starting stack I was pretty much waiting for a spot to shove. After getting hit with the blinds, which included me calling a min-raise from the big and folding, I was down to roughly 15,000 when a player raised to 3,000.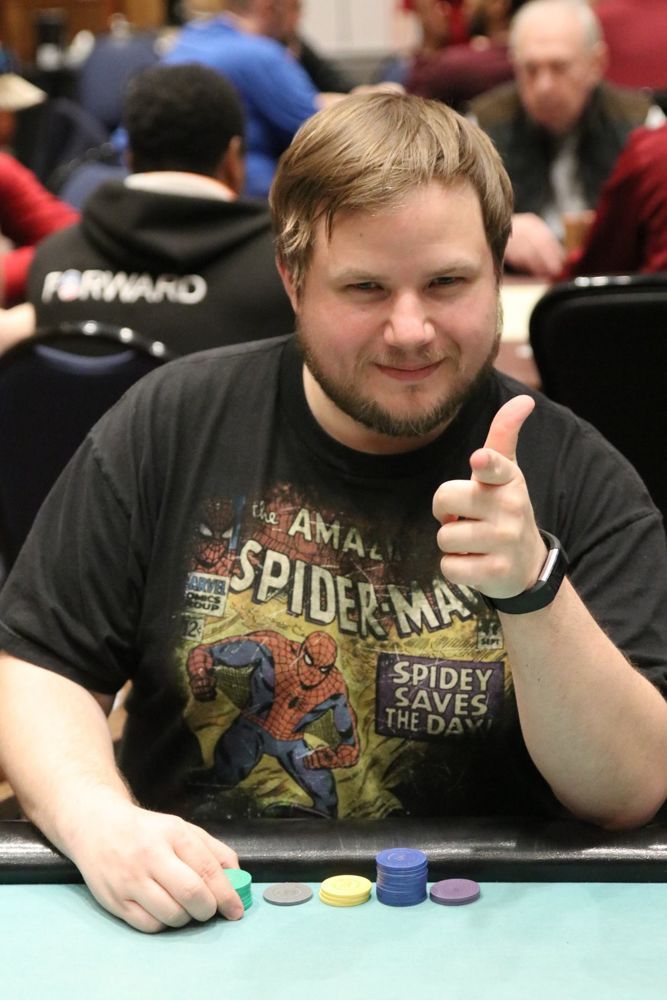 Another short-stacked player flatted and I looked down at
in the cutoff. I'm not a fan of shoving with small pocket pairs, especially in an obvious squeeze pot, but it was either jam or fold. Flatting here didn't seem wise, and given how my tournament had been going, I wasn't inclined to waste a pocket pair, so I shoved.
Action folded back to the original raiser, who had a big stack, and he shoved in a pile of chips for a reraise. The other short-stacked player folded and I immediately said, "I'm looking for a three."
However, that wasn't the case as my opponent had called me with the
.
"I mean... I'm looking to hold," I corrected myself, but then the flop fell
. "Okay, now I'm looking for a three," I said.
Instead, the
turn filled up my opponent and left me drawing dead. For the second time that day I had gotten it in as a favorite and lost.
Aside from a solid $5/$10 pot-limit Omaha cash game session, the trip was a bust for me. At times like that it's easy to become disenchanted with tournament poker, and for a couple of days, I sulked about it. However, like so many of us experience, the itch returns and I'm already looking ahead to the next tournament I play.
I've no doubt I'll do much better in that one because quite honestly, it couldn't go any worse.
Images courtesy of MSPT.
Executive Editor US, PokerNews Podcast co-host & 2013 WSOP Bracelet Winner.