Hold'em with Holloway, Vol. 101: Highlights from the ARIA Faded Spade Meet-Up Game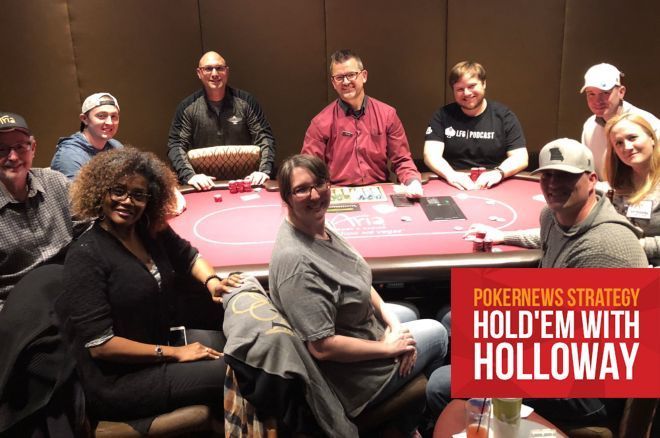 On Tuesday, March 12, a special event took place in Las Vegas. Sean McCormack, the Director of Poker Operations at ARIA, joined forces with Faded Spade playing card founder Tom Wheaton to host a meet-up game (the first in ARIA history I believe).
For McCormack, who goes by @ThePokerBoss on Twitter, it gave him the opportunity to show he wasn't a prude after speaking about the legal gaming perils of vloggers filming hole cards in casinos.
For Wheaton, it was an opportunity to showcase his company while the World Poker Tour was hosting final tables down the street at the HyperX Esports Arena inside the Luxor.
Bomb Pots Away
The game was $1/$2 no-limit hold'em with a $3 ante on the button. In addition, there was a "bomb pot" every 30 minutes. That meant each player put in $10 preflop and the dealer went straight to the flop. Action resumed as normal at that point.
Additionally, Jason Somerville and his crew at Run It Up were kind enough to donate some swag bags to juice up the bomb pots. It was a nice gesture and reminiscent of the sort of things they do to inspire fun at the table such as during Run It Up Reno, which will host its next installment next month.
We're at the @FadedSpadeCards @ARIAPoker Hangout! Come play some 1/2 with @JamieKerstetter @TomWheaton_ and… https://t.co/kBRqCsrygx

— Run It Up (@runitup)
Much to my surprise, McCormack hosted the game at Table One, formerly known as Ivey's Room. Some of the biggest stakes games in the world took place at that table with untold millions exchanging hands, and here we were playing $1/$2 NLH. As one dealer pointed out, it was the first time they'd ever seen blue $1 chips in that room.
Among those in the game were Wheaton, Commerce tournament coordinator Justin Hammer, aspiring poker reporter Lori Persinger, military veteran Ryan Tripp, Kristina Donaldson, Norm Nusbaum, a law school student from the Ohio State University (I'm afraid I didn't catch his name), and my LFG Podcast co-host Jamie Kerstetter. We started with nine players and randomly drew for seat. I was at Table 1, Seat 1.
Doubling in the First Hand
We kicked things off with a "bomb pot" and I looked down at
. The flop came middling cards and the Ohio State law student, who proved to be a very skilled player, bet the flop. I called and again he bet the turn big. I started with $300 and moved in for a bit more, which he called. He didn't show his hand but indicated he wasn't strong. The river was a brick and I more than doubled in the first hand.
Some say winning the first hand is unlucky, and while I don't buy into that, in this instance winning that first hand was my high point as I proceeded to bleed away chips. Eventually, I was down to $125 when I decided it was time to do something crazy.
The Massacre of Jamie Kerstetter
I told Wheat that if he double straddled to $10 I would triple straddle all in blind. He obliged and so did I. My talented LFG Podcast co-host was next to act and jammed all in over the top for around $180. Tripp called one spot over with what he claimed was one of his "favorite hands," and everyone else got out of the way.
"I not only claimed the pot but eternal bragging rights over Kerstetter!"
I hadn't looked at my cards and asked if it was all right if I didn't look or show until the end. Neither had a problem with it and the dealer ran out the
board. Tripp missed with his
but Kerstetter was sitting pretty with
for two pair.
The moment of truth came and I squeezed out the
. I needed a jack to triple up and I slowly squeezed my other Faded Spade playing card. There was a line so I knew it was paint. Could it really be? I squeezed a little more and saw that beautiful fishhook — a jack for the Broadway straight!
That was the first blow, but to complete the one-two punch I needed another and got it a short time later. Kerstetter three-bet all in for $60 or so with
and I opted to call holding
. The deuces held and I not only claimed the pot but eternal bragging rights over Kerstetter!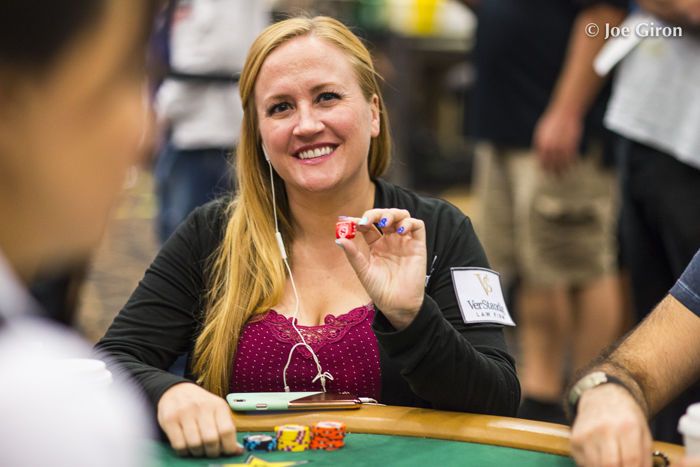 Wheaton Whips Me
Despite those wins and working my stack up to $430, I soon went broke in arguably the biggest pot of the evening. Several players, myself included, called a preflop raise and saw a flop of
. Wheaton continued for $40 and I just called with
for a Royal Flush draw. Nusbaum then raised all in for $140 and Wheaton, who had me covered by $2, three-bet all in. I called and created a pot in excess of $1,000.
Wheaton rolled over
for top two pair while Nusbaum had the best of it with
for bottom set. I was looking for a club or ten, but instead the dealer burned and turned the
to give Wheaton a full house. Just like that I was drawing to the ten of clubs, but it wasn't in the cards as the river bricked.
Rebuy!
Good Night and Good Luck
After dropping two more buy-ins I found myself in the game for $900 with only $300 in front of me. Fortunately, I caught a late heater — including an all-in four-bet with aces — to claw my way back up to $835.
In the final hand of the night, we decided to end the same way we started — with a bomb pot. However, this time it was for $25 each with six of us in, including Kerstetter for her last $25. I looked down at
and the flop came out
. I took a stab at it for $40 but had to fold when Wheaton raised to $160.
Wheaton showed pocket eights and turned quads to put an official end to the Faded Spade meet-up game at ARIA. I ended up losing $130 — a small price to pay for such a fun experience and the chance to play in one of the poker world's most storied rooms.
Executive Editor US, PokerNews Podcast co-host & 2013 WSOP Bracelet Winner.