Mixed Game Masters Match Wits on This Week's 'Dolly's Game'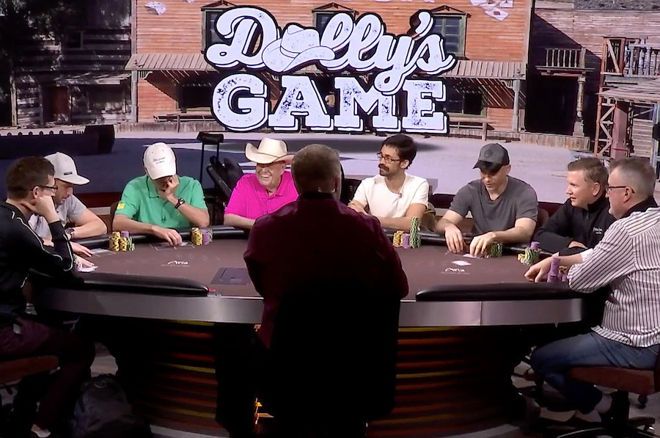 Last night began a new run of live cash games on PokerGO, this one featuring mixed game fun with Doyle Brunson serving as the host of "Dolly's Game."
With a faux Old West backdrop featuring a saloon and hitching posts, among those who joined Brunson last night in the PokerGO Studio in Las Vegas, Nevada were Dan Zack, Anthony Alberto, Eli Elezra, Mike Gorodinsky, John Hanson, Ben Lamb, and Frank Kassela, with Keith Lehr also taking a seat later in the evening.
The mix being employed includes four different variants: seven-card stud high, Omaha hi-lo, razz, and Badugi, with the limits $1,000/$2,000. Watching the hands play out with hole cards revealed and commentary from Randy Ohel and Ali Nejad is a good way to learn each of the games.
Among those four games are examples from each of the three main varieties of poker often played — flop games (i.e., with community cards), stud games, and draw games. Omaha hi-lo is a flop game, both seven-card stud and razz are stud games, and Badugi is a draw game.
Of course, all games are being played using fixed-limit betting, as opposed to pot-limit or no-limit. Those who don't often play limit poker don't realize that limit games not only frequently produce significant action (indeed, sometimes more than NL games), but can produce some big pots as well as the individual bets add up.
For example, this seven-card stud hand from last night between Gorodinsky and Alberto resulted in a big pot of $37,100. The action started with Gorodnisky being dealt aces in the hole with a queen showing, while Alberto began with three deuces, referred to in stud as being "rolled up" to start.
Take a look at how the hand played out:
The biggest pot of the night and @gordoMG gets there! Mixed Games, @TexDolly, and high stakes action returns Tuesda… https://t.co/h7VIA7hVXn

— PokerGO (@PokerGO)
In his commentary Ohel remarked how Alberto chose not to slow play with his rolled up deuces, instead four-betting on third street and continuing to bet when checked to subsequently. Alas for him, Gorodinsky spiked a third ace on sixth street and ended with the winner. ("That is cold," Brunson can be heard saying.)
Slow playing can be tricky in all forms of poker. Sometimes with a strong hand it can be the best way to string along an opponent and get paid off by good-but-not-better hands, but other times it can open the door for others to outdraw you.
Slow playing became an issue in another hand from last night, this one coming during a Badugi round.
"The problem with slow playing in a draw game is that you have to just show people you are pat very early in the hand," explains Ohel in his commentary, referencing the fact that Brunson started out just calling a raise with his pat hand —
(a Badugi) — then four-betting when the action got back to him.
Take a look at how that one ultimately played out:
The chips are flying and so is @lehrjet123! Keith Lehr takes a big Badugi pot off @TexDolly on #DollysGame.

— PokerGO (@PokerGO)
"Dolly's Game" continues tonight starting at 6 p.m. ET on PokerGO.