Olivier Busquet on Six-Max Strategy: More About Adjusting Than Aggression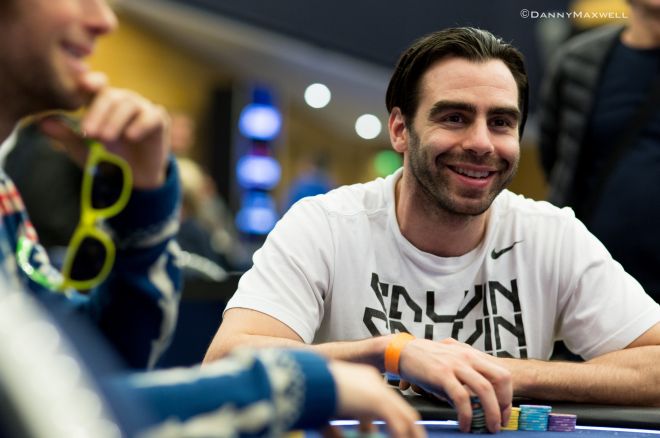 New Yorker Olivier Busquet has developed a reputation as one of the best heads-up sit-and-go players in the world, in particular online where he plays as "adonis112" (on PokerStars) and "livb112" (on Full Tilt). He's quite a beast in live heads-up tournaments, too, earning a cash here at the 2015 World Series of Poker in Event #10: $10,000 Heads Up No-Limit Hold'em Championship where he made the round of 16 earlier this week.
It's also worth noting that five of Busquet's 23 cashes at the World Series of Poker have come from deep runs in six-handed and "mix-max" events, including a cash in Event #12: $1,500 No-Limit Hold'em 6-Handed already this year as he continues to prove he's a force to be reckoned with in any short-handed situation.
But when it comes to strategy for six-max tournaments, Busquet doesn't necessarily subscribe to traditional theory that all-out aggression and increasingly wider ranges win the day.
"People say that all the time and I think it depends on how you think about it," he told PokerNews. "I don't play a wider range from the button than I do in a regular tournament from the button."
"In a six-max tournament you're just never under the gun nine-handed, or UTG+1 nine-handed — you're just always in one of the later positions," he continued. "So I play the same ranges I'm going to play from those later positions, [but] I'm just in those later positions more often, so I'm playing more hands than I would in a regular tournament. That's really the only difference that I see. You're in the big blind more, you're on the button more, so you're getting involved more."
In fact, Busquet considers it a mistake to play too loose in these short-handed events.
"That's actually one of the mis-adjustments that people make," Busquet explained. "They over-adjust and are playing much crazier than they normally would, just because there are fewer people at the table. They're playing more aggressively with a hand they wouldn't normally play, just because they're trying to play more hands or force an adjustment that isn't really necessary."
Outside of the increased elbow room at the table, the one thing Busquet says really changes in six-max tournaments is the dynamic between opponents.
"I think one of the things about six-max tournaments... as you get shorter-handed, you're playing more hands, so you do begin to develop different dynamics with other individual players," he said. "You might play three hands with another player in a level in a regular tournament, but in six-max events you might play six or seven, and that can really change how the later ones play out based on how the previous ones have. Especially depending on the players that you're talking about."
"If you're talking about high-stakes regulars or seasoned professionals, that might not change the dynamic so much. But I think less experienced players or players who are not as familiar with each other can start to develop different dynamics with one another that can change the way hands play pretty drastically from a normal hand or if it was the first one that they've played together."
If Busquet is making any changes to his game in six-handed events, it's definitely based on that — namely, the way playing more hands against individual opponents can influence what happens next.
"I think that's something I pay attention to and try to take advantage of in situations that come up," he said. "Getting into hands with the same players and starting to try to understand and predict how they will perceive and react to the previous hands that we've played together and then use that. I actually take some lines that I wouldn't call standard or default or my normal lines as an attempt to try and take advantage of that."
Having now cashed in the first two events he's played at the 2015 WSOP, Busquet is looking forward to even more six-handed action going forward as well as the entire World Series experience.
"I get really geared up for the series," he said. "I'm excited to be here, I'm happy that I'm here and feel more confident than I ever have playing live poker. I'm very focused and I'm very relaxed and I haven't been that in a while."
Want to stay atop all the latest in the poker world? If so, make sure to get PokerNews updates on your social media outlets. Follow us on Twitter and find us on both Facebook and Google+!