The Early Bird Gets the Seat: Know Your Options, and Keep Them Open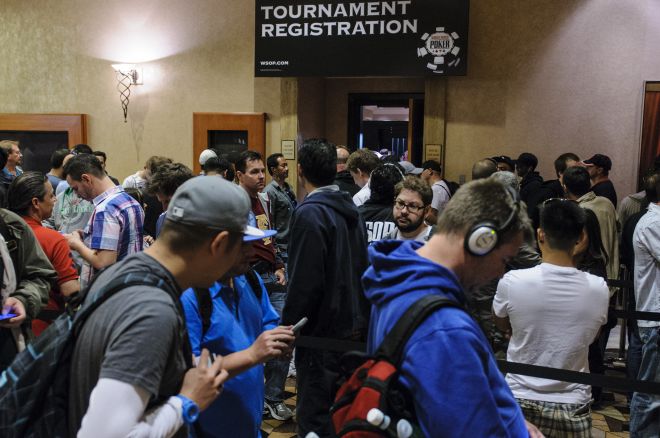 If you're complaining about the poker waiting lists in vegas right now you are 100% a losing player. I'm sorry.

— limon (@limonpoker)
One thing that has never been said about poker players is that they show up early. For a lot of players, the whole point of the poker lifestyle is to be able to ditch the schedule and avoid having The Man calling shots that they have to hop to.
For a lot of people, that works. Most of the time you can find a game, get a seat in a tournament, and if something comes up you walk next door to a different casino (at least in Las Vegas). But there are times like this past weekend — the weekend of the record-breaking $565 buy-in Colossus at the World Series of Poker — when events that attract a big crowd are on, where that strategy can run into some barriers. Or at least long, long lines.
With thousands of people in town for the first weekend of the WSOP, something that became readily apparent via Twitter was that poker players get pretty sick of waiting in lines. Online complaining about waits to get into cash games was what sparked the above comment from Limon, but if you have thought tournament registration lines at the Rio All-Suite Hotel and Casino were a hassle last year, the overflow crowds on the weekend were another order of magnitude (or at least several times worse).
It wasn't just at the WSOP, either. At Planet Hollywood, where Sunday's $565 Goliath tournament was a sort of mini-Colossus, registration for the second and third flights snaked around the mezzanine as they more than doubled the event's $500K guarantee. Meanwhile Friday's $400 event at the Venetian had a guarantee of $30K, but the prize pool was nearly five times that at $144K — in fact, the scheduled first prize was more than the original guarantee.
But to win the game, you've got to get in it. If you're one of the lucky folks who are going to be in town for weeks at a time, a wait probably doesn't matter so much. But if you're a weekend warrior whose WSOP-related trip is just a few days' long, you're likely to be there at a time when everyone else is there, too, and the crowds make it harder to get into games or to even just get around town.
Be Prepared
Nobody likes to bust out of a tournament for which they've paid a lot of money. But the truth of the matter is, more times than not that will be the result. People were busting out of the Colossus in less time than they stood in the will-call line to pick up their tickets for the Colossus. While it's important to have confidence in your ability to take down a big tournament, it's smart to borrow from the Boy Scouts and have a plan if you don't. That means knowing what you're going to do and where you're going to do it.
Put together a list of all the events that you're interested in during your stay in Vegas. Toss out the events beyond your bankroll or games you don't want to play. Remember that there's stuff beyond the WSOP and the Rio, so check out all of the schedules. There are a couple of good places to start if you're unfamiliar with all of the possibilities.
Kenny Hallaert (a.k.a. @SpaceyFCB) — who finished fifth in the Colossus Wednesday for a $182,348 cash — has been publishing a spreadsheet of Vegas tournament series for several years. Events running at the Rio, Venetian, Planet Hollywood and elsewhere through mid-July are all there, along with tabs collating events for games other than full-ring no-limit hold'em tournaments, links to series schedules, lists of side events, and rake percentages calculated for all the tournaments and venues. It's simply amazing.
PokerAtlas lists the events on Hallert's spreadsheet, as well as regularly-scheduled daily events running at casinos in Las Vegas (and elsewhere). It also has info on cash games that run regularly and reviews of poker rooms. They also have a mobile app available for iOS and Android mobile devices (which is curiously absent from their home page). PokerAtlas lets you look at all of the tournaments for specific days, so you can go through each day of your trip as you're making plans.
Be Early
Arriving early is anathema to many players, but there's just no way around it if you don't want to wait in lines. You may have to wait for a tournament to start, but at least you won't be in a line.
Wherever possible, register early for tournaments. If you bust out of a tournament, don't head to something that's already started or about to start. Set your sights on a game that's still a couple hours out, possibly longer if it's at the Rio.
Prior to the Goliath at Planet Hollywood, I kept an eye on Twitter and saw that even though registration was supposed to start on the actual day of the event (according to the schedule), an announcement had gone out that they were opening it up a day early. I picked up my ticket on Saturday morning after waiting in line all of one minute, and spent the rest of Saturday doing other stuff.
Sometimes pre-registration isn't enough. Even the will-call line for pre-registered players in the Colossus was a nightmare for anyone who felt trapped by lines. If you have to pick up your ticket, don't wait until the last-minute. Any time you can register or claim your ticket a day early is ideal. Then you can use the time in between for something you actually want to be doing.
Cash games don't start on a schedule, but "be early" often still works there, too. If you roll into the poker room at 9 a.m., you're likely to get a seat right away. An added advantage is that some of the people you'll be up against will have been there all night — and drinking, too, in some cases — while you'll be fresh (presumably). It beats getting into a queue of 60 players waiting for an $8/$16 limit Omaha hi-low game. (Yes, that was a real thing at the Orleans the other night.)
Be Flexible
The reason you want to have that schedule of events is that you don't want to be locked into any particular path. Don't get stuck in a rut of sitting at the Rio, waiting for the next bracelet event or daily Deepstack or cash table. There's a wide world of poker out there for the taking. Walk across to Gold Coast and catch a shuttle to the Orleans for some Omaha or head over to the Strip, where you can walk to a variety of venues (so long as 105° heat doesn't faze you).
Personally, I think a car is useful. Parking is abundant in Vegas, and while you might like the door-to-door feel of taking a cab, it's not hard to spend more money on cabs in a day than on a rental car. Pick the wrong rental company, though, and you might be in line for your car for almost as long as it took for your plane to get to Vegas.
If you're looking for cash games, the Bravo Poker Live site and apps are essential. The Bravo system is used by most of the casinos for both tournament and cash game management, and you can see nearly-live information on which games are running, as well as the length of waiting lists. The site shows the number of cash tables currently running (including at the WSOP), the number of tables running for each game type and stake, and the number of players currently on the wait and interest list.
This is where much of the consternation came from over opening weekend: players checking Bravo Live were seeing wait lists into the high double digits for cash games at favored venues, even for games where you wouldn't expect long lines (like that Orleans $8/$16 game).
Some of that was duplicates, of course, as people put their names on multiple lists at the same venue, got antsy, left without taking their name off the list(s), then moved on to a new venue only to put their name on multiple lists there, too. It's likely that the more frustrated players got by not being able to play right now, the more that created a multiplier effect making things seem even worse than they were.
Don't Chase Your Tail
After picking up my ticket for the Goliath on Saturday, I dropped a friend at the Wynn for the noon tournament. He'd had a hard time deciding what he was going to do for the day (not prepared), so he was running late (not early). There were 50+ alternates already, so he headed downtown to Binion's for a 2 p.m. tournament.
He didn't have a player's card there (required for tournament registration at most casinos), so he stood in line to get one, along with a lot of other players. Then he was going to have to stand in line for tournament registration. By the time he arrived, there were already a couple dozen alternates, and he would have been in the high thirties. He gave up, took the bus back to the Strip, and spent a frustrated afternoon by the pool with a serious case of FOMO.
You might think this is an example of flexibility gone wrong, but flexibility needs to have some direction. Just like when you're playing a poker hand, you need a plan, and that plan must have options for a variety of decision points.
Don't plan haphazardly. You're playing poker for money, and time — as they say — is money. It's why people get frustrated standing in lines, and there are plenty of ways to avoid those long waits, even on the busiest of Vegas weekends.
Darrel Plant lives in Portland, Oregon. A computer programmer by profession and a game player at heart, he writes about math and poker at his blog, Mutant Poker.
Get all the latest PokerNews updates on your social media outlets. Follow us on Twitter and find us on both Facebook and Google+!