The Final Hand of the 2015 PCA Main Event: Bold Play on the River
Aaron Hendrix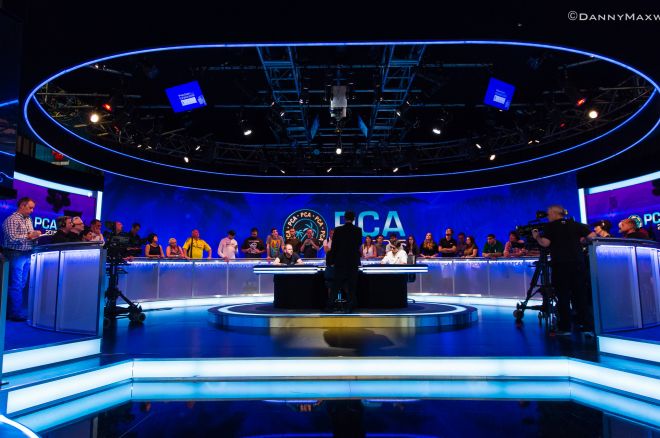 On Wednesday Kevin Schulz kicked the new year off in a big way by winning the 2015 PokerStars Caribbean Main Event, topping a field of 816 players to earn a $1,491,580 first prize.
Schulz dominated most of the final table and was deserving in victory. The final hand between Schulz and runner-up Diego Ventura was an interesting one from both players' perspectives, culminating with a gutsy river check-raise and equally gutsy call. Let's look again at that hand in detail and try to get into the minds of the two players as it plays out.
The Hand
The blinds were 80,000/160,000 with a 20,000 ante. Ventura started the hand with just under 4.5 million in chips while Schulz had a significant advantage with approximately 20 million.
Schulz completed the small blind with
and Ventura checked his option with
. The flop came
and Ventura check-called a 365,000 bet from Schulz. The turn was the
. Ventura checked again, Schulz bet 775,000 this time, and Ventura called once more.
The river was the
. Ventura checked a third time and Schulz made another bet making it 900,000 to go. Ventura responded by check-raising all in for 3,105,000 total, and after several minutes in the tank Schulz made the winning call.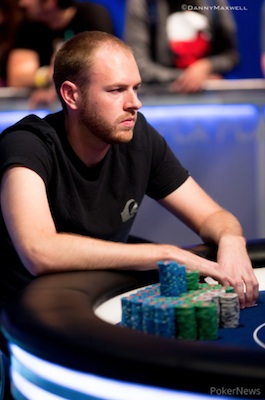 Preflop
There was nothing out of the ordinary here, although one could make an argument for Schulz raising with king-high, in position, having the big stack.
Flop
The biggest mistake Ventura made was probably on this street after flopping bottom pair. I don't mind his checking, but I think check-calling leads to problems as it gives the impression that he is drawing. I would have preferred a check-raise to about 900,000, which likely would have gotten Schulz to fold. Meanwhile Schulz's play is standard given his position and stack, although the bet-sizing was a bit large with it being a pot-sized bet.
Turn
Ventura playing passively on the flop leads him to getting trapped in a hand with fourth pair. A pair is strong in heads-up play, but you need to pounce on it as soon as you hit it. By failing to do that on the flop, Ventura let's Schulz catch up in a big way by hitting top pair.
Here on the turn, any line would have almost been better than check-calling another bet. Ventura could have led out for somewhere along the lines of 550,000 and found out where he was, but check-calling doesn't give him the ability to define Schulz's hand whatsoever. He's guessing that his pair of fours is best when he calls. Schulz's play is, of course, perfectly fine.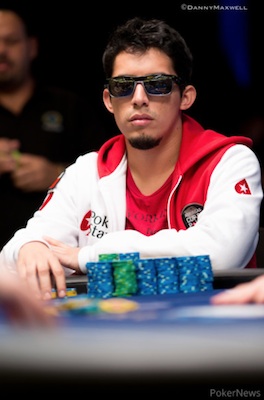 River
I actually love Ventura's play on the river. It represents the one possible hand he could have that would cause Schulz to pause — trip sixes. However, there was one problem with it: Ventura didn't have enough chips to make the river check-raise work.
After Ventura moves all in there is 6,645,000 in the pot and it is 2,205,000 for Schulz to call. That means he is getting just about 3-to-1 on his money to call. There are too many hands in Ventura's range at that price that Schulz beats with his kings and sixes. Even if he calls and is wrong, he would still have a nearly 2-to-1 chip advantage over Ventura. Those two factors in itself make the river check-raise a less great play even though on the surface it appears like an inspired one.
It might have worked if Ventura had moved all in first to act, but probably not, because the story generally doesn't make sense if he does that. There are no possible flushes or straights, so the only likely hand that Ventura could have that would beat Schulz would be one containing that six for trips.
Schulz correctly deduced that his king was probably good because most players would have bet or check-raised the six on the flop. He made the great call and came away with the title and and nearly $1.5 million for doing so.
Get all the latest PokerNews updates on your social media outlets. Follow us on Twitter and find us on both Facebook and Google+!