The Second-Guessing Game: Key Decisions from WSOP Main Events (2007-2014), Pt. 1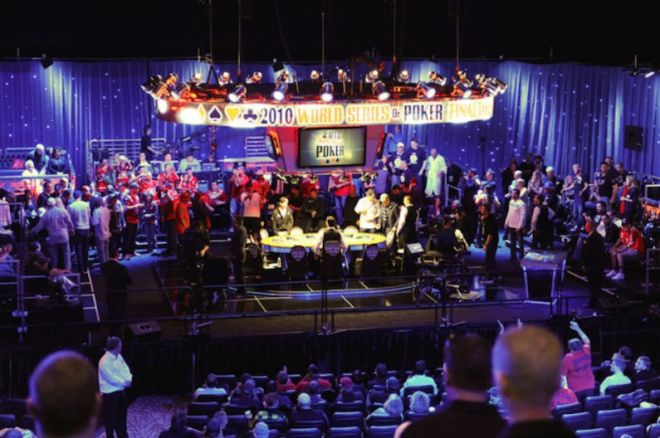 It's hard to believe, but the World Series of Poker Main Event is almost here, with the first of three Day 1 flights kicking off this Sunday, July 5, at 12 noon at the Rio All-Suite Hotel and Casino.
The Main Event's arrival puts us in mind of the excitement of past WSOPs, including key moments from recent MEs and those many dramatic, fate-changing hands occuring late in them. A number of those key hands weren't strictly examples of fortune favoring one player over another, but involved key decisions that have subsequently inspired much discussion over the strategy employed.
Looking back through PokerNews' eight years' worth of live reporting from the WSOP, we've pulled out one crucial hand from each of the last eight Main Events, all of which are marked by interesting, difficult decisions made by the players involved.
Here are ones we chose from 2007-2010; tomorrow we'll share those from the 2011-2014 Main Events. Read on and relive these, and feel free in the comments to share your own second-guesses about some or all of them.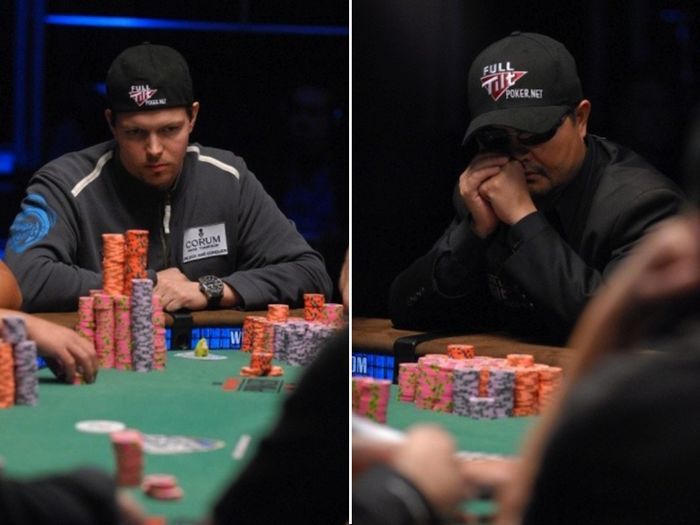 In what was perhaps the wildest first 60 minutes of any WSOP Main Event final table, eventual winner Jerry Yang went from seventh in chips to first position in the space of just 14 hands — no shinola! Then on the 15th hand, Yang busted start-of-day chip leader Philip Hilm in ninth.
When Hand #15 began, Yang had just overtaken Hilm for the chip lead, moving just over 25 million while Hilm was second with not quite 19.4 million.
With the blinds 120,000/240,000 with a 30,000 ante, Yang raised to 1 million from late position with
and Hilm called from the small blind with
. The flop came
, and Hilm check-called a bet of 2 million from Yang. The turn was the
, and after being checked to Yang bet 4 million.
Hilm then moved all in, and after thinking for a while Yang called. Hilm needed to complete his flush or hit an eight or five to survive, but the
fell on the river, bringing a surprisingly rapid conclusion to Hilm's day.
Putting the outcome aside, how would you assess decisions made by both Hilm and Yang in the hand?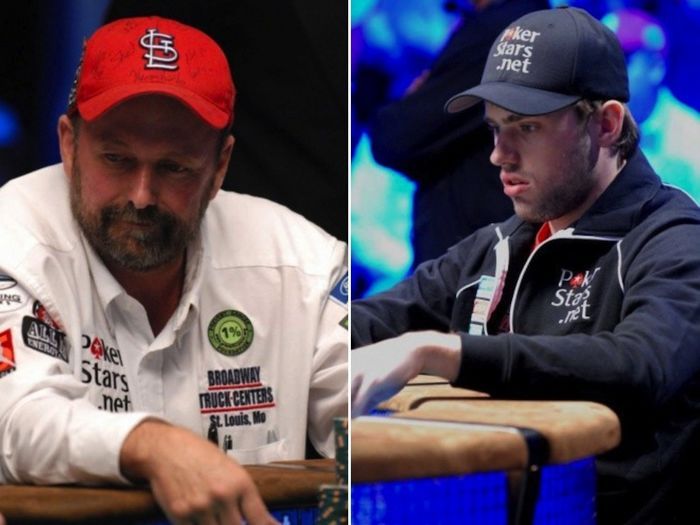 There was another huge moment early at the 2008 WSOP Main Event final table involving Dennis Phillips and Ivan Demidov. Phillips began that first-ever "November Nine" with the chip lead and would ultimately finish third, while Demidov started in second position just behind Phillips before finishing runner-up to champion Peter Eastgate.
By Hand #18 they were still nine-handed, with Demidov having just edged in front of Phillips to take the chip lead a couple of hands before. The blinds were 150,000/300,000 with a 40,000 ante, and after being dealt
under the gun, Phillips chose just to call. It folded to Demidov on the button who raised to 1,025,000 with
. The blinds folded, then Phillips limp-reraised to 3.525 million.
Demidov didn't take too much time before reraising himself to 8.225 million, and after thinking a half-minute Phillips called, ballooning the pot to more than 17 million.
The flop came
, and Phillips led with a smallish bet of 4.5 million. Demidov responded with an all-in shove for 9.395 million more (13.895 million total) — just a bit more than what Phillips had left behind. After a bit of hesitation, Phillips let his hand go.
Suddenly Demidov had the chip lead while Phillips had become the table's short stack, and during the break that followed many wondered if Phillips was about to suffer the same fate Hilm had a year before.
How do you assess decisions made by both Demidov and Phillips in this hand?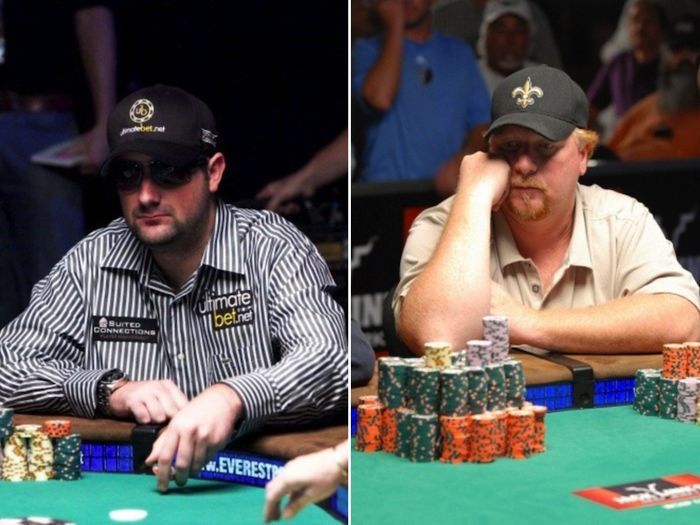 The next two hands both come from late in the Main Event when the field had been carved down to the final two tables. The first from 2009 came when there were 12 players left gathered around two six-handed tables.
The blinds were 120,000/240,000 with a 30,000 ante. At the secondary feature table, the two biggest stacks belonged to Darvin Moon with about 25 million and Billy Kopp who had just chipped up over 20 million.
Dealt
, Kopp opened from early position with a raise to 600,000, and Moon called from the small blind with
. The flop then came
, giving both players flushes. Moon checked, Kopp continued for 750,000, and Moon called.
The turn brought the
, pairing the board. Moon checked once more, Kopp bet 2 million, then Moon check-raised to 6 million. Kopp paused a short while before responding with an all-in push, and Moon thought briefly before calling.
The show of hands revealed that Kopp was in fact drawing dead. He exited in 12th while Moon would carry the chip lead to that year's final table before finishing second to Joe Cada.
Again, hindsight is 20/20, but if you were either Moon or Kopp and didn't know your opponent's hand, what might you have done?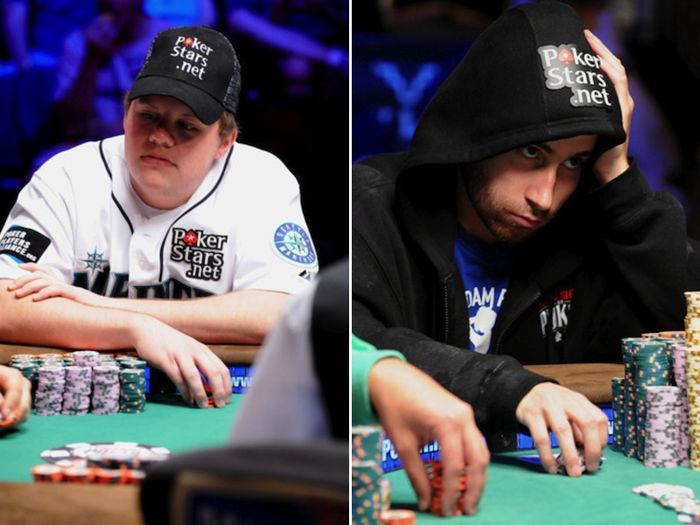 From the 2010 WSOP Main Event, we might have chosen the much-discussed ace-seven vs. queens hand between Joseph Cheong and eventual winner Jonathan Duhamel during three-handed play, but let's think about another memorable hand that happened with two tables left, one also involving Duhamel and Matt Affleck.
With the stakes 120,000/240,000/30,000 and 15 players remaining, Duhamel opened from the cutoff by raising to 575,000 with
. Sitting in next position on the button, Affleck looked down at
and reraised to 1.55 million. The blinds folded, then Duhamel four-bet to 3.925 million. Affeck called, putting the pot at just under 8.5 million.
The flop came
, and after Duhamel checked Affleck bet 5 million. Duhamel called. The turn then brought the
. Duhamel, now with an open-ended straight draw, again checked, and Affleck moved all in with his last 11.6 million.
There was about 30 million in the middle. If Duhamel were to call and lose, he'd be down to about 8 million. Eventualy Duhamel did make the call.
Interestingly, Duhamel asked "tens and nines?" of Affleck before seeing him turn over the aces, and Affeck said "kings, right?" before Duhamel shook his head and showed his jacks. The river was the
, filling a straight for Duhamel and ending Affleck's run in 15th.
It was another incredibly dramatic moment deep in a WSOP Main Event. And another great one for second-guessing... have at it.
Back tomorrow with more intriguing hands from late in the 2011-2014 WSOP Main Events.
Want to stay atop all the latest in the poker world? If so, make sure to get PokerNews updates on your social media outlets. Follow us on Twitter and find us on both Facebook and Google+!