When the Math is Close: Call or Fold Versus a Tough Pro?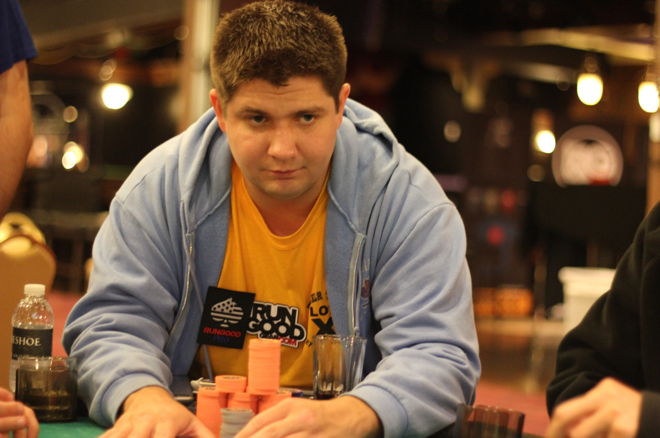 Covering live poker tournaments for a living affords me the opportunity to see countless thousands of hands played out, many of which offer interesting and potentially valuable insights into how players — both amateurs and professionals — play the game. In this ongoing series, I'll highlight hands I've seen at the tournaments I've covered and see if we can glean anything useful from them.
The Scene
This week, it's back to hands both narrated and played by the daring author. We recently went over a variety of hands from the Mid-States Poker Tour stop in Iowa, and a week later, the World Series of Poker Circuit came to my home casino, Horseshoe Council Bluffs. I played a few events, and this hand comes from the $365 reentry, which drew 743 runners.
I was able to make a deep run and found myself with a top-five stack of around 500,000 chips when the final 27 redrew for new seats. Blinds and antes were at 5,000/10,000/1,000 and my new seat unfortunately was to the right of Ryan Tepen, a pro with more $900,000 in cashes.
I picked up a read early on that the player under the gun in the following hand was very inexperienced as he had been limping in frequently and showing down hands like
.
The Action
The UTG player again limped in for 10,000, and another player in the hijack came along as well with a call despite having a short stack of about 70,000. I was dealt
on the button where I made it 38,000 to go. Tepen then wasted no time in the small blind before shoving all in for 128,000. Everyone else folded back to me, and I called.
Tepen showed
. The board ran out
and Tepen doubled through.
Concept and Analysis
This hand ended up being the beginning of a downward spiral for me in a tournament where I was in prime position to contend for a $44,577 first-place prize, so I naturally thought about it afterwards and wondered about my decision to call in the aftermath of my eventual elimination.
Everything starts well enough for me in the hand with the inexperienced player and the short stack limping in, making me very happy to see
on the button. It almost always rates to be the best hand in this scenario against those two players, so I try to raise and knock out the blinds and build the pot in position.
Unfortunately, Tepen shoved all in with a stack of just under 13 big blinds. I groaned internally as the other players folded, as Tepen shoving in this spot just screams of his having me dominated. The pot is now around 210,000, so I'm getting about 2.3-to-1 on my money. I only need 30 percent equity to make a mathematically correct call.
Tepen probably doesn't expect me to fold, and if he isn't worried about getting called, he probably has the goods.
If Tepen has me dominated with a bigger ace, he is just short of a 3-to-1 favorite. Meanwhile if he has something like
, I'm getting just about the correct price to call. Could he possibly hold a pair lower than nines? Certainly, I think shoving sevens and eights seems reasonable. But I doubt he ever has weaker aces than mine.
There's also the consideration that doubling Tepen up would make my life a lot more difficult going forward. Tepen is well-known to be aggressive and tricky, and having him on my left is bad enough without him having a workable stack. If he gets some chips, he's going to become much more of a headache with which to deal.
In the end, I decided to make what seemed like a mathematically correct call, although I certainly wasn't loving it. He did show me the dominating hand and managed to hold up, and he fittingly eliminated me in 20th on his way to a seventh-place finish for $6,761.
What do you guys think? Should I have avoided doubling up a tough player by folding in a borderline spot?
Want to stay atop all the latest in the poker world? If so, make sure to get PokerNews updates on your social media outlets. Follow us on Twitter and find us on both Facebook and Google+!