Reading Poker Tells Video: Smiling and Laughing from Non-Aggressors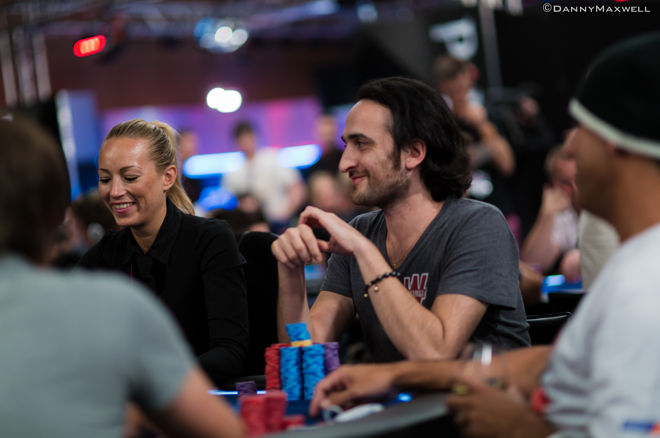 (This article is part of a series. Each article discusses a specific poker behavior and features a short sample clip from Zachary Elwood's Reading Poker Tells Video series. This one also features a clip from a past World Series of Poker.)
In general, when a non-aggressor (i.e., a checker, caller, or someone waiting for another opponent to act) smiles or laughs, it is unlikely that player has a strong hand.
Reasons
What are the reasons for this pattern?
Non-aggressors with strong hands are more focused and thoughtful in general. With most strong hands, they are thinking about the best way to play the hand. They are mentally focused on the situation, and that focus makes it more likely they'll be stoic and silent.
Players with very strong hands who have decided to slow play (just check or call with a strong hand) don't like to draw attention to themselves. They generally wish to remain inconspicuous. Also, laughter and smiling convey happiness, and these players have more of an incentive to convey unhappiness. They don't want to do anything to set up an obstacle to an opponent giving them action.
This pattern is very reliable for non-aggressors, but is not a pattern for bettors who can have other factors influencing them. (In fact, for bettors making big bets, this pattern is reversed.) This is why this article and the accompanying videos focus on non-aggressors and waiting-for-action behavior.
Below is a short clip from my poker tells video series with a couple hands where this behavior shows up:
A Hand from the WSOP
Here's another example, occurring in a hand from the 2012 WSOP Main Event in which Elizabeth Hille smiles at her opponent as she waits for him to act on the turn. (The smile comes just after the 40-second mark, if you want to skip to it.)
If Hille had the straight here (and probably most two-pair or better hands), she'd be unlikely to smile at her opponent. (It's of course possible, but just unlikely.) With all her strong hands, she'd be mentally focused on the situation, thinking about the best way to play the hand. And with the high end of the straight, she wouldn't want unintentionally to discourage her opponent from betting into her or calling her bet.
Reading Poker Tells Video Series: This has been an article featuring info and a video sample Zachary Elwood's poker tells series (as well as a clip from the World Series of Poker). You can sign up for a free 3-part email course on the front page of this site: www.readingpokertells.video. Signing up for the email course also gets you a 15% discount off of any of the video series packages.