Reading Poker Tells Video: Hesitations When Betting or Raising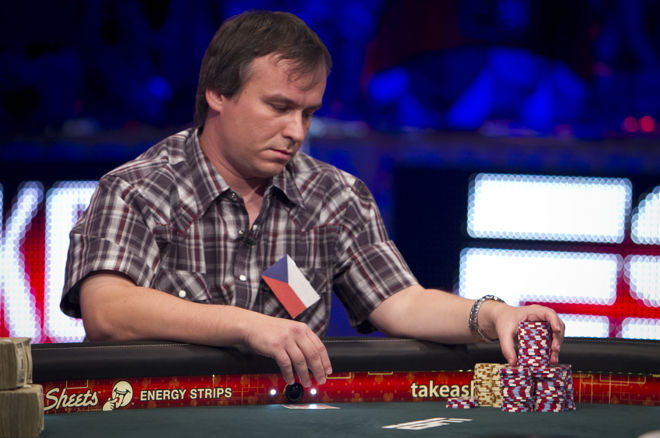 (This article is part of a series. Each article discusses a specific poker behavior and features a short sample clip from Zachary Elwood's Reading Poker Tells Video series.)
Hesitations and pauses, when associated with a significant bet or raise, will be highly associated with relaxation and strong hands.
Below is a clip from the Reading Poker Tells Video series that has an example of some hesitating behavior from a player who raises the flop with a set.
Reasons
What are the reasons for this pattern?
When players decide to bet or raise with weak hands and bluffs, they usually want to convey strength and confidence. They also don't want to be studied more than is necessary. For these reasons, players betting or raising with weak hands will usually do so in normal, straightforward movements, putting in chips all at one time.
Hesitating and pausing behavior when betting or raising can take a few forms, such as
Stacking up chips for a while, as if unsure about what to do, before finally betting or raising
Cutting out an amount for a call, as if considering calling, and then putting in a raise
Announcing "bet" or "raise" and then taking an abnormally long time to announce the amount or put the chips in the pot
The more indecisive or thoughtful such behavior seems, the more likely it is to indicate a strong hand.
Hand from the WSOP
The most high-profile example of this behavior I've seen comes from the final table of the 2011 World Series of Poker Main Event. The video below shows Martin Staszko (runner-up place that year), assembling chips for a call on the turn before he finally puts in a raise.
I watched this event live (with a 15-minute delay). Staszko was a super-stoic player and I had no real reads on him. In this hand, though, when I saw this behavior (combined with some seemingly relaxed chip-flipping he did), I was very confident he had a strong hand.
Caveat
The one major caveat with this behavior is that some players are fully capable of doing this with bluffs. When you see that a player is capable of going through a lot of hesitation before making a large bluff, that's important to remember for that player. In a vacuum, though, for your average player, this behavior will be very reliable.
Reading Poker Tells Video Series: This has been an article featuring info and a video sample Zachary Elwood's poker tells series (as well as a clip from the World Series of Poker). You can sign up for a free 3-part email course on the front page of this site: www.readingpokertells.video. Signing up for the email course also gets you a 15% discount off of any of the video series packages.
Want to stay atop all the latest in the poker world? If so, make sure to get PokerNews updates on your social media outlets. Follow us on Twitter and find us on both Facebook and Google+!