Main Event
Day 1e Completed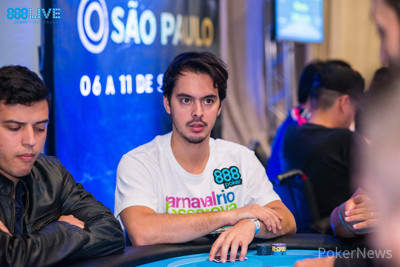 Nicolau Villa-Lobos is one of the biggest names in Brazilian poker. The 29-year-old from Rio de Janeiro, is a member of Team 888 and currently occupies sixth place in the Brazilian all time money listings thanks to having earned $1,253,674. His first recorded cash came in Brazil, and in the BSOP and he was able to parlay that into a deep run in the main event later that year in 2012.
While Rio de Janeiro is his hometown, he still considers São Paulo to be his home as well, and he's excited to be participating in the 888Live Festival here in São Paulo.
"It's amazing to have a such an event here in Brazil, my home," he said. "The mood here, playing poker it's a little different from some other places around the world. I think that people are more relaxed here at the table. More comfortable, and chatty, and talkative. Sometimes you go play and the table is always very serious. I was actually paying attention, on my phone, being serious, but generally speaking I think so. I really love playing poker in Brazil. I think it's really cool."
Villa-Lobos is currently in the Main Event Day 1e which has just returned from dinner and he has a stack of 30,200.
"I just got here," Villa-Lobos explained. "I played two levels. It's a really good structure so no rush at all. I mean, let's see how it goes today. There's still another flight after 1e. And if I bust, I can also have another bullet."
Despite planning for the worst, Villa-Lobos has plans for the day when it comes to tournament strategy.
"Strategy wise, I would say there are like maybe two more levels that you can stay quiet, and don't have to push so hard, but then when there is the 300/600 with 100 ante, probably you just have to go for a little bit more," he said. "The antes are a little big bigger so you need to be a little bit more aggressive to collect them. And also because since it's a re-entry tournament, it's really important to have a nice stack, a healthy stack for day 2 because a lot of people already have it. So even though I have 30 big blinds for day 2 which is a pretty good stack that I'm really used to playing with every day online. Since people have much more chips you kinda… You need to reach a little bit more. So maybe the last levels you can push a little bit harder, and if it doesn't work you can just re-enter in the next flight."
We asked Villa-Lobos about the structure for the last flight of the Main Event, which is a turbo rather than longer levels, as this is not usually something that most tournaments have.
"This is one thing that happens in Brazil a lot," Villa-Lobos explained. "They try to do stuff, experiment with new formats sometimes. And actually, they have been doing this style, this extra flight in Brazil for many tournaments, and the last flight is a turbo. I was in Barcelona last month for the PSC and I was really happy to see that the Estrellas, they did the same thing."
Villa-Lobos thinks that compared to the rest of the world, poker is still in it's early stages in Brazil. But it's growing at an alarming rate. So fast even that Villa-Lobos is calling it a Brazilian poker boom.
"I think we are relatively young regarding poker," he said. "I mean Brazil itself. If you go to the United States and Europe they have casinos and have been playing cards for a much longer time than we have. I mean we obviously have sweet games but poker has definitely had a boom here in the past few years in Brazil. The U.S. already had this many years ago. Europe as well. I think we are still pretty young poker wise."
For Villa-Lobos it's with the help of the pros and the poker community that is making the game grow so quickly, creating a very passionate community.
"One thing that I really have to take my hat off Brazilian Poker players, and for the poker community actually, is how they are interested in learning," Villa-Lobos explained. "So there are a lot of professional poker players doing courses and giving their experiences to the community and just trying to give back something even if there is a cost. Obviously, there is a lot of those kinds of courses and poker schools but it's uncountable. You have a lot of them here. I think we are definitely on the right path, just keep moving."
Sports had always been a big part of Villa-Lobos life, he was a naturally competitive person, but a surgery put all of that on the back burner, and that's when he discovered poker.
"Ten years ago, I had a surgery on my heart, so I had to stop playing sports at all," he said. "I was brought to poker from a friend that brought the game to my house with another friend. And we started playing everyday or almost every day. And I had one year to just dig in, you know, go completely focused on poker. And I was really happy to learn and to see. And then I started to go to the clubs. It was a totally different scenario. I mean we are in one of the main shopping malls in São Paulo and back in the days I was playing underground. Like really, Teddy KGB scenario, and it was like that. Definitely, and I was really young, but that's how I started playing poker."
We asked Villa-Lobos for some must do things for any tourist who visits São Paulo. His answers were simple; Football and nightlife.
"I will say two ok?" he asked. "Because It's tough. I will say one by day and one by night. A football game would be amazing. Like if you are able to see a match like a local match, like two local teams playing like Corinthians and São Paulo, or Palmeiras, this would be an experience. Like really amazing because I've been around the world to see sports and the only country that beats us is Argentina. They're crowd is just insane. But the crowd in Brazil… I mean you go to Barcelona and Real Madrid you're not impressed. There's a lot of people in the stadium, but then what? And if you go to see the Corinthians play, even if it's not against the rival team, you're gonna have your mind blown. I mean they are so sick. And it's really amazing."
As for nightlife, Villa-Lobos says that Brazilian country music is something that any foreigner would enjoy.
"Nightlife in São Paulo is really amazing," he said. "So my second tip is look for a really famous place here. Like a country music place which is really famous. Like Sertanejo, Villa Mix, Wood's, Villa Country. I'm not really into it, but I know it's really popular and for foreign people who would love to see something different, it's a really great experience to check out."
Day 1e brought out 188 players to the Main Event, 99 which are still alive. Day 1f has already kicked off as well, brining out over 90 players at this point with a few more levels left to register. This will end our feature coverage for 888Live São Paulo, but tomorrow we'll be kicking right back off with our normal live reporting. At the end of the night we'll bring you a round up of some of the biggest stacks in the tournament as well as some updates for all the big name and notable players who played today. Make sure you check back in as Day 2 of the 888Live São Paulo Main Event kicks off tomorrow.
Many thanks to Joe Giron/888Live for providing an awesome look at Day 1e and 1f of the 888Live São Paulo Main Event.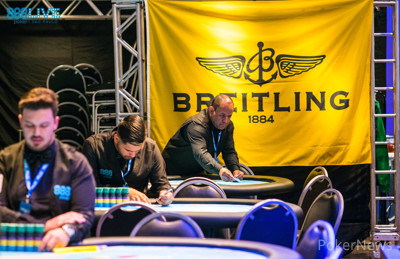 The numbers are in. Day 1d say a total of 209 players come out for the event. Only 70 of those players survived. Leading the way after the day of play was Rodrigo Navarro who bagged up 306,200, more than anyone else in the tournament so far. Unless he is surpassed today by someone in flight 1e or 1f he will be the definitive chip leader heading into Day 2 by a wide margin.
Top Ten Chip Stacks From Day 1d:
| Name | Chips |
| --- | --- |
| Rodrigo Navarro | 306,200 |
| Vinicius Silva | 186,400 |
| Naresh Trivedi | 165,000 |
| Alberto De Santana | 146,600 |
| Fabio Freitas | 129,700 |
| Roberto Wen | 124,200 |
| Guilherme Calicchio | 123,000 |
| Tania Liberato | 119,800 |
| Emanuel Fernandez | 118,900 |
| Luciano Souza | 118,300 |
Day 1e brought out a total of 172 entrants, with just 141 remaining. Nicolau Villa-Lobos has also joined this flight and we'll catch up with him later during the break to see how he's doing and how it feels to be back in his home country of Brazil.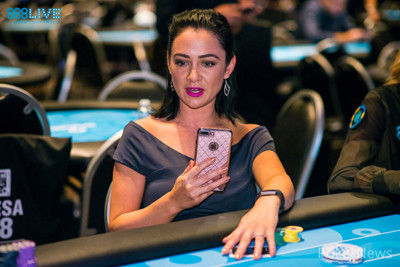 Nicki Pickering may be one of PokerNews' video hosts, but she's much more than that. When she's not in front of the camera, she's a poker grinder and a real estate agent. Over the course of the week, Pickering was invited to participate in both the Flop O Mania and Charity Invitational tournaments where she made the final table of the charity event and came third in the Flop O Mania Invitational. We wanted to catch up and talk with Pickering about her experience both on the felt and behind the camera as well as about her poker game as she gears up for the Ladies Event which kicks off tomorrow.
How does it feel to transition between behind the camera and behind the felt?
Behind the camera and behind the felt? I've been around poker for… Gosh. Over ten years now. I've always really enjoyed the game. I think it's really amazing, the opportunity that I'm getting anyways, and that a lot of people get from this game. It's awesome. It can take you all over the world. I love it. I really love it. And I think that my game is getting so much better. Both on camera and on felt, my game is getting there. I think that big things are going to happen for me in poker.
What is it about playing and reporting that you think is making your game better? Or how do see it improving?
I guess because I'm always immersed with some of the best, all of the best poker players actually, and continually interviewing them and asking them about their game and what their strategies are, and watching them play. And now with the live streams, it's even cooler because I can actually see it from that point of view as well. So it's just growing and there's a lot of new players in the game, but still you see a lot of the old school pros still in the game as well.
When you play with players like Leo Margets, and Tiffany Michelle and Kara Scott, do you feel like you're on par with them?
Well, we'll see. The last two tournaments that I played were the Flop O Mania and the Celebrity Charity Event. It was all for fun. Essentially just an invite only freeroll. I mean, normally when I play the adrenaline will get to me a little bit and I'll have to… My fingers still shake from time to time, especially when I first sit down. But last night it was so much fun. I didn't really feel nervous or like I was the underdog in anyway. And maybe that was because I did actually grow my chip stack substantially. So I felt comfortable. But the true test will be when I play the ladies event with them tomorrow.
What's your strategy for tomorrow?
I think maybe in general ladies… well, I don't know to be honest. I used to think that in general ladies play tight. I thought that about Sofia last night. But I do have a feeling that I let her bluff me from time to time. But I'm just going to go in with some confidence and just have fun.
What do you think about playing with guys like Denilson and Cafu?
It's a lot of fun. The language barrier makes it even more fun because you're learning new words and they're learning English. We're learning Portuguese. It was awesome. Everyone is just having fun. They haven't played a lot of poker so helping them with their game also added really cool elements to the game. And it was obviously for a really good cause so.
Is this your first experience playing poker in a foreign country?
No I played in my very first gig for PokerNews in 2011. I played in the ladies event in Peru, back in the days when Lynn Gilmartin was still la part of PokerNews. I'm pretty sure we had a last longer then, and I busted out first and I had to scull [chug] a Pisco Sour and that was a lot of fun. Where else have I played? I played in Vegas for the World Series. In the Philippines for Deepstacks Manila. Mainly Australia and Asia is where I get to. But I am planning on playing a lot more poker over the next few years.
What do you see in your poker future?
Hopefully more travel, more opportunity. I think I really want to start focusing on my game a lot more. Now that I do feel a lot more comfortable with my game. I do have a better read of where I'm at, and where other people are at. I feel like I do have a really good ability to read people. I've been in sales and real estate now for five years. Real estate has helped my poker game and my poker game has helped my real estate. Especially when it comes to reading, like what people have and what people want. It's almost like I know when to hold 'em if I'm in a business transaction, or negotiating. Or when I can push it further. I think that comes from poker, like knowing when to bluff, when to call, when to hold and when to fold. It translates both across poker and sales.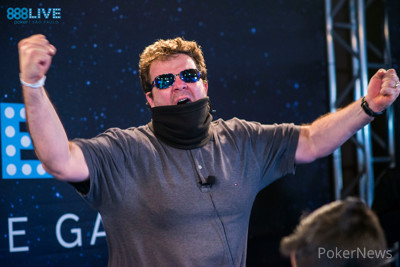 Fred Bittar won the 888Live São Paulo High Roller just a few days ago for R$66,010 (~$21,305 USD). Today he's embarking on a completely different challenge, taking down the 888Live São Paulo Main Event. He's here in flight Day 1e and we caught up with him to talk about his experience at 888Live so far and to talk a little bit about what his plans for Day 1e in the Main Event are. Bittar doesn't speak English so this interview was conducted in Portuguese and translated by Gabriel Grilo.
For Bittar, poker isn't his life like it is for other people. He has a day job and he doesn't consider himself to be a professional by any sense of the word.
"No, I work with other stuff," Bittar explained. "I just play to have fun. I have a website where I sell cars."
The High Roller here at 888Live São Paulo represents Bittar's biggest lifetime cash ever. For him, it really means a lot.
"It's a great emotion to win any poker tournament especially the high roller which is the biggest tournament I've ever won," he explained.
Bittar doesn't plan on changing his game any after his win though. For him, it's all the same. He wants to stick to the game plan of having a very tight and aggressive style. He knows that if he keeps up, variance will eventually kick in.
"I play all the tournaments the same," Bittar said. "I try to play a very tight style but I study poker, even the psychology of poker. I know about the variance. So I know that it might take 10, 20, 30, 100 tournaments before I win another one."
Despite that, the pros surrounding Bittar don't scare him. He's used to playing with the big names and feels like at the poker table, it won't scare him or change his game plan any.
"I know that in the technical part of the game they are better than me but I'm used to that," he explained. "I've played with Foster and other big names several times, and I've played the circuit, the BSOP [Brazilian Series of Poker]. I know that even though they are more technical than me because they live from the game, I try to not be intimidated by that and just play my own game."
We asked Bittar what his strategy for the Main Event here in São Paulo is, and what his goals for the day are.
"When I play a deep tournament I just start playing in like the 5th and 6th level," he responded. "In the first level, I just try to get a feel for the table and see if I can catch any tells, and see how the players are reacting, to what they are doing. And then I'll start really pulling out my game."
Today, Bittar is seated at the same table as Leo Margets, a tough opponent for anyone. Luckily for Bittar, he has position on Margets, sitting to her left.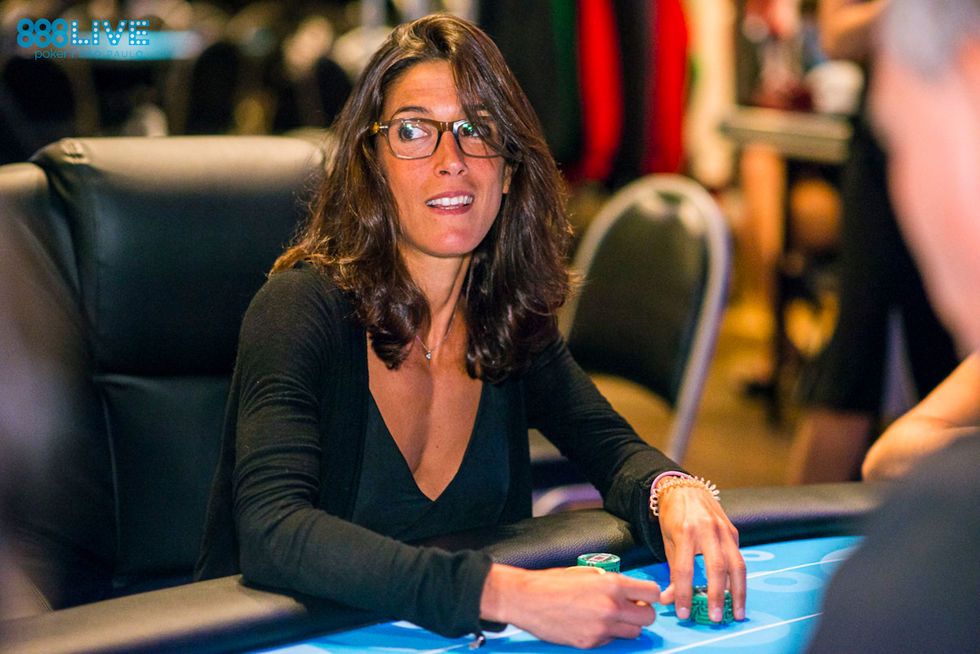 "I got to know her here," Bittar said of Margets. "I didn't know her before but I know she's an 888 player. She plays really well. She's really fun, but we haven't really played any big pots between ourselves yet."
The first part of the day has been going well for Bittar, already having increased his stack by a significant amount, and while he's excited to be here and to be playing in the Main Event, he's really looking forward to heading to Europe for the WSOPE with the $13,000 package that he just won by locking up the High Roller.
"I'm really excited about it," Bittar said. "I've been to Vegas, but I've never played in Europe. So I want to go there, even just to have the experience. I'm really excited about it."
We'll be keeping an eye on Bittar through the rest of the day and monitoring his progress, as well as that of Leo Margets and some of the big names in the field so make sure to stay tuned in!
There are currently 60 runners for Day 1e of the Main Event well into level 2. It looks like all the big name pros have come out to play on Day 1e with the likes of Leo Margets, Tiffany Michelle, Kara Scott, Sofia Lövgren and even High Roller winner Fred Bittar in the field. There are still three levels left of registration and we're sure to see many more players join this flight, as well as a whole new cast of characters for Day 1f as well.
Yesterday, Nicki Pickering caught up with some of these players and more to talk about the Flop O Mania event. You can catch some of their initial interpretations and reactions here: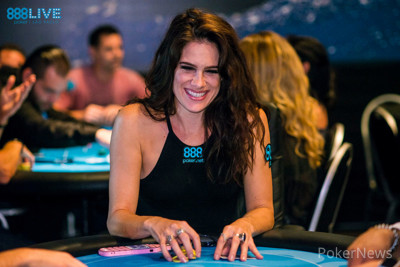 Yesterday wrapped up a multitude events here at the 888Live Festival in São Paulo. Sofia Lövgren managed to best the two table field to become the Flop O Mania champion for 888Live São Paulo. She was able to best the likes of Tiffany Michelle, Leo Margets, and Denilson to lock up that title. In her heads up match she faced off against Chris Moorman but was able to take down one of the very first live Flop O Mania events taking down the trophy for her victory. In the same event, PokerNews' own Nicki Pickering managed to finish in third place for the event. Yesterday we spoke with David Tuchman who is here in São Paulo doing commentary for the Main Event and he gave us some of his initial interpretations about Flop O Mania.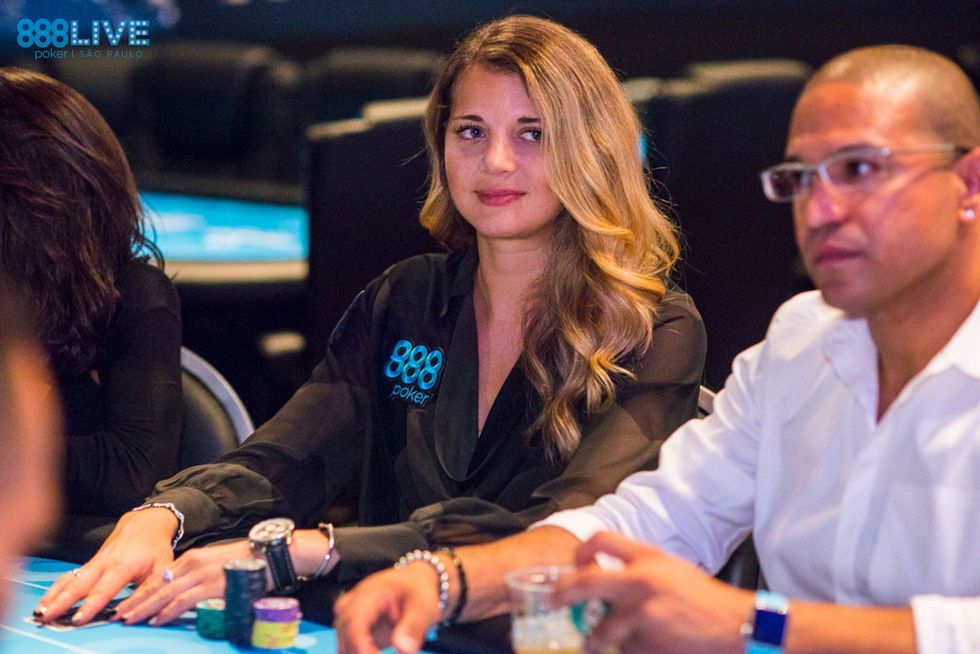 The Celebrity Invitational also kicked off yesterday which brought out two tables of high profile poker players, football players, and business executives. In the end, it was Tiffany Michelle who walked away as the champion of the event taking down the trophy and earning a R$4,800 donation to the Fundação Cafu in her name. Fundação Cafu is a non-profit organization that generates opportunities for development that works to combat social inequality. 
Many of the players who reached the final table also made donations to the foundation as well. Cafu, a high profile Brazilian football player, was one of many celebrities who played in the event as well along with Denilson and several others. In the end, it was Cafu that faced off against Michelle heads up for the title, but he was bested, and thus Michelle was crowned as the champion.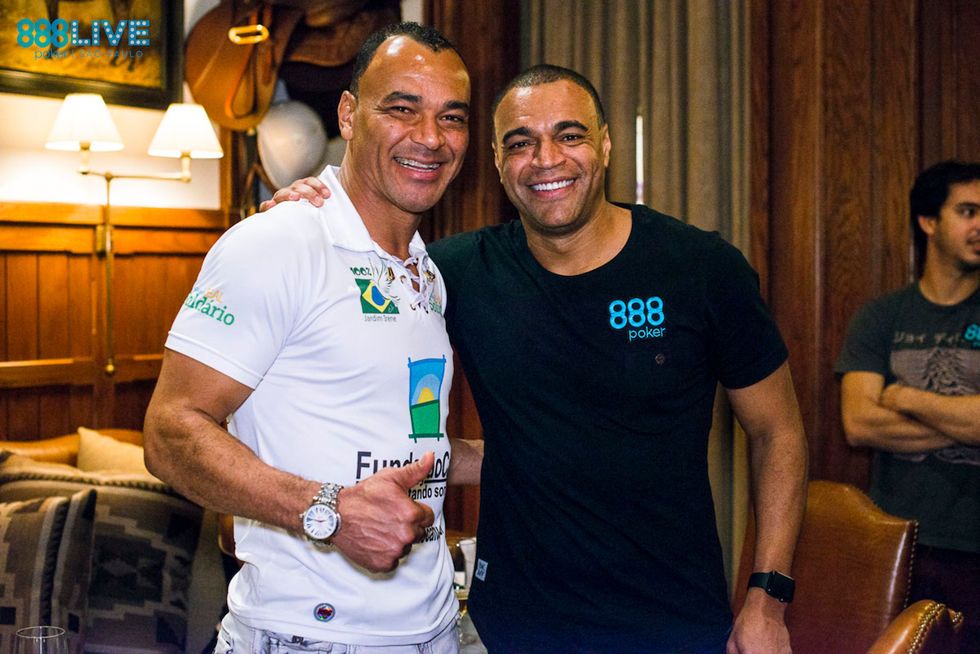 When it comes to the Main Event, Day 1d wrapped up yesterday, drawing out over 190 entrants and doubling the field at this point. Day 1e kicks off today at 2 p.m. local time while Day 1f, the turbo flight, also kicks off at 8 p.m. local time. Today will be our last day of feature coverage while tomorrow kicks off our live reporting for the event. We'll be bringing you updates from the chip leaders from Day 1d later on today as well so be sure to stay tuned for all the updates!
Main Event
Day 1e Started