Event #4: No-Limit Hold'em Shootout
Day: 2
Event #4: No-Limit Hold'em Shootout
Day 2 Completed
Level 19 : 10,000/20,000, 2,000 ante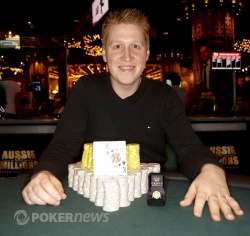 Well, that'll be all she wrote, sports fans - the winner's photos have been taken, the chips are now being racked up and Denmark's Soren Blanner from Denmark has just signed off on an AUD$37,920 payday for victory in the 2011 Aussie Millions $1,100 No Limit Hold'em Shootout!
Blanner started the final table with a slender chip lead over James Keys, but it was a case of friendly fire between Keys and fellow Englishman John Eames. Eames, who was the clear short stack at the start of this final table, moved all-in after a queen-high flop with pocket tens, only to discover that Keys had hit with his
.
Eames had to settle for 10th place and he was soon joined by Aussie Daniel Neilson. Neilson, who had a stellar 2010 (including a win in the Western Classic Main Event in Perth, plus the 2010 PokerNetwork Player of the Year title), pushed with
preflop but Justin Walch woke up with pocket queens; thus Neilson was eliminated in ninth.
Korea's Chris Yea was the next to go - having rarely been involved in any action leading up to his bust-out, he came alive shoving with pocket deuces from the button but was crushed by Charlie Combes' pocket tens. Combes was also responsible for the elimination of Andrew Teng in seventh after his
outdrew Teng's pocket jacks and Key's pocket queens.
Barry Drysdale finished Keys off in sixth place in the very next hand, iso-shoving with pocket sevens after Keys moved the last of his short stack into the middle with
. Walch followed shortly afterwards in fifth place; having been unable to improve on his stack from earlier on, he shoved with
after Powell raised from early position. The only problem was that Powell had pocket tens.
Blanner then managed to take Combes out in fourth place; Blanner got it in good with
against Combes'
, but Combes hit a pair on the flop of
. Fortunately for Blanner, he managed to hit trip tens on the river and after the chips were cut down, Combes was cast out.
From there, Blanner was able to send Drysdale out in third place before delivering a one-two knockout punch to Powell. And after only four hours of play, we have our newest Aussie Millions champion!
Well, that's about all we have time for, boys and girls. Thanks for sticking it out with us once again. Be sure to keep your browsers locked onto PokerNews as we continue our coverage of the $1,100 8-Game Mixed event before returning tomorrow when we kick things up a notch with the $1,100 Six-Handed No Limit Hold'em event. Until then, it's time for yours truly to hop along outta here - see you soon!
Level 19 : 10,000/20,000, 2,000 ante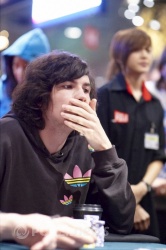 With the chip counts almost level, we thought that this heads-up battle would have dragged out for quite a while. How wrong we were!
In the first hand after the break, Soren Blanner completed from the button and Jack Powell checked from the big blind before both players checked the flop of
and the turn of the
before Powell led out for 20,000 when the dealer turned up the river
. Blanner called, but folded after Powell showed
for two pair.
A minute later, Powell min-raised to 40,000 from the button before Blanner reraised to 120,000. Powell moved all-in and Blanner snap-called, tabling
but found himself flipping for his tournament life against Powell's
.
Incredibly, Blanner paired his ace on the flop of
and improved to the nut flush after the turn and river ran out
,
, leaving Powell with just 93,000 in chips. It didn't take long for Blanner to put him all in, raising him to that amount from the button in the very next hand.
"All right, let's do this," Powell sighed, committing the rest of his chips and tabling
, but almost fell over after Blanner showed
, which improved to a set after the flop of
and then turned a full house with the
- one of two hearts that Powell didn't want to see. The river
was purely for aesthetics.
A clearly disappointed Powell was consoled by his friends on the rail, but in our eyes, there's nothing to be sad about, considering that he's just picked up AUD$28,120 for his runner-up finish. But it was Denmark's day and Soren Blanner finished where he started - on top - and is now wearing the championship gold ring as a result. Congratulations, Soren!
The players are back from their break and heads-up play has commenced
Level 19 : 10,000/20,000, 2,000 ante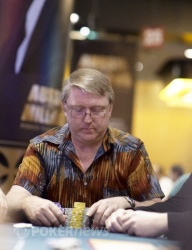 The 2011 Aussie Millions $1,100 No Limit Hold'em Shootout championship ring will be heading back to Europe after Australia's last hope, Barry Drysdale, was eliminated in third place.
Soren Blanner raised to 45,000 from the button before the flop and Jack Powell folded his small blind before Drysdale shoved from the big blind. Blanner insta-called.
Blanner:

Drysdale:
The flop of
kept Blanner in the lead and nothing changed when the
came down on the turn, but the river
confirmed Drysdale's AUD$18,960 payday. A great effort by the last Australian in the field!
So now, it's down to heads-up! Who will it be? England's Jack Powell? Or Denmark's Soren Blanner? All we can tell you is that it's going to be a tight battle, because the chip counts are practically even!
The clock has been paused while the players take a mutually-agreed 15-minute break. Play will resume at 7:55 p.m. AEDT. Back soon!
Player
Chips
Progress

Jack Powell

900,000

140,000

Soren Blanner

455,000

-25,000

Barry Drysdale

365,000

105,000
Level 19 : 10,000/20,000, 2,000 ante
On a
flop, Barry Drysdale, from the big blind made it 30,000 to go. Soren Blanner, on the button, deliberated a moment before sliding out a raise of 51,000 more.
Drysdale deliberated for a few moments, moving his chips around, but opted to fold his cards.
Level: 19
Blinds: 10,000/20,000
Ante: 2,000
Level 18 : 8,000/16,000, 2,000 ante
Soren Blanner completed his small blind and Jack Powell checked his option from the big blind.
Both players checked the
flop, as well as the
turn.
On the
river, Blanner checked to Powell, who made a bet of 18,000.
Blanner turned over the
as he mucked his cards saying, "Might have been good."
Level 19 : 10,000/20,000, 2,000 ante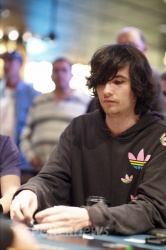 Jack Powell has now taken a commanding chip lead at this final table, moving on up to more than 760,000 through Barry Drysdale.
Soren Blanner raised to 34,000 from the button preflop and Powell called from the small blind, as did Drysdale from the big blind to make it a family pot into a flop that read
.
Powell checked, Drysdale led out for 63,000, Blanner folded and Powell called before checking again on the turn of the
. Drysdale opened for 120,000 and again, Powell check-called before both players checked the river of the
.
Powell quickly rolled up
and Drysdale mucked his hand. He's now the short stack at this final table with just over 260,000.