$25,000 No-Limit Hold'em Semi-Shootout
$25,000 No-Limit Hold'em Semi-Shootout
Day 1 Completed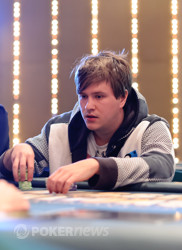 After just nine levels of play the final table is set for the $25,000 Semi-Shootout event. Tomorrow at 14:00 AEST Lithuanian Dominykas Karmazinas will start the final six with a big chip lead over his opponents. A total of 20 players showed up for this event, but unfortunately the payout hasn't been released yet.
Play started on a delay as many players didn't register but just wandered around the poker room to see who would. Just past 3pm we finally kicked things off with three short-handed tables. In the second level, after around 50 minutes of play, we already lost our first player. Jason Koon, who went deep in the Main Event finishing 27th for A$35,00, clashed with Roberto Romanello in a huge pot where they both made a flush. This hand was a symbol for one of the most fast paced tournaments at this year's Aussie Millions.
Players started busting left and right as we quickly lost Shawn Buchanan,Joe Hachem and Vitaly Lunkin. Randy Dorfman was the next to go as he tried pulling off a massive bluff against Romanello. Play started with only 20 players and when Tobias Reinkemeier busted in 13th place we entered the shootout stage.
After the dinner break 12 players returned on two six-handed tables. From each table the top three would advance to the final table, and on Table 32 this only took 80 minutes. Jonathan Karamalikis ran his ace-jack into Dan Kelly's pocket kings quickly followed out the dorr by Matt Jarvis who couldn't dodge Mike Watson's flush draw. Watson seemed to be in control, but running into pocket aces never helps. Watson bubbled the final table as his final chips went to Daniel Alaei who had a nice rush towards the end.
Table 32 was already done when Table 29 hadn't lost a single player. Chips were being moved around, but no massive pots were created. After a very quiet level, the players seemed to be switching gears as we saw three bust outs in the next 40 minutes. Local player Billy Jordanou was the first to go as he ran his short stack into two big hands. On this hand Romanello lost a big portion of his stack doubling up Elliot Smith who woke up with pocket kings. Moments later it was Igor Kurganov who four-bet all-in from the small blind into Karmazinas who also had pocket kings. Kurganov didn't improve his queen-jack into a winning hand. Romanello couldn't recover from his loss against Smith as he also doubled up Tony G. The G moved up to over 40 big blinds while Romanello was knocked down even further. A couple of hands later he busted when his top pair couldn't hold up against Smith who rivered a set.
The final table draw is not known as the remaining six players will draw for a seat upon their return. These are the final table chip counts.
And that's it folks! The final table is set as we said goodbye to Roberto Romanello. We didn't catch all the action but on a
flop Romabello showed
against the
of Elliot Smith.
The turn was the
and the river the
ending Romanello's tournament on the final table bubble. The full chip count will follow shortly.
Level:

9
Blinds:

1,000/2,000
Ante:

200
We only need to lose one more player before the day is done.
The remaining four players are on a 15 minute break.
Roberto Romanello and Tony G just got all their chips into the middle and we witnessed the following showdown.
| | |
| --- | --- |
| Roberto Romanello | |
| Tony G | |
The board ran out
giving Tony the double up. Romanello is now, by far, the short stack.
Pre flop Igor Kurganov raised to 4,300 from the small blind, and he got three-bet by his neighbor, Dominykas Karmazinas, who made it 10,600. Kurganov decided to shove for 61,000 and Karmazinas made the call.
| | |
| --- | --- |
| Igor Kurganov | |
| Dominykas Karmazinas | |
The board ran out
bringing us down to the final table bubble. Karmazinas has a big lead over the other four players.
We just caught a monster hand which turned into Jordanou's last. Elliot Smith raised to 3,200 under the gun after which Roberto Romanello three-bet to 9,000 from the cut-off. Billy Jordanou pushed all-in for his last 10,600 and the action got folded back to Smith. Smith made it 22,000 and Romanello called giving us some serious side pot action.
The flop came down
and Smith bet 5,500. Romanello decided to put his opponent all-in for a total of 43,000 and Smith made the call.
| | |
| --- | --- |
| Billy Jordanou | |
| Roberto Romanello | |
| Elliot Smith | |
The turn was the
and the river the
giving Smith a monster pot. Romanello is knocked down but still alive as we say goodbye to Billy Jordanou. Only two more knock outs at this table before the final table is reached.
Level:

8
Blinds:

800/1,600
Ante:

200