Event #14: $1,150 Australian Poker Hall of Fame
Day: 1
Event #14: $1,150 Australian Poker Hall of Fame
Day 1 Completed
Level 18 : 5,000/10,000, 1,000 ante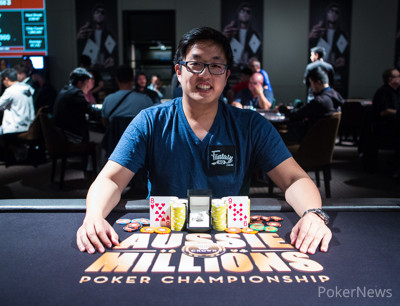 Aussie Minh Nguyen took down the 2016 Aussie Millions Event #14 $1,150 Australian Poker Hall Of Fame Classic title at the Crown Entertainment Complex in the early morning hours on Tuesday.
Originally scheduled for two days, Nguyen took only one to defeat a 96 player field and earn the $24,950 first place prize and LK Boutique Aussie Millions Championship ring that came along with it.
Nguyen went wire-to-wire at the final table, starting out with the chip lead and only increasing it when he knocked out Robert Fenner tenth and Jack Salter ninth in just the first few hands.
Linh Tran came in second in chips, and made it a two horse race, busting the final Hall of Famer in the field eighth, collecting the $500 bounty on Gary Benson's head.
Tran also busted Ukranian Antonina Anapolska seventh picking up aces versus her jacks and while Nguyen busted short stack Michael Accardo sixth, Tran ran it twice with Roy Vandersluis and eventually busted him fifth.
Nguyen went back to work, taking care of Geoffrey Mooney fourth when he shoved a weak ace into his strong one, and the inevitable heads-up match between the two started after Tran ran kings into Tatjana Zizic's aces and turned a third king to bust her third.
Nguyen still held the lead when heads-up play started and he simply leaned on Tran until he was short and committed his stack on a bluff, handing Nguyen the title.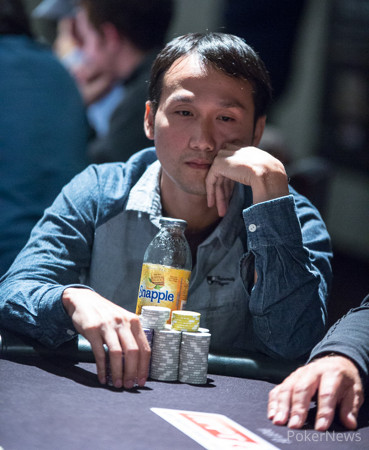 It took less than two dozen hands of heads up play and most of them went to Minh Nguyen. With sheer domination, he grabbed chip after chip off Linh Tran to send the latter in desperation mode. In a min-raised pot, the action had reached the
river and Nguyen led for 27,000.
Tran moved all in and the dealer was asked for a count, the shove was for 117,000. Ultimately Nguyen called and Tran immediately tossed his bluff with
to the middle of the table, Nguyen flipped over the winning
. Tran takes home A$16,630 for his efforts whereas Nguyen received A$24,950 as well as the elusive LK Boutique championship ring.
By moving all in preflop or on the flop after limped pots, Minh Nguyen had kept the pressure high over Linh Tran. The latter caught a quick break by limping in, then moving all in over the raise to 25,000 by Nguyen.
Level: 18
Blinds: 5,000/10,000
Ante: 1,000
In just five hands of heads up play, Minh Nguyen has increased his lead even more significantly. First he opened to 20,000 and then faced a three-bet to 57,000 by Tran to four-bet shove without any fear. Tran folded and also gave up a limped pot on the
flop when betting 10,000.
Nguyen raised to 35,000 and enforced a fold.
Minh Nguyen lost a small pot against Linh Tran but came back at his opponent with force and king-high. On the flop
both players checked. The
turn, Nguyen bet 25,000 and Tran raised to 73,000 with a call following after. Both then checked the
river and Nguyen announced king-high before tabling the winning
.
Level 17 : 4,000/8,000, 1,000 ante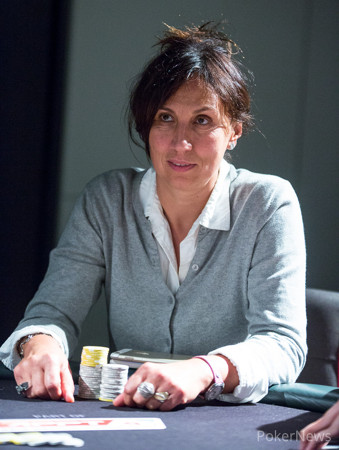 Tatjana Zizic shoved all in over a Linh Tran min-raise and he snap-called with the
.
It was a classic cooler, but despite having the
, Zizic was on the wrong end of this one.
The board rolled out
giving Tran a full house and sending Zizic out third.
"Queens for the poker queen," Jan Suchanek shouted from the rail and indeed, Tatjana Zizic had just picked up said hand. She shoved from the button for 45,000 and Minh Nguyen called from the small blind.
Zizic:

Nguyen:
The board ran out
and that sent Zizic back up to more than 10 big blinds.
While Tatjana Zizic moved all in once, the short-handed play costs her more due to being in the blinds almost consistently. Especially on such a short stack, this can quickly become cruel and the Serbian, who has been living in New Zealand for 20 years, is under immediate pressure.