Ishida Bet-Folds River After 16-Minute Tank

Level 13 : 1,200/2,400, 400 ante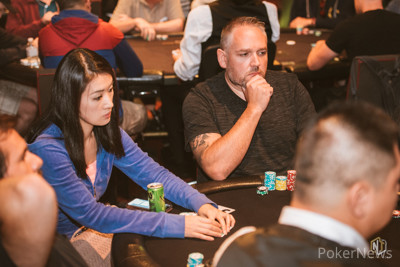 A small group of players were standing up away from table 46 including Jack Salter and Jim Chahoud.
"You can tell who the patient players are," said Salter. "I really need the toilet."
"Go," said tablemate Orjan Skommo. "I went ten minutes ago."
The reason for the gathering was a hand in progress at their table. According to Chahoud, Wang Yi Long opened pre-flop and Yuri Ishida three-bet from the big blind. Long called and called bets from Ishida on the
flop and the
turn.
The river was the
. Ishida had bet 30,000 and Long had moved all in, putting Ishida to the test.
Ishida's tank was approaching the 15-minute mark.
"I'm not gonna call the clock," Salter said to his tablemates. But Andrian Chin had other ideas. The clock was called and the seconds ticked down with Ishida eventaully folding.
"We've played six hands while they've been tanking," someone from a neighbouring table said.