Event #17: $2,700 Championship
Day: 4
Event #17: $2,700 Championship
Day 4 Completed
Level 30 : 60,000/120,000, 120,000 ante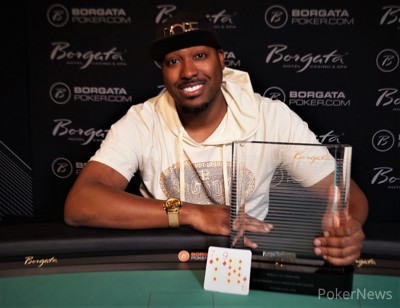 The Borgata Fall Poker Open just crowned it's latest champion in Event #17: $2,700 Championship and it was a familiar face taking home the title when all the dust had settled in David Jackson, after the final three reached an agreement on an adjusted payout deal that saw Jackson pull in $211,098, along with a Prestigious Borgata Trophy.
Jackson has been on quite the roll this year, after winning the Borgata Spring Poker Open Championship in April for his biggest career cash of $304,929, as well as Event #6: $400 Saturday Series just two weeks ago for $32,000 and a Borgata trophy. When asked about his recent success Jackson replied, "Definitely life-changing, kind of surreal really, it's been a [good] year but it feels like it has all been happening so fast."
"I do a lot studying, basically every day, talk hands with friends, live players, and online players," said Jackson about his recent success. The Jacksonville, FL native has five kids with his wife and when asked about how they feel he commented, "They are so happy, I'm ready to go home and see my family, they've been watching and sweating me."
Jackson brought his usual playstyle to the tournament, opening almost every pot possible gave an insight on his thought headed into the final day. "Whatever happens, happens and I'm just going to play my game and think I made a lot of mistakes but I was playing pretty crazy and I just decided that I was going to apply a bunch of pressure!" That he did, and it paid off as he now adds his second-largest career cash to an already stacked resume.
Peter Walsworth took home second-place money as part of the adjusted payout deal, pocketing $197,337 for his efforts and Paul Volpe secured $185,131 as his part of the deal.
BFPO Championship Official Final Table Results
| Place | Player | Hometown | Prize (USD) |
| --- | --- | --- | --- |
| 1 | David Jackson | Jacksonville, FL | $211,098* |
| 2 | Peter Walsworth | Sarasota, FL | $197,337* |
| 3 | Paul Volpe | Turnersville, NJ | $185,131* |
| 4 | Nikolai Markov | Cliffside Park, NJ | $88,601 |
| 5 | Robert Chasen | New York, NY | $69,394 |
| 6 | Stuart Taylor | Bridlington, QC | $57,002 |
Final Day Action
The day began with Jackson sitting atop the leaderboard by a wide margin, having over two hundred blinds to start the day and came into the final day just as he left Day 2, blasting chips. All other players started to feel the heat and it was Matthew Silberzweig that found himself at risk first, pushing his stack into the middle with a pair of jacks from the small blind. Unfortunately for him, it was Nikolai Markov holding the better hand from the big blind as he looked down at a pair of kings. Silberzweig failed to catch up and was eliminated in ninth place.
Markov wasted no time jumping into another pot shortly after busting Silberzweig when he saw Joseph Gambino three-betting him and Markov moved all in. Gambino called, tabling ace-queen of clubs, but it was of no match for Markov who turned over pocket rockets. The board ran out clean, sending Gambino out the door in eighth place. A couple of levels went by before another player hit the payout desk and in that time, Jackson prospered to the first eight-figure stack of the tournament.
Stuart Taylor began the day in the middle of the pack but fell into a short-stack position when Jackson took a chunk of his stack with pocket aces against the jacks of Taylor. Shortly after Taylor saw Volpe open from cutoff and Walsworth quickly moved all in. Taylor called for his stack that consisted of two blinds, holding ace-five and Walsworth tabled ace-jack of clubs. The board came down Jack-high and Walsworth took down the pot, sending Taylor out the door in sixth place.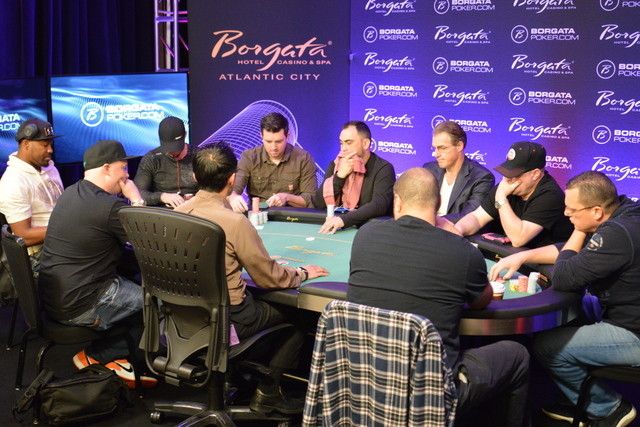 Robert Chasen stay relatively quiet for the final day of this event and his stacked dwindled down by doing so. Once he fell under the million mark, he looked down at ace-five in the small blind and elected to move it all into the middle. Volpe snapped him off from the big blind with king-jack and the flop rolled out in the favor of Chasen when ace-three-three hit the board. A fortuitous runout saw Volpe take down the pot though as he went runner-runner broadway to eliminate Chasen from the tournament.
Walsworth indulged in another victim when he opened from the button, holding ace--six and saw Nikolai Markov push all in from the big blind with king-ten. The flop instantly made Markov stand up when the dealer spread out ace-eight-five, hitting Walsworth's bullet. Markov was drawing dead on the turn, being eliminated in fourth place for a $88,601 payday.
The final three to battle it out for the title played just under two levels before Volpe landed a double through Walsworth, bridging the gap between him and his competitors. Soon after the three decided to talk about an adjusted payout deal and just 10-minutes after it was agreed upon. Jackson took home the lions share, worth $211,098, along with a Borgata trophy to add to his collection. Walsworth grabbed $197,337 for his efforts and three-time WSOP bracelet winner Paul Volpe took home a respectable $185,131.
That wraps it up for the PokerNews live coverage of the BFPO Championship, but tune in tomorrow as we close this series out on Event #23: $230 Deepest Stack NLH $50,000 Guaranteed.
Level 30 : 60,000/120,000, 120,000 ante
The final three players will now be taking a short break to talk about a possible adjusted payout deal.
Level 30 : 60,000/120,000, 120,000 ante
Peter Walsworth opened to 250,000 from the button with
, Paul Volpe moved all in for 2,130,000 in the small blind, holding
and Walsworth snapped.
Paul Volpe:

Peter Walsworth:
The flop came down
and Walsworth was still ahead with his ace-high. An
landed on the turn, smashing broadway for Volpe who was now guaranteed at least half of the pot. The
turn card changed nothing as Volpe pulled in the pot, doubling through Walsworth.
Level 30 : 60,000/120,000, 120,000 ante
Paul Volpe opened from the button with
, David Jackson three-bet to 675,000 in the small blind, holding
and Peter Walsworth cold four-bet to 1,620,000 with his
.
Both Volpe and Jackson folded, sending the pot to Walsworth and for the first time since yesterday someone who is not Jackson has the lead.
Level: 30
Blinds: 60,000/120,000
Ante: 120,000
Level 29 : 50,000/100,000, 100,000 ante
Level 29 : 50,000/100,000, 100,000 ante
Paul Volpe opened from the button with
to 200,000 and Peter Walsworth defended his big blind, holding
and the flop came down
.
Both players checked, the
landed on the turn and Walsworth bet 250,000. Volpe called and the
completed the board.
Walsworth checked to Volpe, he bet 425,000 with his newly acquired flush and Walsworth quickly threw his hand into the muck.
Level 29 : 50,000/100,000, 100,000 ante
Peter Walsworth moved all in from the small blind with
and Paul Volpe called his stack of just over 1,000,000 in the big blind, holding
. The two tabled their hands and Volpe was at risk.
Paul Volpe:

Peter Walsworth:
The board rolled out
and Volpe's flopped king pulled in the pot for Volpe, doubling through Walsworth.
Level 29 : 50,000/100,000, 100,000 ante
Paul Volpe opened 225,000 from the button with
, David Jackson called in the small blind, holding
and Peter Walsworthd defended his big bling with
.
The flop came down
, action checked to Volpe who continued for 285,000 and only Jackson called to see the
turn card. Both players checked through to the
river where Jackson led out, betting 570,000.
Volpe called and Jackson turned over the bad news, outkicking Volpe to take down the pot, dropping Volpe down to just 1,560,000.