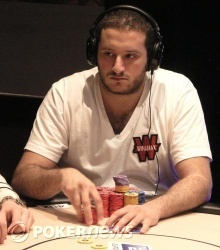 Seat 4: Antony Lellouche, 28, Paris, France – 1,021,000 chips

This is professional French player Antony Lellouche's third EPT final table in a year. At EPT London last year he came 6th for €140,081 and was runner-up at EPT4 San Remo for €505,000. Based in Paris, Antony mainly plays live poker in high stakes cash games around the world. He is both well-liked by his peers and mentors, including the "godfathers" of French poker Claude Cohen and Jan Boubli. Antony turned pro nine years ago, honing his skills at the smallest limit games at the Aviation Club. Fearless and intuitive, Antony has also made two WSOP final tables and gone deep in two EPT Grand Finals - 12th in 2005 and 21st in 2007.

Bio courtesy of Mad Harper from PokerStars.com.