£5,200 EPT London Main Event
Day 3 Completed
Here they are...your final eight players. Join us again tomorrow at 1:30 p.m. local time (GMT+1) for all the action, live from the floor of the Grosvenor Victoria Casino.

Seat 1: Eric Liu 1,308,000
Seat 2: Johannes Strassmann 434,000
Seat 3: Philippe D'Auteuil 476,000
Seat 4: Antony Lellouche 1,022,000
Seat 5: Michael Tureniec 1,331,000
Seat 6: Alan Smurfit 396,000
Seat 7: Marcin Horecki 309,000
Seat 8: Michael Martin 718,000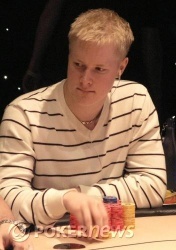 Erik Sjodin moved all in preflop and Eric Liu called.
Sjodin:
Liu:
The board ran out
and the young Swede hit the rail as the final table bubble boy. He'll take home £50,574.
Johannes Strassmann raised to 130,000 from UTG, and Erik Sjodin moved all in for 249,000.
"This f***in' sucks!" Strassmann blurted out as the action was folded back around to him.
Rather than calling the additional 119,000 into the 436,000 pot, he elected to fold, to gasps from some of his tablemates.
Strassmann claimed aloud to have folded
, though he did not show his cards.
Antony Lellouche opened with a raise. Alan Smurfit came over the top and moved all in. Lellouche folded
face-up. Smurfit tabled
. Lellouche shook his head.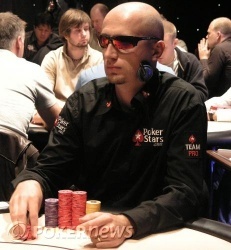 Live poker is so rigged. I mean, come on... Aces vs Q-9 suited? Sometimes you just know a bad beat is brewing, like a storm on the horizon. One man's bad luck is another man's good fortune. Poland's Marcin Horecki (pictured) was ready to leave the building...until he caught running nines to double up. The ever cool Johannes Strassmann shrugged off the beat.
Antony Lellouche 1,342,000
Michael Tureniec 1,062,000
Michael Martin 769,000
Eric Liu 729,000
Johannes Strassmann 662,000
Marcin Horecki 456,000
Philippe D'Auteuil 429,000
Alan Smurfit 314,000
Erik Sjodin 231,000
Look, kids it's just like online!
Marcin Horecki pushed all in with
and ran smack into Johannes Strassmann's
.
Flop:
Turn:
River:
RiverStars!
Horecki is now up to 456,000 while Strassmann fell to 662,000.
Level:

24
Blinds:

15,000/30,000
Ante:

3,000
Alan Smurfit raised to 60,000. Erik Sjodin came over the top all in for 232,000 total. Smurfit tanked and eventually folded. The young Swede won the pot.