PokerStars EPT Warsaw Main Event
Day: 4
PokerStars EPT Warsaw Main Event
Day 4 Completed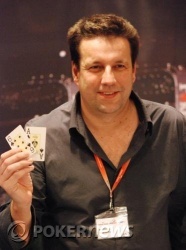 After what turned out to be the longest day of the week for our two finalists, a champion has finally been crowned in amateur poker player Michael Schulze of Schleswig, Germany. Michael started the day as the overall chip leader and only gave away the lead three or four times during his heads-up match against Portuguese high stakes Internet pro Ricardo "Rico Suave" Sousa before eventually reclaiming command of the match and finishing the job. Strictly a recreational poker player, Michael told interviewers that he only plays for fun and that the money, roughly $946,269 USD, won't really affect him all that much.

For Ricardo Sousa, on the other hand, the runner-up finish means the world. The $536,276 that Ricardo won here today catapults him to the top of the Portuguese all-time money list, leaps and bounds beyond his next-closest countryman. Ricardo's result was perhaps just as big for poker in Portugal as it was for the man himself, as the country is currently in the infant stages of its own poker boom.

Congratulations to Ricardo, Michael and all of the Polish Open finalists for their outstanding individual performances. That concludes our coverage of the 2008 PokerStars.net EPT Polish Open. Next up for the PokerNews tournament coverage team: San Remo, Italy, for an April Fool's Day date with Casino San Remo and the EPT.

Until then, from Warsaw, Poland - good night and good luck!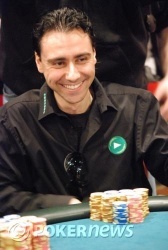 Ricardo Sousa made it 180,000 to go pre-flop. Michael Schulze then reraised to 500,000. Ricardo's response was to move all in and Michael called straightaway.

Michael:

Ricardo:


The board was dealt out
, the ace on the turn meaning that Ricardo (who had fewer chips at the start of the hand) was eliminated in second place winning $536,276.

This means that the EPT Warsaw champion is Michael Schulze from Germany, who walks away with $946,269 and the trophy.
After Ricardo had gotten to over 2,000,000 in a succession of small pots, Michael has retaken the lead.

Michael made it 150,000 on the small blind and Ricardo called. On a flop of
Michael bet 200,000. Ricardo min-raised to 400,000, which prompted a swift all-in from Michael. Ricardo did not dwell as long as he usually does before folding, but he did mumble something about clubs as his cards went into the muck.

Michael: 2,150,000
Ricardo: 1,450,000
Thus has been the norm since heads-up play began approximately two long hours ago. Neither player has seemed willing to take on the role of aggressor, as they both seem comfortable with trading blinds. If the weak/passive play continues, we could be in for one of the longest heads-up duels in EPT history.
The players have returned from break and the cards are in the air.
Level: 27
Blinds: 30,000/60,000
Ante: 0
Ricardo and Michael have stepped away from the table for another 15-minute break. Ricardo currently has a slight advantage with 1,990,000 in chips to Michael's 1,600,000.
The last 20 or so hands have most been either limped pots taken down on the flop, or walks. In fact at one point there were three walks in a row. Michael is still chipping away at Ricardo's stack. It is now 2,000,000 to 1,600,000 in favour of Schulze.

The biggest pot was when Ricardo made it 125,000 pre-flop and Michael called. The flop was dealt
and Michael won with a 300,000 bet.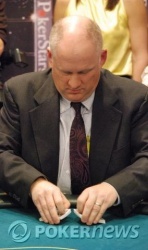 In an effort to help speed up the pace of the game, tournament host Lee Jones has begun assisting the dealer by adding a second deck to the rotation, which he himself has been shuffling in between hands.