€8,300 EPT Barcelona Main Event
Day 1b Completed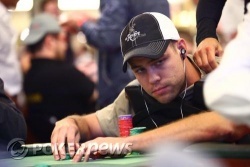 And with that, we end our Day 1's and move on to what we in the poker world like to call Day 2.

Matthew Woodward appears to be our chip leader going into Day 2, although anything can happen. Other folks doing well from today's field include Samer Rahman, Robert Mizrachi and Lex Veldhuis -- the latter having amassed an enormous stack within half an hour of the start of play, from which he never looked back.

An impressive field started today -- not only was it at 270 runners much larger than the Day 1a field, but it was about as packed with famous names as a poker tournament could be. Among those who fell by the wayside were WSOP champions Carlos Mortensen and Peter Eastgate, as well as Vanessa Rousso, Dario Minieri, Alex Kravchenko, Julian Thew and William Thorson. Some of the fine folks who made it through to tomorrow include Daniel Negreanu, Mike "Timex" McDonald, Noah Boeken, Sandra Naujoks and Bertrand "ElkY" Grospellier.

Tomorrow things will get very serious indeed for our remaining runners as they are joined by the 107 Day 1a survivors to play six 75-minute levels. Join us back here at PokerNews.com from 12.30pm GMT+2.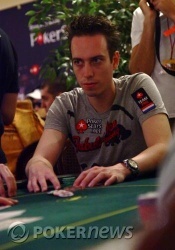 Lex Veldhuis has been cruising along for the majority of the day. He recently busted William Thorson with
against Thorson's
and just now took another player out.
The player in the hijack seat raised to 3,000 and Lex called out of the big blind. The flop came down
and Veldhuis checked. The preflop raiser bet out 5,000 and then Lex stuck a bunch of T5,000 chips out in the middle, totaling 40,000. The player that bet had roughly 20,000 behind and made the call, but did so painfully.
Veldhuis tabled
and held a flush draw along with one overcard versus his opponent's
. The turn was the
and the river landed the
, completing Lex's flush. He now has around 175,000 chips.
Daniel Negreanu was standing away from the table at the time, but came back to see Lex's hand and commented, "What are you a worst-hand warrior?"
The two then began talking and Lex offered a challenge to Negreanu for some heads-up poker. He mentioned that they should play some live and online play with a mix of no-limit hold'em and limit hold'em to see who comes out on top. Negreanu responded by asking, "Do I get the button, say, 60-70% of the time?"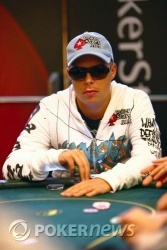 We caught up with action on the turn with the board reading
between Noah Boeken and one opponent. The player fired a bet of 10,000 into a pot over 15,000. Boeken studied and made the call.
The river brought the
and Boeken's opponent tanked for a minute or two. Finally, he checked. Boeken checked right behind.
The player tabled
for nothing and then Noah showed
for a pair of threes and the winning hand. He is now upwards of 120,000 chips.
Just as the press were being summarily evicted from the tournament area by TD Thomas Kremser while the last few hands of the night were announced, Cristiano Blanco enjoyed a full double up to 85,000.
The chips all went in preflop.
Blanco:
Mr. Opponent:
Board:
Another bit of excellent end-of-the-night recklessness, this time courtesy of Anthony Roux.
With the board reading
, Asa Smith bet 7,500, only for Roux to make it 22,500. Roux disappeared into a squirmy place for a while, and when he came out again, he called. Roux mucked instantly and Smith took the pot without having to show.
Roux: 45,000
Smith: 137,000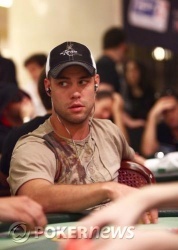 Wow, some end-of-the-night craziness here.

We're not terribly sure who raised first, but we arrived to see [Removed:197] sticking 7,500 in preflop. To his immediate left, Matt Woodward made it 27,500. Wow. Then to his immediate left, Maxim Lykov made it 45,750. [Removed:198] folded and wandered off to rant at someone at the rail, but Woodward, after a dignified pause, moved all in.

Instafold from Lykov. Wow.

Lykov drops right down to 32,000, while Woodward is our brand new chip leader with 200,000.
Direct from the floor to you:

Patrick Bueno: 70,000
Lex Veldhuis: 145,000
William Thorson: 24,000
Daniel Negreanu: 85,000
Thayer Rasmussen: 82,000
Luis Ramon Rufas Acin: 95,000
Uffe Holm: 40,000
Johan van Til: 80,000
Guillaume de la Gorce: 25,000
ElkY: 60,000
Ivan Demidov: 30,000
Noah Boeken: 87,000
Timex: 112,000
Noah Schwartz: 17,000
Samer Rahman: 155,000
Cristiano Blanco: 23,000
Nicolas Levi: 14,000
Juan Pastor: was on 10,000, but it looks as though he has since busted
Davidi Kitai: 18,000
Peter Hedlund: 56,000
Level:

9
Blinds:

500/1,000
Ante:

100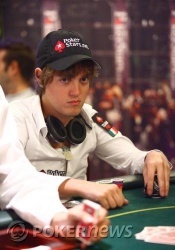 Dario Minieri is out. He raised to 2,100 and called a reraise of 8,200 from the player to his left. The flop was
and Minieri check-raised all-in for about 33,000 over the top of an 18,800 continuation bet. His opponent prompty called with
leaving Minieri's
in hot water.
Both players hit a full house on the
turn and the
changed nothing.