€5,300 EPT San Remo Main Event
Day 2 Completed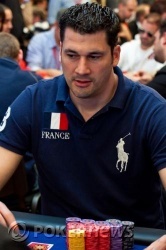 The 469 who made it to Day 2 have now been whittled down to a mere 120 or so; these lucky few will be joining us back in the Casino San Remo tomorrow at 2pm local time when they'll be playing six more levels or down to 24 players, whichever comes first.

Those who fell by the wayside today include reigning champion Jason Mercier who barely lasted a few minutes of the first level. Katja Thater, Isabelle Mercier, Liam Flood, David Saab and Marcel Luske also failed to make the grade, and won't be going any deeper in this tournament.

On the other hand, it's been an incredibly good day for serial shirt-changing Croatian chip monster Dragan Galic. He started the day as chip leader and he's ending it that way too -- after an extraordinary run and four or five different shirts he's now on around 560,000, barring last minute accidents or surges during the last few hands when the press were ejected from the tournament area. Also doing very well indeed are emotional Italian Giuseppe Argento, and entertaining young Dutchman Constant Rijkenberg.

Join us back here for all the action tomorrow, internet connection permitting, of course.
Benjamin Kang's been trying to work miracles at his table in the back corner. He raised a pot to 7,500, only to have an older, much shorter Italian gentleman on his immediate left re-raise all in to 43,300.
"What do you have?" Kang asked.
"Good play," responded his opponent.
"Good play or good cards?" Kang queried. He hoisted his massive German frame out of his chair to consider his options, briefly alarming the Italian. The Italian then stood up as well, not even coming to the top of Kang's shoulder. Seeking to remedy that situation, the Italian stood on his chair! He was just barely taller than Kang.
The whole table had a good laugh at the antics, including Kang. "Show me one card," Kang asked as he mucked his hand. Kang's opponent showed
, causing Kang to grit his teeth.
"I run so bad in flips."
Kang still has 68,000 chips.
Grinder Extraordinaire Bill Chen was finally broken off of his very tough table to Alexander Kravchenko's table. Chen drew Seat 9 at the new table, a seat occupied by Kravchenko. Earlier in the day tables were ten-handed; now they're nine-handed. Kravchenko was willing to slide one seat to his right to give Chen position on him but Chen would have none of it.

"Alex, Alex," he said. "Let's just get it right. Call the floor." TD Thomas Kremser was summoned to the table and quickly ruled that Chen's seat card should be Seat 8. Chen took his seat to Kravchenko's right and play resumed.
A full triple up for Stelmak Dmitry, who got his chips in with
against both
and
.
Board: a harmless
Hot on Galic's and Argento's heels is Constant Rijkenberg. He's been on an absolute rampage in the past half hour, and is now up to 350,000. Most recently he busted a player who went all in most reasonably with pocket kings; Rijkenberg had pocket sevens, and spiked a third seven to knock his opponent out.
A massive double up for hoary-haired Italian Giuseppe Argento in probably the biggest hand of the tournament so far.
There was a jack on the board and his opponent was holding
so the chips could have gone in preflop or on it, but we all rushed over to that table because as the board confirmed that Argento's pocket kings constituted the winning hand. He went absolutely nuts, slamming the table, shouting in Italian and knocking over a side table as he walked off to calm down. A few minutes later, a friend handed him a glass of water, which he downed gratefully, his hands still shaking. This is an emotional game. He's very definitely in second place now after Dragan Galic -- that hand netted him over 400,000 in chips.
Dominik Palte has busted a player who went all in with
on a
flop; Palte was holding pocket jacks and made the call, filled up on the turn and that was all she wrote for his opponent.
A very lucky double up for Asa Smith, who somehow managed to get his chips in preflop with
against
.
Board:
Smith still short though, on just under 40,000.
Level:

15
Blinds:

1,500/3,000
Ante:

300