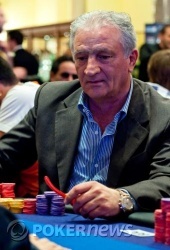 Giuseppe Argento just limped in on the cutoff, and young American William Reynolds raised to 68,000 from the button. Small blind folded, big blind folded, action back around to Argento, and a call. A flop.
Flop:
Argento checked to Reynolds, and then called a 76,000 bet. Onwards.
Turn:
Argento checked again, and this time Reynolds made it 145,000, his mouth gaping. Argento sat back in his seat. Then he announced all in. An INSTANT call from Reynolds.
Argento:
Reynolds:
River:
Thus, we are down another Italian, and our runners are only ten.